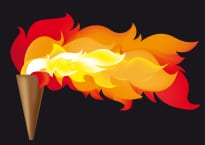 A look at the best moments that touched the heart in the first week of the Sochi Olympics.
The Winter Olympics is about more than the colour of your medal, it is about the cut of your jib. The best moments don't always come from those who win gold but from those who put themselves on the line in the process.
Tracy Barnes sacrificing her spot for her twin sister
Biathlete, Lanny Barnes, competed this week for the USA and she did so thanks to her sister. Tracy Barnes gave up her spot on the USA team knowing it would go to her sister, Lanny who had consistently outperformed Tracy until a fever put her down for the count for three of the four final qualifying events prior to Sochi.  Tracy was chosen instead but stepped aside when she found out her sister would be next in line.
Canadian speed skater gives up spot mid Olympics
Sochi is Canadian Gilmore Junio's first Winter Olympics as an athlete but with a spirit like his it won't be his last. Junio backed out of his thousand metre short track speed skating race to allow fellow teammate Denny Morrison to compete in the hope of scoring a medal for Canada. Denny won silver.
Lydia Lassila lets the tears flow
Lydia's post aerials finals interview touched the hearts of Australians who were jumping with her in spirit as she defended her 2010 gold medal. As Lassila celebrated her bronze medal victory and spoke of being a mum to her beloved son Kai and completing a mid air trick that she had dreamt about for fifteen years she let the tears flow.
Alex and Frederic Bilodeau
Who can forget Alex Bilodeau's brother Frederic in Vancouver when Alex won his first gold medal in moguls? Frederic has cerebal palsy and was there again supporting Alex in Sochi. When Alex won all eyes turned to Frederic as the two brothers hugged. Alex consistently acknowledges Frederic as his inspiration and the reason he took up mogul skiing.
Shaun White gracious in defeat and more
The haters had to give it to him, when Shaun failed to make the podium in the halfpipe finals he was the first to congratulate gold medal winner 'IPod'. He then went on to make two cancer patients day as he surprised them both and personally thanked them, having a chat with the two who were at the Olympics as part of the Make A Wish Foundation.
We're sure the remainder of the Games will bring more touching stories from athletes on the ground in Sochi.
Feature photo credit: BBC
Join our Olympic chatter on Facebook and follow us on Twitter @misssnowitall