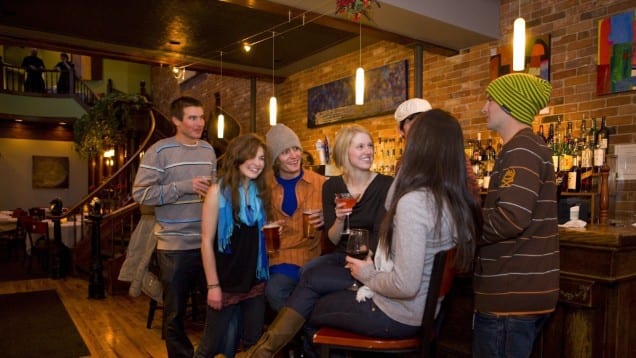 Heading to Banff? Christie Hampton gives you the low down on the apres town.
The mountain town of Banff in the Canadian Rockies is an après dream for those who have burned their thighs on the steeps and deeps, groomers and powder pockets of Lake Louise, Sunshine Village and Norquay. Whether you like your après super swanky with diamonds on the side or with a local down to earth vibe, Banff will serve it up. But be warned everything comes with a side of bacon, maple syrup, elk, bison and salmon.
Check out the Elk and Oarsman sports bar on Banff Avenue for one serious beer menu and the obligatory elk nachos, elk burger and elk poutine. Whiskey lovers will get into the extensive menu and those with a sweet tooth can salivate over the hot chocolate collections featuring the likes of Kahlua and vodka.
Still on the nachos theme, the Magpie and Stump is a 'taco eatery, tequila drinkery' on Caribou Street and a unique Canadian take on Mexican style fare with a rocking cocktail list.
If you prefer to après with your ski or board boots still firmly on your feet then check out the Kokanee Kabin, located at the base of the Lake Louise Chairlift. On sunny days they break out the deck chairs so you can work on your goggle tan while imbibing cheap jugs of Kokanee beer.
The Eddie Burger and Bar is one of Banff's most popular eateries, serving up homemade burgers along with all the accoutrements a Canadian burger seems to require like poutine, wings and deep fried dill pickles. You can choose something from their set menu or opt to 'build your own burger'. At the bar you can order from a range of Canadian and international beers or, if cocktails are more your thing, we recommend the aptly named Trashcan, which includes a full can of Redbull.
Those who prefer to dine amid a more up market atmosphere will undoubtedly enjoy the Eden experience. A fine dining establishment specializing in French cuisine, Eden is a haven for foodies, offering a 10 course 'Grand Degustation' menu that includes recommendations from their 17,000 strong wine inventory. Eden is located within the Rimrock Resort Hotel and offers glorious views of the mountains to compliment their high-end fare.
Sticking with all things French and swanky, up next is Grapes Wine Bar, located in the iconic Fairmont Banff Springs hotel. This is the perfect spot to enjoy a special night for two or a relaxed, vino-soaked evening with close friends. Grapes is famous for its charcuterie, selection of fine cheeses and, of course, it's extensive wine menu.
Wild Bill's Legendary Saloon and Restaurant is the 'jack of all trades' when it comes to Banff's après scene. This venue offers everything from mechanical bull rides and comedy acts to live music, dancing, billiards and even karaoke. Food-wise patrons can choose from a menu featuring 'authentic smokehouse cuisine,' including elk burgers, maple bbq salmon, ranch-style roast chicken and hickory smoked beef brisket.
The Rose and Crown is Banff's oldest pub (established in 1985) but don't let its advanced age fool you. This place still rocks, offering live music acts seven nights a week, along with a roof top patio that's perfect for dining under the stars. The menu is jam packed with Canadian pub-style classics like elk stew, fish and chips, bison meatloaf and ground beef shepherds pie.
If prizes were being given out for 'Best Name for an Après Location' then this next bar would be vying for the top spot. The Devil's Gap is Banff's alternative live music venue, featuring an assortment of punk, rock, metal and hip hop artists throughout the winter. It's a favourite with the locals thanks to its young atmosphere, foosball tables and cheap drinks. You'll find it on Caribou Street in the middle of town.
Not to be outdone in the name stakes is The Dancing Sasquatch. Touting itself as Banff's 'Favourite Nightclub and Savage Party Palace', this venue is best known for its giant dance floor and non-stop rotation of top guest DJs.
If the d-floor is where you like to shake it all night long then you'll feel right at home at Aurora's on Banff Avenue. With five themed rooms and more dance floor space than you can poke a stiletto at, Aurora's is the ski resort town version of a super club, boasting a huge line-up of international DJs during the winter months.
SKI MAX HOLIDAY DEAL TO BANFF
SKI Banff from $865*pp twin share! Stay 7 nights twin share in a Premium Room at Banff Aspen Lodge. Receive a daily continental breakfast. Book in early and receive an early bird bonus. Save 10%!
Includes a 6 day Tri-Area Ski Pass valid at Sunshine, Mt Norquay and Lake Louise
*Conditions apply. Valid for travel 1 – 31 January 2016. Prices are subject to change and availability.  Book and Pay by 31 August 2015.
Book through Skimax.com.au