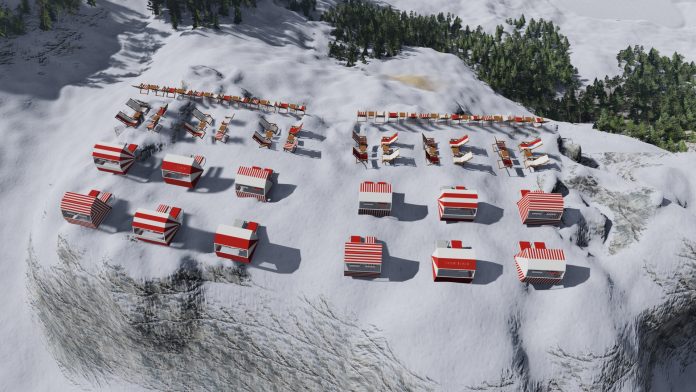 Cabanas, live DJs and mountain top apres comes to life at Aspen this spring as Aspen Skiing Company's new retail company ASPENX has partnered with fine art photographer Gray Mail to create a pop up snow beach.
This one of a kind "club" on Aspen Mountain will be brought to life from February 18 to March 27 in collaboration with The Little Nell in celebration of Aspen's 75th anniversary season.
The outdoor setting features beach-themed décor in an alpine environment with bottle service and multi-course food pairings. Snow Beach ASPENX Gray Malin will be one of the best ways to experience Aspen's famous hospitality and natural beauty with a playful twist, immersing yourself in a Gray Malin photograph.
Gray designed each of the snow beach cabanas, complete with chaise-lounges and chairs, to allow guests to step into one of his photographs and experience an entire world of Gray Malin.
With inspiration drawing from his iconic aerial beach and ski images, along with vintage style signature shots from decades past, Snow Beach celebrates the culture of après-ski and vintage glamour that Aspen Snowmass has cultivated and perfected throughout its 75-year history.
Snow Beach will feature sun-filled sweeping views of the Elk Mountains including Highland Bowl along with a live DJ performance and food and beverage service for guests to enjoy.
The menu features champagne or rosé served with paired courses every thirty minutes during the reservation period, including caviar selections, sliced Jamón Ibérico, individual black truffle pizza slices, house-made kettle corn, and much more.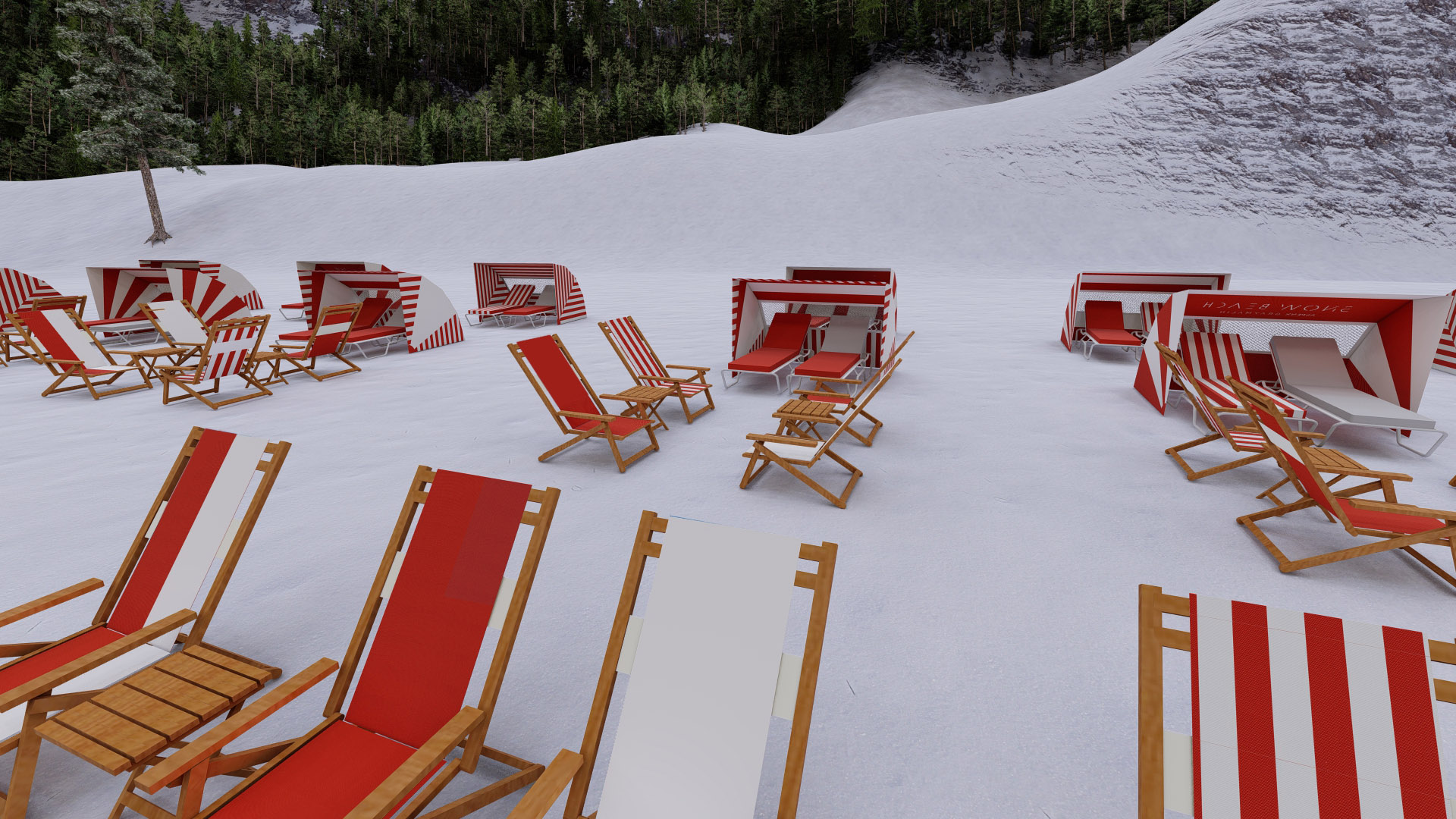 Reservation options include single lounge chairs with the purchase of half a bottle of champagne or rosé, a cabana for two with a bottle of champagne or rosé, or a cabana for six with three bottles of champagne or rosé. Package and reservation prices range from $300 to $4,800 depending on bottle selection and group size.
Malin's vision guided the Snow Beach concept and design, from the custom cabanas and chairs, to the lifeguard stand and snow games, allowing guests to feel as though they are literally stepping into one of his extraordinary prints.
Visitors to Snow Beach are encouraged to take their own pictures and use #SNOWBEACH to create personal 'Gray Malin' moments to share on social media as they enjoy the unique mountain top scenery.
Snow Beach ASPENX Gray Malin is the latest announcement from the ASPENX brand, which launched at the top of ski season in December 2021 and joins a roster of exciting collaborations and experiential programs in the works.
This season alone, ASPENX has leveraged the expertise of Aspen Skiing Company's world-class ski professionals to develop its first line of ski wear and clothing with equal emphasis on performance and style. Recent launches for ASPENX also include ski apparel, gear, accessories, and limited-edition custom collaborations with leading brands such as Prada.
The brand's brick-and-mortar store located within Aspen's iconic Gondola Plaza serves as a new location for guests to shop premium performance wear and immerse themselves in Aspen's innovative spirit.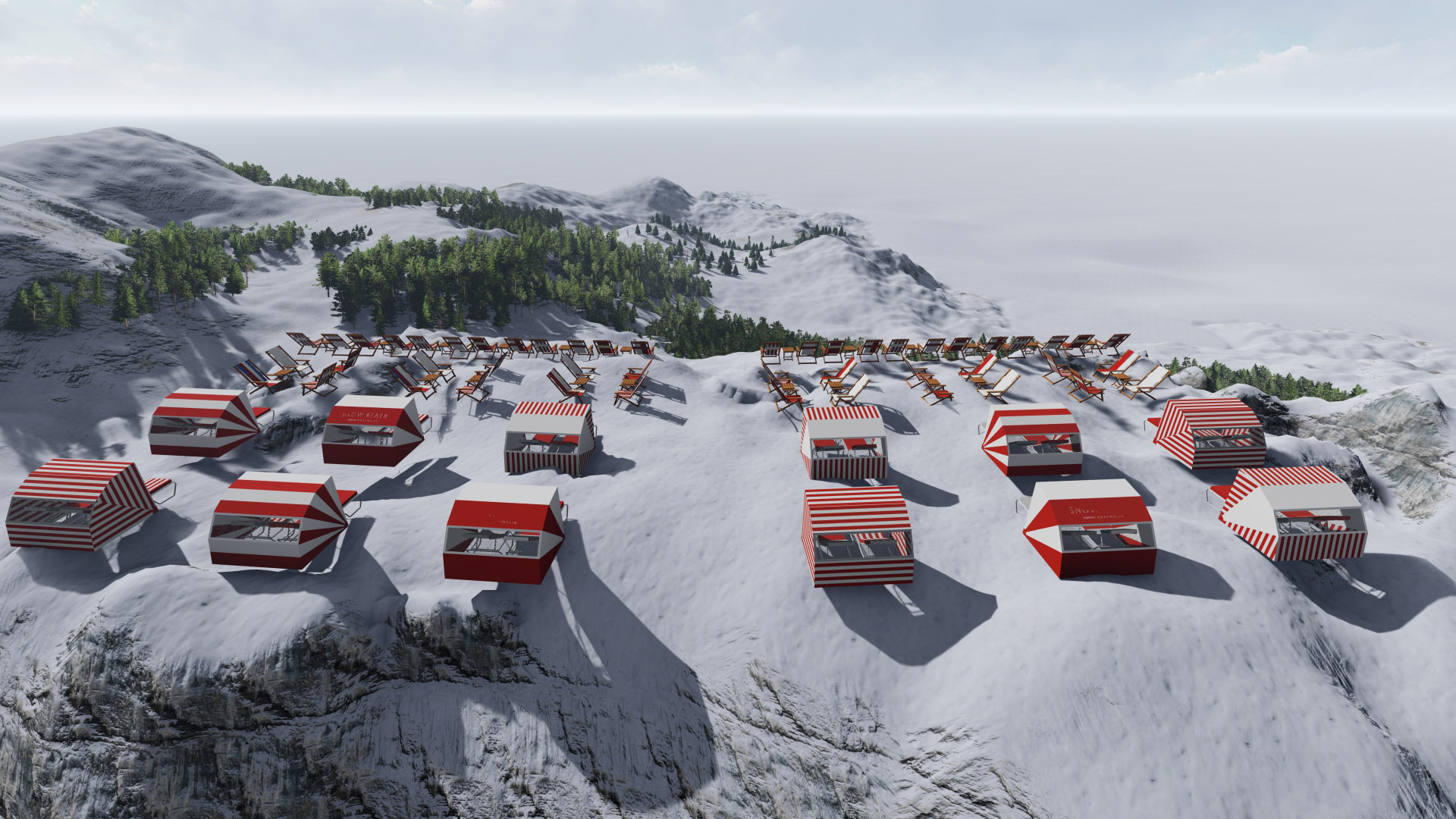 Visitors can enjoy a selection of grab-and-go food and beverage options, such as signature breakfast pastries, brain bread, and a variety of espresso drinks serviced by The Little Nell. Tickets for Snow Beach can be purchased on https://aspenx.com.