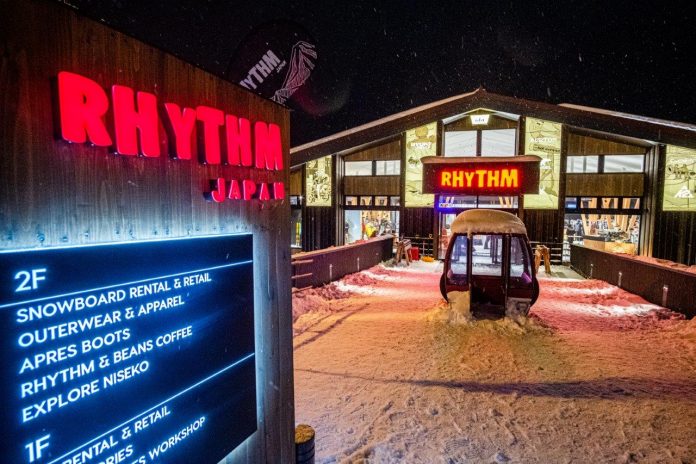 The team behind Rhythm Japan, Snowy Mountains locals Matthew Hampton and Mick Klima, have joined forces with North America's famed evo mountain adventure e-tailers.
The deal will see the two like-minded brands collectively become a leading global group operating in the snow, outdoor and experiences market.  The North American based business [evo] will become the parent company, owning 100% of the Japanese business, with the existing Rhythm Japan shareholders becoming part-owners of evo, acquiring a sum of shares as part of the deal.
Providing a gateway to the APAC market, evo is excited to welcome Rhythm Japan to the family and brings with it, deep roots and a breadth of experience in the mountain-based equipment rental space, which will be a major asset as evo looks to continue to elevate and expand its own rental offerings in North America.
Hampton and Klima launched the Japanese company in 2005 with a goal to increase accessibility to gear required to ride the area's unique snow conditions. The group now has seven store locations in Niseko, Hakuba, and Furano in Japan and has grown its offering significantly while staying true to its roots through community involvement.
Rhythm Japan will continue to operate under the same name and management teams to ensure a seamless transition for consumers, and Hampton will continue to lead Rhythm Japan, joining the evo enterprise leadership team as Managing Director, APAC Region.
"When we started Rhythm Japan in 2005, a core value was, and still is, to be limitless. This partnership with evo is testament to that," said Hampton.
"I see many similarities between the businesses including a focus on community and a commitment to creating epic experiences. Each business has strengths that will complement each other and make our shared future better.
Echoing Hampton's sentiment, Bryce Phillips, Founder and CEO of evo comments:
"The first time I set foot in a Rhythm location, I felt something different, something special. Years later, I met Matt and some of the Rhythm team and we quickly became close friends," said Phillips.
"I had a strong inclination that we'd end up working together given our shared foundation when it comes to core values, culture and commitment to making communities stronger. evo and Rhythm are kindred spirits, and we are grateful to have the opportunity to join forces with the Rhythm family."
In addition to expanding services and markets, the partnership creates a halo effect for the high-quality brands carried at both Rhythm and evo, offering vendors a truly global, omnichannel retail partner.