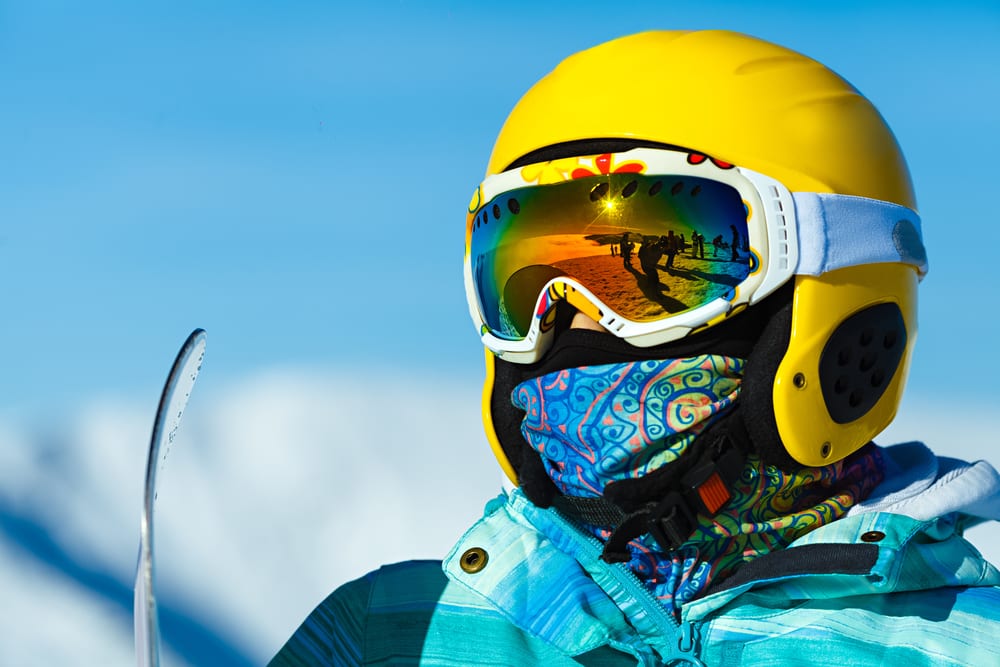 WHEN I was five I did ballet in the local church hall. I would dress up in my blush pinks and pirouette with what I thought was grace, style and panache, not that I knew that last word. But what I did know was my ballet teacher surely knew a star when she saw one, placing me front and centre in my rightful role as prima ballerina in the middle of a circle of fellow ballerinas skipping around me.
This was five year old heaven. For a while.
What I didn't know, and neither did my mother, was that the other girls were dancing around me because they were all doing the ballet exam and I was deemed, by my traitor of a teacher, to not be good enough to be examined, nor to be invited to the extra exam prep class each week.
What ballet school even holds exams for five year olds? Not that I thought that even a question back then, I just thought I was fat. I wasn't, but I thought I was, and I blamed my body for not being good enough. Thus began a life believing that same mantra.
A life where my self perceived body size impacted both minor and critical life decisions and a life where the world around me validated my belief that my externals mattered more than my internal desires. I am not alone, every woman has a plethora of tales of body shame, of a time when she de-valued her body or someone valued her body too much.
Forty odd years and numerous eating disorders later and I still at times struggle, despite what many would perceive to be a successful media career, a glamorous world of adventure travel and a lifestyle coveted by my married-with-kids friends who long for the freedom they don't realise I am longing for too.
In 2018 the stats on young girls body image beliefs is mortifying. It's a world where kindergarten kids believe body size and character are one and the same and that food types are divided morally, into good and bad. These pre-school kids, presumably, are yet to even have a phone as their arm extension and social media as their social acceptance barometer. God help them when they do.
These kids will have consumed around consumed around 18 250 hours of media between the ages of 13 and 18. They will have received over 70 000 sexual references and innuendos in said media. It's hard to not ingest the message that young, pretty, white, thin and sexualized matters.
Enter the micro world of skiing and snowboarding. A world where the outdoors and nature take pride of place. Yet young girls, and women, are still not safe from those same self defeating messages. Even at an elite level when winning medals and competing for sponsorship, how you look overtakes how you perform.
At 13 years of age American snowboard athlete, Chloe Kim, won Silver in the halfpipe at the Aspen X Games. At 14 years of age she became the youngest athlete to win gold at an X Games, again in Aspen.
At age 15, in 2016, she became the youngest athlete to win two back to back gold medals at an X Games. That same year she scored a perfect 100 at the US Snowboarding Grand Prix, only the second person to do so (after Shaun White) and the first woman to land back to back 1080 spins in competition.
In short, the young woman is a legend.
Then, in 2018 at her first Winter Olympics while representing the USA she took the gold medal podium in the halfpipe, the youngest female to ever win gold in that discipline. She was 17.
Yet amongst the glory and the celebration of elite skill, one sports show host, Patrick O'Connor of the popular Sirius XM Sport Show 'Dialed In', referred to Kim as a "little hot piece of ass" while also referring to her soon to be 'legal' age of consent at 18. Ewww.
Talent is not enough to bring in the big bucks in the world of elite adventure sports. For every Olympic gold medalist earning seven figures, there's one earning six or five or four or nothing at all.
Kim is, to many fellow female athletes and snow brands, the perfect storm. She is sub human talented, works her butt of to improve that talent, super personable on camera and by all accounts in real life. She's also young and pretty in a world that values that above all else and her Korean heritage helps brands appear to be improving diversity in a white snow world. Did I mention her talent?
THE ski and snowboard world is just a microcosm of the world at large. Just because it is wrapped up in the great outdoors and extreme sports, where both genders risk their lives in competition, does not mean it is immune to double standards, sexism, age-ism and racism. Nor does it mean that body image is not a problem.
If you're female then body image, good or bad, is a fact of life because from birth your body is open for comment from family, friends, strangers, and the media. No surprises that over half of 13 year old American girls are unhappy with their bodies and this increases to 78% by the time they are 17. That's a lot of unhappy girls wandering consumer shopping malls looking for an answer.
Adding snow sports to the mix makes no difference, except one hopes that the constant use of the body as a source of strength and movement will at some level drown out the voices in our heads. But we all have 'those days', even big mountain skier Nat Segal who posted this honest take on her own body on instagram.
Nat's not alone. Jen Hudak suffered bad body image problems, even at the height of her own career as number one in the land of international halfpipe skiing.
"It's a male dominated industry, especially on the halfpipe side, which is more on the action side where you see naked women or bikini clad women around every corner" explained Hudak in an interview with SnowsBest (video below) in 2015.
"It was just this constant reminder of, "Okay, well, that's not what you look like." So it was hard and you know the prettier you are and the more willing you are to kind of put that out there, the more opportunity that comes your way. So I got caught up in it.
I think there needs to really be a distinction of being an athlete model and being a professional athlete, and right now the line is kind of blurry."
SOME would say that sports create even more obsession with one's body, especially aesthetic sports (dance, gymnastics, surfing, beach volleyball) and definitely with one's nutrition.
Those who take nutrition to the nth degree in search of podium glory may end up in the throws of orthorexia, a relatively new eating disorder defined as 'symptoms of obsessive behavior in pursuit of a healthy diet' or in the terms of a hashtag #fitspo. It's often seen in the #fitspo hashtag movement, dedicated to airbrushed or real fitness inspiration in search of likes.
Meanwhile even government agencies are buying into the fake #fitspo obsession and paying big dollars to pretty little influencers to preach faux good health and movement to young girls. This, when there is a plethora of real active women athletes of all sizes ready and willing to take the money to authentically do the same.
Who can blame the powers that be when they witness big name surf brands such as Billabong (who also make snow gear) applaud the surfing prowess of their male athletes while heralding the sexually titillating bikini bodies of their female consumers, with images that mimic those bikini clad influencers who spend their life posing for money.

The 2017 website design inspired the famous F*ck You Billabong letter from Karen Knowlton that shouted what we were all thinking.
I get that sex sells, but just do better. Just be better than this, because this totally sucks and frankly the whole thing is a bit tired. This kind of imagery impacts the psyche of women and girls far beyond whatever marketing moron you entrusted your site to could even imagine. Karen KnowltoN
CLOSE to 80% of 18 to 24 year old Americans use Snapchat and almost the same amount visit the platform daily while 94% use YouTube. Over 70% of the same age have an Instagram account while 68% of all adult ages are now Facebook users.
Like it or loathe it social media isn't going anywhere soon.
There is, however, a distinct gender difference in the way in which social media is used. Women tend to prefer more visual channels (Instagram, Pinterest, Facebook), and men more text (Reddit etc). Young females who have grown up in a highly sexualized media world choose to use profile images that show themselves as sexy and seductive.
Today's millennial generation grew up with the camera gaze and rightly or wrongly know how to use it for likes, with or without the substance to back it up.
As ski racer Resi Steigler told Huffington Post – "We're lucky in ski racing. If you succeed then you will be the one who gets the sponsorship contract. I have friends in Free-Skiing where it's not the same way. They are Number One and incredible athletes… but the girl that doesn't even compete, who has long blonde hair, gets the contract."
It's a truth that professional athlete Lynsey Dyer, founder of Shejumps.org to get more girls involved in the outdoors, knows too well. The Powder Magazine Female Skier of the Year and big mountain skiing queen, posted a telling tale on Instagram this week with true fury.
Those thunder thighs were made for smashing the norm. Lynsey Dyer.
When female athletes are told (or instigate themselves on social media) the message that the sexualization of their bodies is more important than their athletic prowess, then what hope do the rest of us have with our average size 14 bodies?
Where are the snow clothes that fit the real range of women's bodies on this planet? Where can we see ourselves in resort marketing, brand brochures, on the retail fashion rack? What if we're closer to 50 than 30?
It is women that make 95% of the snow industry purchase decisions yet I constantly feel that the only women allowed in the retail world of snow is a twenty something size 10 and 169 centimetres and clearly I'm not alone.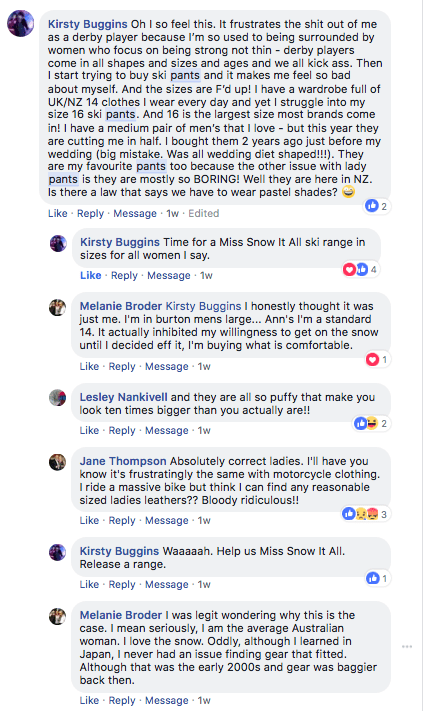 I wrote two books with Random House back in the day. The first was on eating disorders and body image (and was later turned into a documentary), the second on female competition and how girls and women compete with each other and how to transform it from destructive into constructive.
For a while there all I wrote about was gender issues. Then I got tired, really tired. Because humans are not that bright and they can be downright abusive online.
We say we learn but the Holocaust didn't stop genocide, just ask Rwanda? We say we learn but the world still wages war and women still get regularly murdered and beaten by violent men in Australia and the government does nothing. We say we learn but men are now also subject to body dysmorphia thanks to airbrushed male fashion and fitness magazines and young kids of all genders are still on diets.
So I became a travel journalist and took up skiing. I thought I'd be safe in a privileged white world of snow, until I tried to find ski pants that fit once my body changed with the impending times and I got my first hot flush.
I have, in my life, missed dear friends weddings, days on the beach, holidays in far flung places, dinner parties and other great moments of connections in my life because I thought I was fat when I wasn't and I didn't think myself worthy of a good time. While girls cut themselves to relieve the pressure of real life and surgeons cut them to try to make them fit into an acceptable size, we could all be out living and loving life's moments that will be gone and unattainable once on your death bed.
Buggered if I am going to now sit back and not fight the girls good fight in a leisure sport I love. Skiing. Buggered if I'm going to buy into an Instagram feed of someone else's snow life highlights reel, and think mine is not worthy by comparison, and stay home with my skis because the mass snow world doesn't market to me and my wallet when it should. Because, as Dyer says, these thunder thighs were made for smashing the norm.
Of course there are major moves that have been made to address the gender patronization of females and snow in recent times, but I'm lax to applaud them because while Burton have discontinued their Playboy line of naked female bodies on their snowboards, well, they should never have created them in the first place.
The Matchstick Productions "All In" film that launched this month is the first major ski film to feature representation of equal numbers of male and female athletes. Well, it is 2018. Still, it's a long way from the snow production I worked on where the executive producer asked me to find blokes to balance out the females skiing in one segment but never asked me to find girls to balance out the males skiing in all the other segments.
There are some great role models and brands in the social world of snow you can book mark and start following, stat. Because it's not all faux pas and head bangs and there are snow people and businesses celebrating all women.
Maddie Bowman is a gold medal Olympic skier and she's real as f*ck. That's insta speak for, no really, you want her as your best friend. No gratuitous provocative bikini pics in her gram feed. Just hilarity, activity, adventure and good times.
Brooke Froelich was a single mum (now she's married and expecting her second child). She's a Utah bred, Colorado living outdoor gal who instagrams her life bringing up a toddler in the outdoors life, warts and all. Yes her pictures are pretty (so is her hair) but she'll tell you the truth behind those insta images and reveal the meltdowns of kids halfway up a mountain (I know, I've been hiking with her).
She Jumps is a non profit dedicated to increasing participation of women and girls in the great outdoors. Enough said. Well, never enough said, but you know what I mean.
Fat Girls Hiking's motto is 'trails not scales' because why should the great outdoors be just for slender people?
As for brands doing their bit to acknowledge more real women's bodies in Snowsports. The North Face is creating technical ski gear up to a size XL for women. Australia's own Rojo Outerwear have pants up to a size 16 as does other Aussie brand XTM Performance. Plus Snow offer ski and snowboard wear for larger sizes for both men and women.
Coalition Snow are making real skis and boards for women that truly want grunt and fierceness under their feet, not just pretty colours. Closer to home,  Still Stoked in Australia is a site dedicated to girl power across action sports and She Shreds is for Aussie chicks that snowboard. Body image and self worth is a real issue for women of all ages. Being seen, being heard, being valued is more important than being looked at, being told and being measured. Together we can help girls and women feel the former and be included and it starts with showing a real world in a fake social snow reality.
Join our Miss Snow It All #showusdagirls Facebook Group for women of all ages, sizes and skill levels who love skiing and snowboarding.  
Find all of our #showusdagirls feature writing here.
Find all of our mental health writing here.
Find all our humour here.