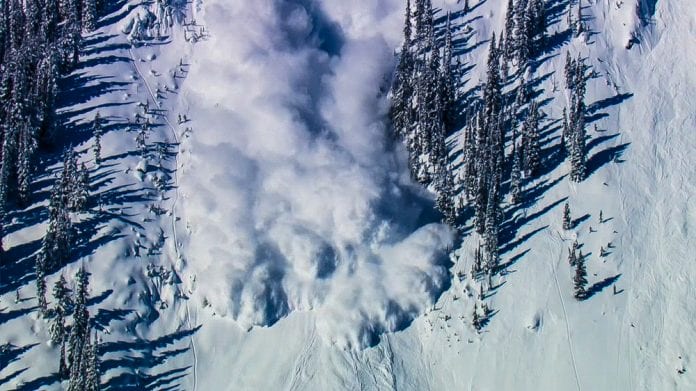 It's hard not to get angry at the senseless lives lost in avalanches during peak snow periods. It's even harder to refrain from saying something because you weren't there, you don't know the circumstances, it could have easily been you and there are families and communities grieving. 
When lives are swept away by the snow that they love, everyone loses. But there are always things to be learned from the tragedy. Data analysis to be collected about the snow pack, information about the rescue, what equipment worked and failed.
If the internet explodes with shaming of both the living victims and those that passed, then fewer people will speak up when they get in near misses. Then we lose valuable insights needed in real snow time. 
It's why we applaud those that do reveal their misses and their learnings. Even those who openly admit different choices should have been made. Ski pro, Neil Williman, is honest about Kodak Courage getting the better of him in this edit below.
Williman wrote about the experience and his reasoning at the time in his Facebook post:
"So why did I do it? It was a huge snow year, making this face possible to ski without a rope (unusual), and I wanted to get a banger 'ender' shot to finish the Working Volks Freeride film project with. Even when I got to the top a friendly local gently advised me not to do it, especially since I was essentially by myself (Michael from MIDIAFILM was at the bottom filming with a drone), but Kodak Courage/Filming Froth got the better of me and I dropped in anyway. In the end I was OK, but that far from justifies doing it. If I had got hurt I doubt I would have got much sympathy from the Freeride community, neither would I have deserved it."
Good on Williman for sharing his experience and having the courage to be vulnerable in a highly judgmental community of couch skiers and snowboarders, who swear they would have made better decisions (from their sofa).
What's up with Europe and North America?
This 2018/2019 season in Europe and North America have been unstable ones. Hotels have been hit by avalanches in Switzerland and Germany, two snowboarders were killed by an avalanche in Bulgaria, three German skiers died in an avalanche in Lech in Austria, an Australian teenager lost his life in an avalanche in St Anton, another male died in a snow immersion in Austria. 
Meanwhile across the Atlantic in North America the 2018/2019 season has already had an inbound avalanche that buried skiers at Jackson Hole. A male died in an avalanche during an avalanche course in Silverton, another avalanche happened at Taos New Mexico that killed one male skier and left another critically injured, a skier ducked closed ropes (what the) in Loveland ski resort and triggered another avalanche (and survived) and just today Utah Avalanche Centre reported the death of a backcountry skier in Emery County all during the current mega snow storm cycles.
There are many reasons people choose to ski off piste in Europe and in the backcountry of North America during mega snow. I've heard them all – too many people in a lift queue in a resort, don't want to do the powder panic hustle, like the solace of skiing powder alone, need to capture it on film and post on social before someone else does. 
But there are really no reasons to ignore extreme avalanche warnings if you are intentionally going backcountry and off piste. Remember, though, for holiday makers it's incredibly easy to unintentionally end up off piste in Europe without realising, in America not so much due to resort boundaries. 
If you backcountry ski then we have long assumed you do it with a beacon, a shovel, a probe, avalanche training under your belt or a guide who has such, a buddy and even an airbag. This is where we're wrong, assumption gets us nowhere and continuing education and conversation keeps us all alive.
Education is a never ending process as there are always new people heading to the side country and backcountry for their first time and even with all the gear they may still not know what they are doing. Remember your first time?
I do, and I was seriously clueless, still am because I will never know enough. 
Even the most experienced backcountry skiers, those that do it for a living, are still learning from every day that they spend out there. They do refresher courses, they share their insights. The commercial heli ski companies of Canada all band together to regularly exchange avalanche activity observed in their regions. It helps keep everyone alive.
The rest of us can study the internet, take an avalanche course and get scared (your first avalanche course will frighten you with information and have you vowing to only ride chairlifts from now on in, but you won't). 
Think of it like surfing. You don't learn to surf and not learn about the waves, rips, tides and the like. Snow may not be as fluid as ocean but it is equally deadly and it's important to respect the mountain and the ski patrollers that manage it.
Calm down, people
We get it. There's excitement in being in the great outdoors, far from the noise of a chairlift, on your own leg power with pristine untouched powder to be had. Though the truth about the backcountry is that pristine powder will still be there in a few days time when the avalanche danger has lowered and the snow pack settled.
So, please, just breathe.
If you know avalanche language you'll understand @avalanchebuddy's Instagram post below on the state of snow pack in Colorado right now. If you don't, then take a course and know that what he's saying is be on high alert and probably stay in for Netflix and chill.
And another thing, with all these inbound avalanches, it may also be time to start wearing that beacon when in resort as well as out of resort boundaries too. I know I'm going to.