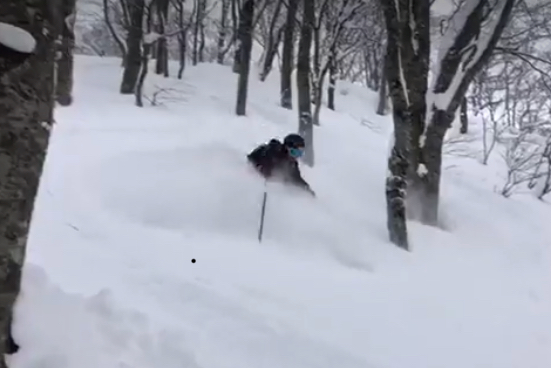 Fresh powder snow. It's the mystical magic gift of nature that many seasoned skiers and boarders dream of. The reality however is that genuine fresh powder is a rarity, and when it falls it can get tracked out in bounds faster than a stampede at Boxing Day sales. To get 'freshies all day, and escape the crowds, a backcountry tour is called for.
Hakuba, Japan is a powder mecca, and where former Australian Olympian and skier extraordinaire Steve Lee has established a backcountry touring operation since 2011, aptly named Skiing with Steve Lee. So with my dear wife and young sons, who prefer not to hit the backcountry, all happily checked in with the team at Evergreen Ski School, I was ready to cash in my highly prized Leave Pass.
Steve and his business partner and professional photographer Mark from Manly, Sydney collect us from our lodges after breakfast and the chat is a cool tone of excitement and banter to settle the nerves.
Steve informed us quietly that today our crew would feature two other fellow Thredbo skiers – also from Sydney's Northern Beaches, oh and two extreme ski pioneers [Kit & Rob Deslausriers] from Jackson Hole, Wy. Yes, THE Kit Deslauriers – the first person in history to conquer all seven continental summits – and ski down them! This fact froze in my mind as we carefully went through the safety briefing and geared up with safety beacon, skins, Rossignol powder skis fitted with touring binding (all provided by SSL) and sustenance for the day.
The tour starts riding the gondola up Tsugaike, sign a release form at the top before heading out, then hike over to the backside of the mountain to access beautiful untracked powder. On this particular day Hakuba had received 50cm – 60m fresh snow over the past 48 hours, with snow continuing to fall throughout the day. With this in mind Steve guided us into the Tsugaike trees, where we were greeted by steep and knee deep untracked powder – backcountry nirvana!
Having skied fresh 'big lines' on Hakuba's open runs, the maze of trees required intimate knowledge of the best path to the bottom. Steve's expertise shone here, pointing out each key ridge and catchment to follow to the bottom, and where the creeks at the bottom were safely crossed.
Watching Steve, the former Olympian and professional stunt skier was awesome, making deep powder look ever so easy, giving me confidence that double black tree runs aren't so challenging to ski… are they?!
Half way down one of the runs I stopped for a breather. The sight of fresh snow falling in the trees punctuated the serene sounds of silence. Seconds later "whoop whoop!" and "yyyewww!" greeted me as Kit and Rob flew by with powder from their trails spreading like dust. Poetry in motion. Oh that's right… these guys have skied down Everest, and now they're here for an epic day of powder with Steve. Yes I was definitely in the very deep end with these guns, but loving the moment.
Bringing up the back of the pack Mark kept a hawk eye on us all. Having a spotter is crucial in the backcountry, as deep powder has a happy knack of undoing one's technique… resulting in a proverbial yard sale. Ever had to put a ski back on while struggling to balance on one leg, waist deep, and your heart rate is up? Thanks Mark!
After 5 solid runs we stopped for a well earned late lunch. A great part of the Japanese day lodges is their great value for money, offering beautiful curries and noodle dishes for around $10AUD. This fuelled us up for our final hike, being about 40 minutes up a ridge to access one long descent.
With skins rolled onto our ski bases, bindings heel released to walk, helmet off and sunglasses on, I was ready for my first proper backcountry hike, with stunning scenery being great reward for the effort. The technique takes a little getting use to but once in a rhythm, it's a relaxing experience compared with the huff and puff of hiking in boots up a steep ridge and carrying your skis.
When hiking up steeper sections the instinct is to lean forward into the hill which Mark corrected, reminding us to stand tall, lock in our core and drive each step forward. It felt strange, but with the skins providing such phenomenal zero slip traction, correcting my gait was easy. Singing some favourite tunes to myself for rhythm the hike became pure zen. Soon enough, and with a great sense of satisfaction we reached the ski-off point and packed up our skins. (One suggestion here, defog your goggle properly, or better yet take a spare pair as the hiking builds up a sweaty forehead!)
Our final run was sheer bliss – the best of the day, with fresh untracked powder top to bottom through nicely spaced trees. Yyyewww! Steve like a seasoned broadcaster filmed us posting live to Facebook with some entertaining commentary, capturing the action brilliantly. On reaching the base my legs were absolutely cooked, the tank was empty, so having Rob and Kit shout us a round of beers capped off a most memorable day. Thanks to Steve and Mark for making it happen. Backcountry has me hooked!
Author Note: Skiing with Steve Lee caters for a range of skiers and boarders – when booking be clear about your terrain preference, and be honest about your ability and fitness. I'm not an extreme skier by any means.