I've been avoiding backcountry skiing for years. Ever since I learned about the concept of 'earning your turns', I put it straight into the too-hard basket.
Touring skis? Seems expensive. Skins? Seems complicated. Walking up a mountain? Aren't there chairlifts for that?
Also, people who tour have always seemed, well, intimidating. Clever, but also extremely fit and organised and really well-educated on the backcountry, which is all things that I am not.
Then I learned about the guided Thredbo Backcountry Tours, which are supported by the North Face and run just out of the resort's boundaries. Thredbo offers up a range of all-day tours to cool spots like the summit of Mt Kosciusko, Bogong Creek, Etheridge Range and Leatherbarrel Creek – but before you can do any of those, you have to begin with the three hour beginner tour to Signature Hill.
The three hour tour is truly for first timers. Not first time skiers or boarders, you have to be pretty comfortable in that regard, but people who don't know where to even begin when it comes to the world of telescopic poles, avalanche packs and split boards.
Enter my snowboarder friend Georgia and I. We're relatively comfortable off-piste, but we were nervous about our fitness levels. I have the natural fitness and strength of a tin of spaghetti.
Boot-packing in Japan once nearly killed me. I have not run anywhere since 2012.
Georgia only has endurance when it comes to wine and sushi train, which can only take you so far.
We had visions of getting five minutes into the tour and the guide either abandoning us completely or making us turn around.
But you never know until you try and all that, so we packed some snacks and some extra layers, got in our car… and drove to Thredbo.
The tour basics
If you've never been out in the backcountry before, and you're not sure if it's for you, there's no point in buying any new gear. Thredbo very helpfully know this and provide you with a North Face avalanche pack that includes a beacon, probe and shovel.
You can also rent backcountry skis, split boards or snowshoes, depending on your personal preference, at Thredbo's Valley Terminal. The rental staff can talk you through the various options and your guide will walk you through every piece of equipment when they meet you at Valley Terminal.
My guide was Josh Armstead, an experienced backcountry guide and ski instructor who has, among many other qualifications, a Diploma in Overnight Ski Touring. He knew a lot about just about everything – from avalanches to wildlife to the fascinating Indigenous history of the area – without being at all condescending, same as all the other guides who run this particular tour.
Your guide will take you to the Kosciusko Express chairlift, across to the Basin T-Bar and then over to the Karels T-bar, which takes you up to the highest lifted point in Australia at 2037m. From there, you'll cross over and go into whatever area is determined safest and most suitable by your guide, who has also assessed your ability by that point.
Along the way you'll obviously learn all about backcountry basics, get an introduction to avalanche safety, and generally get the hang of your equipment. You'll also travel about 3km and climb 250 vertical metres, before switching to ride mode and skiing or boarding back down to the resort again – hopefully through some fresh powder.
So how fit do you really have to be?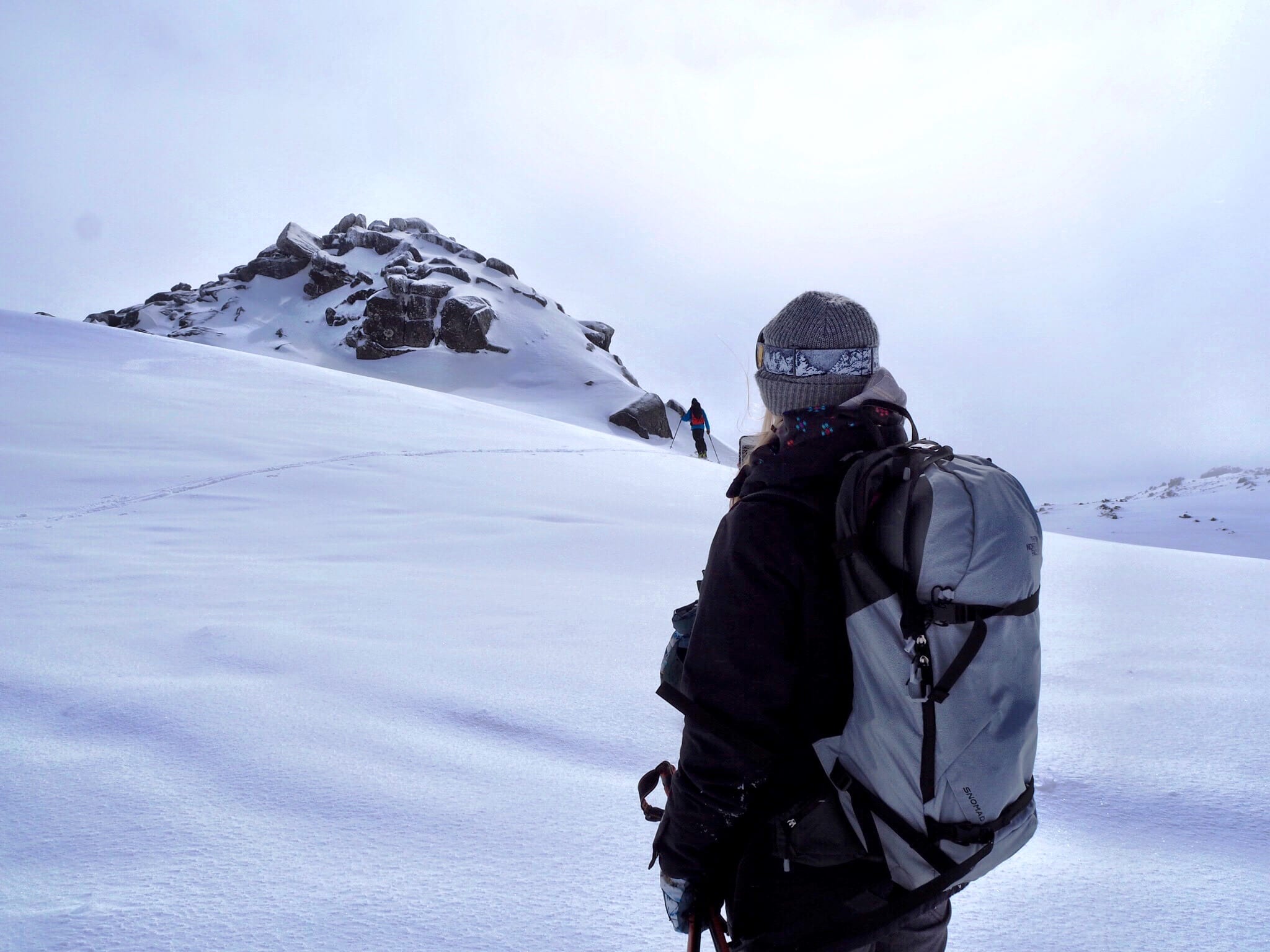 Josh tells me that people are most concerned about their fitness levels when signing up for a backcountry tour, so at least I wasn't alone on that one.
3km and a 250m climb turned out to be super reasonable. The three hour tour felt like it went for about 45 minutes, and the pace was especially relaxed.
It's the perfect length for figuring out if an all-day tour would suit you.
Georgia and I walked away wanting to do it all over again, but according to Josh, this isn't the case for everyone.
"It's different to any kind of exercise you'd do at home. You're using different muscles, you've got skis and boots attached to your feet, you have a backpack, your balance is challenged because you're on a slippery surface, everything's a little bit harder work," he explains.
The bottom line? It's more about endurance than fitness.
"It's a longer aerobic workout, where it's best to take everything nice and slow – if you're doing it right, you're moving at a pace at which you can keep talking – but you just need to keep that energy rolling throughout the day and keep your endurance going."
If you're hoping to sign up for a backcountry tour next season but want to train up a little first, Josh suggests doing bush walks where you can work on endurance, along with some strength training.
How good do you have to be at skiing or snowboarding (be honest)
This is not the time to be delusional about your own skiing/boarding skill set. You should be a strong intermediate to advanced skier or boarder, capable of riding all snow conditions, regardless of the weather or the snowpack. The equipment isn't super easy to maneuver, plus visibility can disappear in a heartbeat – it is the mountains after all.
It's also Australia, so don't expect Japanese blower powder, even in the backcountry. We had a good 5cm of fresh snow on our tour which was beautifully wind-loaded in certain spots, but we also had icy hard-pack to ski over, along with grass and plenty of other obstacles.
Rest assured that it's worth going out even on a cloudy day, the views are still spectacular and you'll feel like you're wandering through one huge snow globe. A rare feeling here in the down-under ski resorts.
What do I pack?
Pay close attention to the list provided when you book in, but here's one to get you started. Don't forget goggles, gloves (both outer gloves and liners), your helmet, a hat/sunglasses to wear while skinning or snowshoeing, plenty of water, snacks, sunscreen and personal medications as required.
Alright, I'm addicted, now what?
So you liked the tour? What good news. Welcome to your wonderful new hobby. Graduate to a day trip with the Thredbo team, then then go get your AST 1m and then make friends with people who are experienced in touring in your local area.
Look for second hand gear on sale at the end of the season or in Facebook groups, and start building your collection of backcountry gear. With the touring trend currently in serious boom, there's endless knowledge out there too, it's just a case of taking it all in.
How much?
$129 for backcountry equipment hire if you need it. Then add $140 for the backcountry intro tour, along with $21 for a lift ticket that gets a one-time use of the chairlift and both T-bars.
It's not the cheapest day in the world, but it's a seriously epic day to tick off a bucket list. And a low initial investment should you decide that backcountry's not for you after all. If you love it, then you can choose from the other backcountry day trips on offer.
There's still time to book in for this season and spring may be the ideal time with longer days and blue skies.
Check out Nat's Instagram Story revealing what goes on tour (see what we did there).
Convinced? Book in for one HERE, or just read more about all the tours.
Natalia was hosted by Thredbo.