I'm very fortunate that a lot of my friends snowboard and ski and they love to travel, which means we get to catch up as a group in all different parts of the world to ski and snowboard at every opportunity that we can. Holidaying with a large crew is so much fun but there are some things you need to consider before embarking upon it.
Accommodation 
From a social aspect it would be ideal to all be in the one apartment or at least a very close proximity. We often book a large house or apartment that we all stay in. It helps to keep the costs down and it's great to be able to hang out together, have a few drinks and talk about the day on the mountain.
Access to the ski resort 
Having a large group can mean that people want to get to the mountain at different times or come off the mountain early. It's important that getting to and from the mountain is easy so that you can split up if you need to. It is also ideal if you can get away without a car for the same reason so look for a resort that has free and regular transfers to the hill or book ski in ski out accommodation.
Resort town
Unless your group is into home cooking every night, look for a ski resort that has a great variety of bars, restaurants and shops. After all, apres ski on a ski and snowboarding trip is pretty much mandatory.
Alternative activities 
I have friends who love going on ski holidays but they don't ski or snowboard. They just love the atmosphere and the beauty of a ski resort town. If you have someone in your group who won't spend much time on the mountain, then look for a ski resort that has plenty of other activities. Most larger ski resorts are set up for this.
Mountain which caters to all abilities 
This is the most important one. Most of the time, the group that I go snowboarding with will have skiers and snowboarders of all abilities and skiing/riding styles. There will be beginners to advanced, technical to freestyle and the speed demons. It's important to find a destination that will cater to your group and have enough terrain to keep it interesting for the whole trip.
Five resorts to consider when travelling in a group
Queenstown
Queenstown is undoubtedly the most popular ski destination in the southern hemisphere. Firstly let's start off with the amazing scenic flight into Queenstown airport itself. Make sure you're not snoozing or you'll miss flying over magical landscapes of lakes, rivers and, in the final descent, between mountains so close that you'll want to applaud your pilot upon landing.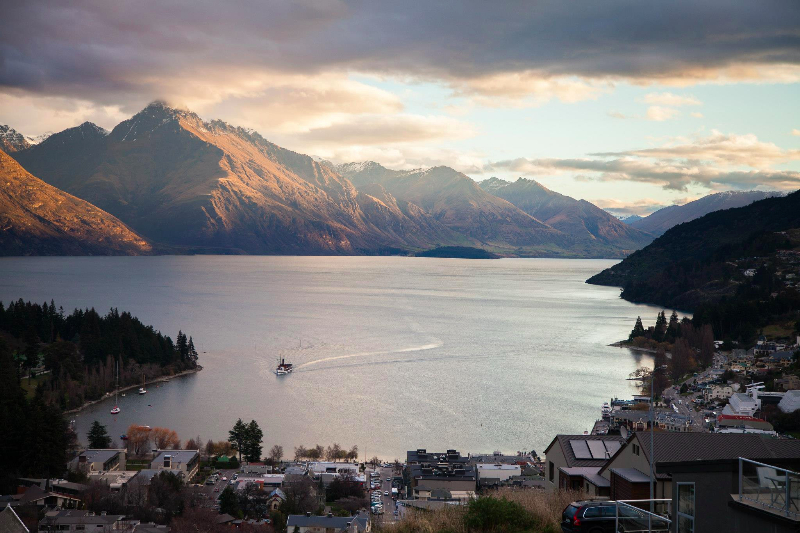 Next is the town itself.  Queenstown is situated on the edge of a crystal clear lake called Wakatipu and it's postcard material from pretty much every single angle. It's a small but well established town with fantastic night life, shopping and a huge range of accomodation.
And then of course there are the ski resorts. Queenstown is a perfect base to access 4 ski resorts (Coronet Peak, The Remarkables, Cardrona and Treble Cone) ranging from a 25 minute drive to a 90 minute drive away. Shuttle buses are available to and from the resorts or you could look at hiring a minivan depending on the size of your group.
Niseko Japan
Japan is known for glorious amounts of powder and averages around 10-18 metres of snow per season. In fact last time we were there for 10 days, I think we only had one day where there wasn't fresh snow. Niseko Village in Hokkaido is the most popular ski resort town in Japan and is known for consistent snow, tree runs and a great nightlife. It provides access to 3 ski resorts (Grand Hirafu, Hanazono and Annapuri).
I recommended getting accommodation right in the heart of town so that you can walk to the ski lifts at Grand Hirafu Resort as well as have easy access to the shops, restaurants and bars. One of the many things I love about Niseko is that lift tickets and on mountain food are excellent value. The lift tickets are about half the price compared to Australian and New Zealand ski resorts!
Whistler Canada
Whistler Village is a stunning and large village set at the base of both Whistler and Blackcomb Mountains. It has an awesome vibe with plenty of events throughout the year. You'll be in heaven as a foodie as there are so many options, from casual to fine dining.
Whistler does have a reputation for being a little pricey, so I recommend looking for accommodation a little out of the village. I stayed there with a group in an apartment about a 5 minute walk from the village and it was perfect for us. Whistler is the most popular resort in Canada (and the largest in North America) for good reason and will offer a challenge for skiers and snowboarders of any ability.
Breckenridge USA
Breckendrige Resort is a great mountain with 5 peaks to choose from, plenty of varied terrain and is known to have the best snow in Colorado. The historical town of Breckenridge is right at the base of the mountain  with plenty of shops, restaurants and bars, your group will never be without things to do.
There is plenty of accommodation to choose from within walking distance to the mountain but I would recommend slowly acclimatising to the altitude if you have the time. The highest elevation point is 3,963 meters and altitude sickness is common. Spend the night in Denver if you are coming from that way to ease into it.
Val Thorens France
Val Thorens, is part of the area known as the 3 valleys which also incorporates Meribel and Courchevel. It is Europe's highest ski resort, with the base village sitting at 2300m, and forms part of one of the largest ski areas in the world. You can purchase a lift pass for just Val Thorens or one that covers all three mountains.
When I rode there, I was a beginner so I only purchased the Val Thorens pass, but the advanced riders in our group purchased the pass for all 3 valleys. Apart from the terrain and riding, the town itself is right in the middle of the ski resort so access to the mountain is easy. With a huge amount of accommodation options, ski-in/ski-out is actually quite affordable.
There's nothing quite like chugging down your coffee, walking out the front door, strapping on your snowboard and then riding away. Oh, and riding back into town, grabbing a cocktail or enjoying some tunes, was a great way to end the day of riding. Nowhere does apres like Europe and Val Thorens does it as good as anyone so take Berocca.
Jen-Ni Quante is a snowboarding addict and travel blogger at The Snow Chasers. Part of a husband and wife team from the Gold Coast in Australia, she aims to inspire others to follow their passions, dreams and find new adventures. Her goal is to travel the world, snowboard at as many ski resorts as possible and to always step outside her comfort zone. Follow her journey on Instagram  Facebook  and Pinterest