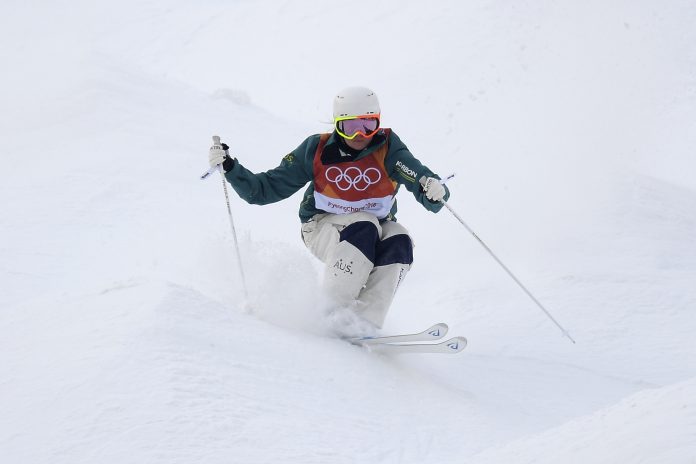 It's a medal contender day today for Australia with four girls competing in moguls. Britt Cox qualified for the finals with her top 10 run on Friday and Claudia Gueli, Madii Himbury and Jakara Anthony will compete in the repechage today in the hope of securing top 10 to make it into finals.
Cox has been consistently listed as a medal contender thanks to her stunning 2016/2017 season when she came in charging, winning FIS World Cup gold in the first competition and holding onto the yellow bib throughout. She went on to win the Crystal Globe and the World Championship and she enters today's finals as the current world champion.
This season has been a mixed one for Cox off the back of last. All agree it is nigh on impossible to maintain a constant winning streak in the highly competitive and technical sport of mogul skiing. Yet Cox has still had a good World Cup season this year with two golds, one in Ruka and one in Calgary and she enters the Olympic finals sitting in fourth place on the world rankings. In any other year that would be considered a stellar season for an Australian mogul skier. But after her unbeatable 16/17 season, she will need to pull out all the stops tonight.
[srizonfbvidsingle id=1950821071598853]
"Competition day is my favourite day" is perhaps Cox's most iconic quote but the 23 year old means it. This will be her third Olympics and it could be her charm.
NSWIS head moguls coach, Peter Topalovic, recalls constantly having to tell a 13 year old Cox to stop skiing at the end of each day and insists she is as devoted to skiing as much, if not more, now, than then.
If she can get into the top 6 super final, and traditionally she does, then it's game on as the top 6 can always go anyone's way.
Meanwhile Brodie Summers, who 'tweaked' his knee in pre qualification training on Friday, is still being monitored.A clearly distressed Summers hobbled off the moguls meet on Friday. He had, until then, been looking strong and fit on the course during training days, five months after ACL surgery.
[srizonfbvidsingle id=1949470705067223]
Word from all camps is he won't ski on his knee before the pre qualification training runs on Monday when he will be eligible to compete in the repechage in the hope of gaining a top 10 position for a finals spot. At this stage he is competing in the repechage but that will depend on how his rest day yesterday and today goes as well as his training run tomorrow. He is a strong competitor and a determined character so don't rule him out.