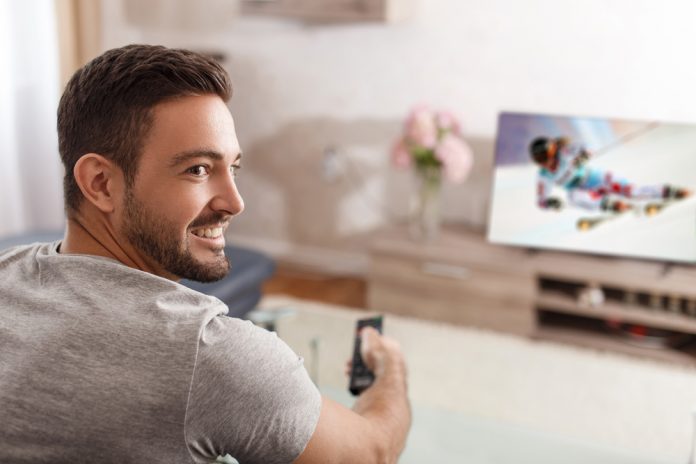 We have done the event time conversions for you from Korea to Oz and listed the viewing guide according to winter sport discipline and how and where to watch it so you won't miss your favourite snow sport. Plus we've included the Australian athletes in each competition, so you can cheer for them by name.
How to watch the PyeongChang Olympics in Australia
Free
Seven are the rights holder broadcasters for 2018 and will be broadcasting live plus highlights on Channel 7, 7 mate and the Olympicson7 app and online pat seven.com.au/olympics for free.
Seven will deliver approximately 245 hours of broadcast television coverage across the 16 days of competition.
Daily live coverage begins at 1100 AEDT on weekdays and 1000 AEDT on weekends, until approximately 0130 AEDT the next day so you will not miss your favorite events.
Pay to watch
If you upgrade your access across iOS, Android, Web, tvOS and Fetch TV to the OlympicsOn7 Premium package for a one-off fee of $14.99* you will also receive:
Seven's broadcast coverage in stunning HD.
Less commercial content, meaning you get to the action faster
Access premium content across eight connected devices – including six concurrently -meaning the whole family can enjoy the action.
*data charges apply except for eligible Optus mobile customers
The commentary team
Seven have employed Hamish McLachlan, Edwina Bartholomew, Mel McLaughlin and Jason Richardson as the anchors for the coverage with Mark Berretta, Tom Williams, Rachael Finch and Emma Davenport for, in the words of the press release, 'colour and characters'. They also have Basil Zempilas (he called the Steven Bradbury event in Salt Lake City in 2002) and a number of summer Olympics and sports journalists.
Winter sports enthusiasts will be pleased to know there are a handful of specific snow sports experts in the mix including former winter Olympians Jacqui Cooper, Steph Prem, Katya Crema to offer some expert commentary.
An all-male lineup will anchor the front bar with Mick Molloy, Sam Pang and Andy Maher taking a humorous look at all things Winter Olympics, though we're hoping they may invite some female guests. The Front Bar airs on February 8 at 9pm on 7, February 16 at 8.30pm on 7 and Saturday February 24.
Australian specific PyeongChang event calendar
We've created a calendar of Australian competitor specific events from February 9 to 25 here.
All times are Sydney Melbourne time (AEDT)
Freestyle skiing
Ski Moguls Women
Australians to watch: Britt Cox, Jakara Anthony, Claudia Guelli, Madii Himbury
9 February
Qualifications – noon
11 February
Qualifications 2 – 9.30pm
Final 1 – 11pm
Final 2 – 11.35pm
Medal final – 12.10am (February 12)
Ski Moguls Men
Australians to watch: Matt Graham, James Matheson, Brodie Summers, Rohan Chapman-Davies
9 February
Qualifications – 1.45pm
12 February
Final 1 – 11pm
Final 2 – 11.35pm
February 16
Final 1 – 10.00pm
Final 2 – 10.30pm
Medal final – 10.52pm
Mens aerials
Australians to watch: David Morris
February 17
Qualifications 1 – 10.00pm
Qualifications 2 – 10.45pm
February 18
Final 1 – 10.00pm
Final 2 – 10.29pm
Final 3 – 10.52pm
Mens Ski Slopestyle 
Australian to watch: Russ Henshaw
February 18
Qualifications 1 – midday
Qualifications 2 – 1.05pm
Final Run 1 – 3.15pm
Final Run 2 – 3.43pm
Final Run 3 – 4.11pm
Mens Ski Cross
Australians to watch: Anton Grimus
February 21
1.30pm – 4.35pm
Seeding – 1.30pm
1/8th finals 3.15pm – 3.43pm
Quarterfinals – 3.50pm – 4.02pm
Semifinals – 4.14pm – 4.18pm
Small final – 4.30pm
Womens Ski Cross
Australians to watch: Sami Kennedy-Sim
February 23
Seeding – 1:30pm
1/8 finals – 3:15pm to 3:43pm
Quarterfinals – 3:50pm to 4:02pm
Semifinal 1 – 4:14pm
Semifinal 2 – 4:30pm
Medal final – 4:35pm

Snowboard
Mens Snowboard Cross
Australians to watch: Jarryd Hughes, Adam Lambert, Alex Pullin, Cameron Bolton
February 15
Seeding – 1pm
1/8 finals – 3:30pm – 3:58pm
Quarterfinals – 4:04pm – 4:16pm
Semifinal 1 – 4:25pm
Semifinal 2 – 4:29pm
Medal final – 4:45pm
Womens Snowboard Cross
Australians to watch: Belle Brockhoff
February 16
Qualification – 12noon
Quarterfinals – 2:15pm – 2:27pm
Semifinal 1 – 2:36pm
Semifinal 2 – 2:40pm
Medal final – 2:56pm
Womens Slopestyle
Australians to watch: Tess Coady, Jessica Rich
February 11
Qualification – 3:30pm
February 12
Final run 1- 12noon
Final run 2 – 12:33pm
Medal final – 1:06pm
Womens BigAir
Australians to watch: Tess Coady, Jessica Rich
February 19
Qualifiers – 11:30am – 2:03pm
February 23
Final run 1 – 11:30am
Final run 2 – 12noon
Final run 3 (medal) – 12:30pm
Womens Halfpipe
Australians to watch: Emily Arthur, Holly Crawford
February 12
Qualifications – 3:30pm – 4:17pm
February 13
Final run 1 – 12noon
Final run 2 – 12:30pm
Final run 3 (medal) – 1pm
Mens Halfpipe
Australians to watch: Nate Johnstone, Scott James, Kent Callister
February 13
Qualifications – 3pm – 3:56pm
February 14
Final run 1 – 12:30pm
Final run 2 – 1pm
Final run 3 (medal) – 1:30pm
Alpine skiing
Mens giant slalom
Australians to watch: Harry Laidlaw, Dominic Demschar
February 18
Run 1 – 12:15pm
Run 2 (medal) – 3:45pm
Mens Slalom
Australians to watch: Harry Laidlow, Dominic Demschar
February 22
Run 1 – 12:15pm
Run 2 (medal) – 3:45pm
Womens Slalom
Australians to watch: Greta Small
February 14
Run 1 – 12:15pm
Run 2 (medal) – 3:45pm
Womens Giant Slalom
Australians to watch: Greta Small
February 12
Run 1 – 12:15pm
Run 2 (medal) – 3:45pm
Womens Downhill
Australians to watch: Greta Small
February 18
First training – 1pm
February 19
Second training – 1pm
February 20
Third training – 1pm
February 21
Medal event – 1pm
Womens Super-G
Australians to watch: Greta Small
February 17
Medal event – 1pm
Womens Super Combined
Australians to watch: Greta Small
February 23
Medal event – 4:30pm
Bobsleigh
Mens 4man
Australians to watch: Lachlan Reidy, Hayden Smith, David Mari, Lucas Mata
February 24
Heat 1 – 11:30am
Heat 2 – 12:40pm
February 25
Heat 3 – 11:30am
Heat 4 (medal)- 12:40pm
Mens 2man
Australians to watch: David Mari, Lucas Mata
February 18
Heat 1 – 10:05pm
Heat 2 – 11:30pm
February 19
Heat 3 – 10:15pm
Heat 4 (Medal) – 11:35pm
Figure skating
Pair
Australians to watch: Harley Windsor, Ekaterina Alexandovskaya
February 15
Medal event – 12:30pm
Womens figure skating
Australians to watch: Kailani Crane
February 23
Medal event – 12noon
Mens figure skating
Australians to watch: Brendan Kerry
February 17
Medal event – 12noon
Luge
Luge
Australians to watch: Alexander Ferlazzo
February 10
Run 1 – 9:10pm
Run 2 – Thereafter
February 11
Run 3 – 10pm
Run 4 (medal) – Thereafter
Short track skating
Womens 1000m
Australians to watch: Deanna Lockett
February 14
Medal event – 9pm
Womens 1500m
Australians to watch: Deanna Lockett
February 12
Medal event – 11:30pm
Mens 500m
Australians to watch: Andy Jung
February 19
Medal event – 10:53pm
Mens 1500m
Australians to watch: Andy Jung
February 13
Medal event – 10pm
Skeleton
Mens skeleton
Australians to watch: John Farrow
February 15
Heat 1 – 12noon
Heat 2 – 1:20pm
February 16
Heat 3 – 11:30am
Heat 4 (medal) – 12:45pm
Womens skeleton
Australians to watch: Jaclyn Narracott
February 16
Heat 1 – 10:20pm
Heat 2 – 11:20pm
February 17
Heat 3 – 10:20pm
Heat 4 (medal) – 11:30pm
Speed skating
Mens 500m
Australians to watch: Daniel Greig
February 19
Medal event – 10:53pm
Mens 1000m
Australians to watch: Daniel Greig
February 23
Medal event – 9pm
Cross country skiing
Womens 15km skiathlon
Australians to watch: Barbara Jezersek, Aimee Watson, Jessica Yeaton, Casey Wright
February 10
Medal event – 6:15pm
Womens Sprint
Australians to watch: Barbara Jezersek, Aimee Watson, Jessica Yeaton, Casey Wright
February 13
Qualification – 7:30pm
Quarterfinals – 10pm – 10:20pm
Semifinal 1 – 10:55pm
Semifinal 2 – 11:00pm
Medal final – 11:25pm
Womens 10km Free
Australians to watch: Barbara Jezersek, Aimee Watson, Jessica Yeaton, Casey Wright
February 15
Medal event – 5:30pm
Womens Team Sprint
Australians to watch: Barbara Jezersek, Aimee Watson, Jessica Yeaton, Casey Wright
February 21
Semifinal 1 – 7pm
Semifinal 2 – 7:20pm
Medal final – 9pm
Womens 50km Mass Start
Australians to watch: Barbara Jezersek, Aimee Watson, Jessica Yeaton, Casey Wright
February 25
Medal event – 5:15pm
Mens 30km Skiathlon
Australians to watch: Callum Watson, Phillip Bellingham
February 11
Medal event – 5:15pm
Mens Sprint
Australians to watch: Callum Watson, Phillip Bellingham
February 13
Qualification – 8:05pm
Quarterfinals – 10:25pm – 10:49pm
Semifinal 1 – 11:05pm
Semifinal 2 – 11:11pm
Medal final – 11:34pm
Mens 15km Free
Australians to watch: Callum Watson, Phillip Bellingham
February 15
Medal event – 5:00pm
Mens Team Sprint
Australians to watch: Callum Watson, Phillip Bellingham
February 21
Semifinal 1 – 7:44pm
Semifinal 2 – 8:07pm
Medal final – 9:30pm
Mens 50km Mass Start
Australians to watch: Callum Watson, Phillip Bellingham
February 24
Medal event – 4:00pm