Aaah, Deer Valley, the ultimate luxe skiing experience for skiers heading to Utah. Snowboarders, not so much. The skier's only resort is known for high end service with a smile, impeccable groomed runs and powder filled bowls for days. 
You'll never wait in a lift line for longer than a millisecond because Deer Valley caps the number of lift passes on the mountain each day. Add complimentary house made s'mores at The Montage each afternoon, ski in ski out burgers at Stein Eriksen Lodge and 'that' Veuve Yurt and you'll know why SnowsBest calls it Disneyland for adults. 
Three time Winter Olympic alpine skier, Heidi Voelkder, has lived in Deer Valley for over 25 years and knows the mountain inside-out. There's a reason she chose Deer Valley as her home mountain and Park City as her town.
This is why.
Favourite run

My pick would be Nabob ski run on Bald Mountain at Deer Valley. Every time I ski it, it brings back memories of racing Giant Slalom.
Where do you head on a powder day?

I love to ski powder in Lady Morgan Bowl on Deer Valley's Empire Mountain. There is often more powder in this bowl after a storm because of how the wind blows in extra snow. Also, the bowl is somewhat hidden so it doesn't get as many skiers.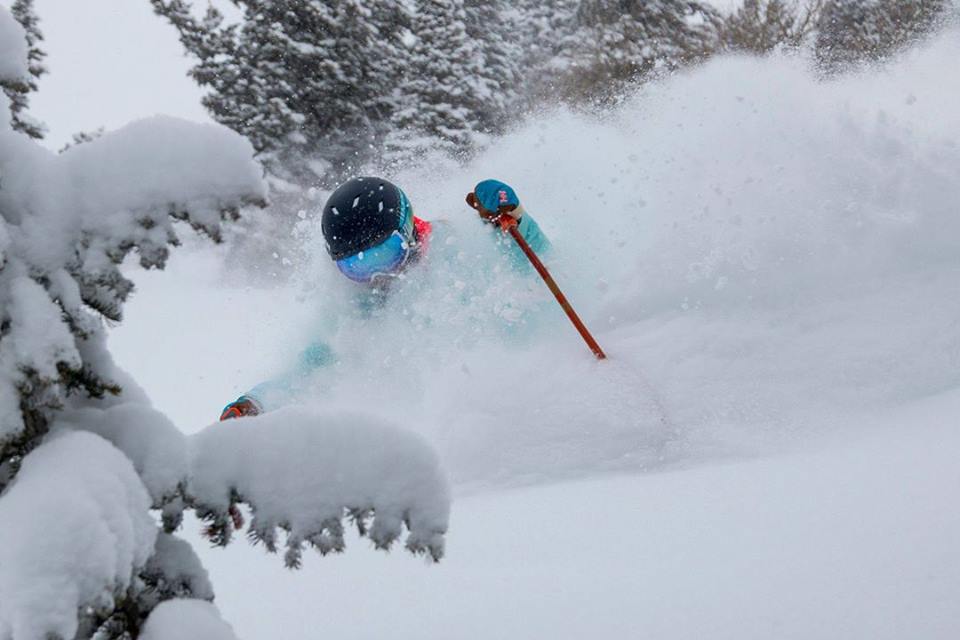 Favourite après spot
My favorite après-ski spot is at my house and on my couch. It's safer that way!
Favourite on-mountain dining

My favorite on-mountain lunch spot is definitely the Royal Street Café, located mid-mountain at Silver Lake Lodge. To start with, I order the Dungeness crab tower appetizer which is amazing. Then I like to order the fresh fish tacos (Ahi, preferably). Who doesn't like to eat maguro while skiing?
If I happen to have some room left for dessert, I like to finish with their trio of ice cream sandwiches.
A lunch stop at the Glitretind Restaurant at Stein Eriksen Lodge is an extravagant treat as well. Guests might find it a tad hard to want to get back out and ski afterwards, but the lunch experience here is one not to be missed.

Favourite village dining
The Goldener Hirsch Restaurant is a favorite of mine. With its European feel and menu, the restaurant and lounge bring me back to all the wonderful time I spent in Europe. I love to order their cheese fondue. 
Snowsbest tip: The Goldener Hirsch also has good après.
Must do activity

I really enjoy going to the Utah Olympic Park where many events such as luge, bobsled and ski jumping were held during the 2002 Winter Olympics. It's great to see today's athletes training and to get an idea of what the energy was like in 2002.
Best coffee

For convenience, I stop by the Deer Valley Etc. store in Snow Park Lodge to grab my morning coffee. The drive-up window at Silver King Coffee on Kearns Boulevard in Park City is an excellent option too.
Best breakfast

Snow Park Lodge at Deer Valley serves an excellent breakfast; you can come to the mountain early, put on your boots and be in line for fresh tracks before other skiers arrive. For a great breakfast in Park City, visit Five5eeds or Squatters Roadhouse Grill for an excellent start to the day.
Best day side trip
You can't beat a side trip to Solitude Mountain Resort in Big Cottonwood Canyon. It's about an hour from Park City and the scenery is so beautiful. The skiing there is amazing and it is in one of the snowiest canyons in Utah. The resort is typically quiet during the week and has some fun dining and après spots.
Best shopping
Park City's Historic Main Street has a variety of shops, galleries and restaurants and brings you back to the Old West and Park City's silver mining days. It is truly a 'must-do' stop for anyone visiting Park City.
Where do you take visitors to impress them?
If I'm leading a group of skiers, I try and take them to the top of the Daly Chutes. I promise I use my best judgement of their ability levels, because you'll find some of Deer Valley's steepest terrain here. The views are spectacular and we can ski down three different ways, depending on the adventure and skill levels of my guests.
Where would you go for date night?
Since I've been married for a while now, I don't have any more date nights, but if I were to go on a date, I would go to either The Mariposa Restaurant or Apex at Montage.
Best activity for families
The Gorgoza Park is a great place to visit for kids and families for snow tubing. Although it will be closed this winter due to the construction of the Woodward Park City facility, it will open again for the 2019-2020 winter season. For this season, Soldier Hollow Tubing in Midway, Utah is just 25-minutes from Park City and offers some of the longest tubing lanes in the state.
What should visitors not leave Deer Valley without doing?
I highly recommend Deer Valley's Ski with a Champion program and the Deer Valley Ski School. If you participate in the Ski with a Champion program, you can ski with me or one of six other Olympic Snowsports athletes.
You'll ski parts of the resort that you might not otherwise have a chance to visit. My kids grew up in the Deer Valley Ski School and now they are almost better than me! I would say be sure to experience one of these two options or even both.
What item should visitors take back with them?
The Deer Valley Turkey Chili is one of the resort's famous, signature dishes. It is one item that everyone really should try for lunch while skiing here at Deer Valley because it is so delicious! The Deer Valley Etc. and Signatures stores sell the turkey chili mix for guests to take back with them and prepare at home.