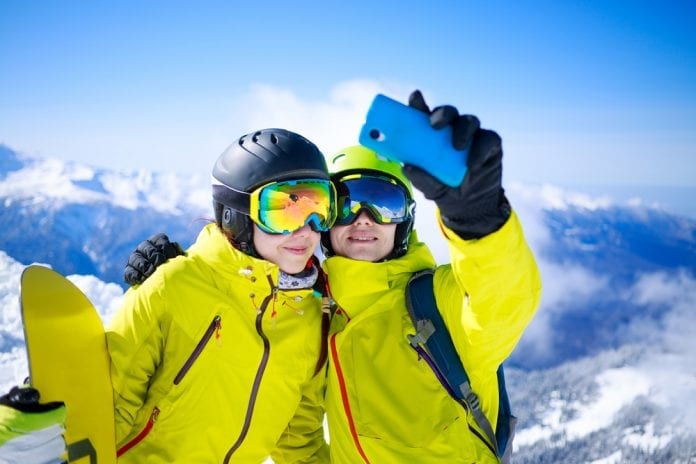 I don't own bathroom scales. I threw them away over 20 years ago because I had spent too many years asking an inanimate object if I was ok each morning.
Yet, still, every year I struggle with my ski pants. They are clearly now the barometer for personal happiness. Too tight and I beat myself up, too loose and, oh, god, what would I know because that's never happened.
I wear my life on my body. I'm a stress eater, addicted to sugar and finding a numbing solace in carbohydrates the way an alcoholic searches for grief release in a bar. This makes me public fodder, ripe for the thin societal taking because unlike the alcoholic or the gambler or the compulsive shopper who can function by day, I take my disorder with me for all to see.
I went in search of new ski pants this week. Let me tell you battling unflattering ski pants and jackets when you're at the end of the large spectrum on the shop store rack is akin to trying on a bikini at the end of winter in a fluorescent lit change room with the mirror on the outside the door. Don't do it.
Despite the average woman being a size 14 – 16, when it comes to skiing and snowboarding I'm guessing some brands would rather tall, short and overweight men and women stayed home than play outside. Yet the most common search terms that lead people to our SnowsBest site is "skis for fat people". I kid you not.
Alas, the world that pushes sugar and stress from long working hours in a culture of busy is the same that judges when the two combine and stick to your body. It's my fault though. Silly me for daring to need an XL in one brand when I'm clearly an L in another brand and an M in another and an S in another (ok that last one's a lie).
One shop assistant just looked at me when I walked in and started 'shopsplaining' what skiing is and what clothes are needed, no doubt assuming from my archaic age and non Kardashian size that this was my first rodeo – no matter how many technical terms I dropped into the conversation.
I wanted to tell her the stories of my body that had carried my soul on this earth until this point. See this strapping right thigh, it's bigger because it leads and takes the first step into the unknown so my left can follow in safety.
It has led me into planes to faraway places filled with wild lions and yawning hippos, down pathways through rainforests and bushland onto white sand, it led me into nightclubs where I should have known better, it helped me run from strangers filled with evil in the dark and it kicked them away when they caught me in clutches I'd rather forget.
This left thigh, it kept me dancing on a full moon beach in Thailand until dawn in my twenties and it propelled me into my mothers arms when I was five. I could not have climbed the altitude heights of Portillo with skis on my back without it, nor floated through powder a gazillion miles from nowhere in the wilderness of British Columbia, tracked Rhinos in Africa or played backyard cricket at Christmas on a hot Australian day. I'll keep this left thigh at every size, thank you, so please wrap it up in Gore Tex that fits.
That muffin top filled with sweetness that pokes out over the top of my ski pants? That's a band of self love right there, filled with butter croissants in French bistros in Paris, garlic trout baked in an ancient oven in Languedoc and Michelin stars in Montpellier.
While it also holds painful stories of self enforced starvation, of nights doubled over in laxative pain, of ipecac syrup taken after bingeing and of drinks spiked in a ski town, it also holds the years of healing and the act of simply staying alive.
These pendulous breasts that push the seams on this ski jacket have been touched by a United Nations of exotic lovers who delved down to break open the cast iron door that held my heart. They've been sun kissed in Tahiti, Thailand and the Greek Islands, if they had wanted they could have grown babies from newborn to walking. Yes, they've also been groped by others who thought they owned them, not caring about the person who did, but they remain forever mine.
The upper arms that swing in the wind like dough thrown high for a pizza, they hold the biceps and triceps that have carried my bags on a thousand flights, they've dragged skis across pistes, dug avalanche pits, hoisted friends babies and they held my dying mother in a hug that ended forever. Feel free to unpick the arm seams on that jacket if you have to but I'm not skiing without them.
This face filled with lines that affront. It's a canvas for life art and wrinkles painted by laughter straight from the belly, tears of frustration, grief and heart break, and frowns filled with concern. These eyes were once lit by a fire that still sparks when I find powder in trees on skis that float like a cloud so I can be free.
But I didn't tell her any of these things because stories take time to tell and time to be heard and time is now measured in miliseconds of attention in a world lived, and compared, on mobile devices.
I fear the soul of skiing is being lost amongst the need to capture every Instagram moment, film every turn and post envy inducing staged moments and forgetting to live them while we do. I fear what we look like while skiing means more than how we feel while skiing or boarding and that real connection is being lost on a man made wifi wave filled with pouting lips not guffawing smiles.
You can lose and find yourself while skiing but you can't do either if the ski world locks you out at the shop counter because of your size, nor can you do either if you're too busy wondering how you look while doing it.