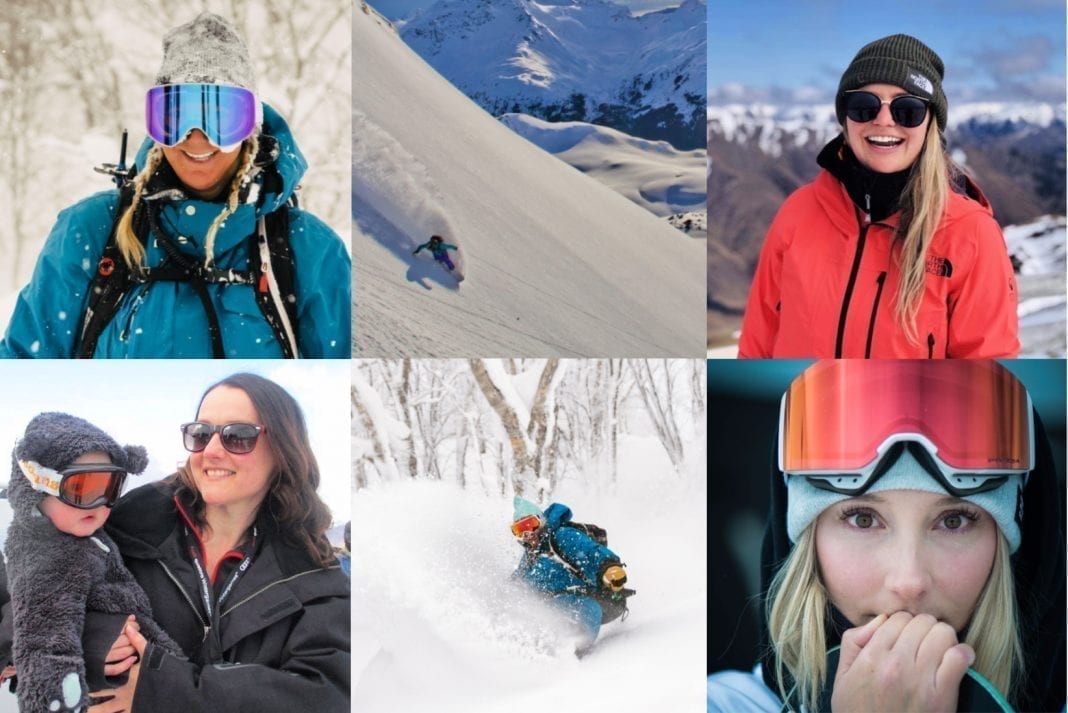 NATALIA HAWK. Skier. Snow content producer. 
I GREW UP an anxious kid, in a time where anxiety didn't really exist. I wasn't sporty, and most sports made me nervous – especially skiing.
I was scared of the lifts. T-bars were especially terrifying. I was scared of falling off a cliff or getting lost in the trees. I was scared of low visibility or heavy snowfall. I was scared of going too fast and breaking something, or going too slow and getting left behind.
But my parents liked to ski. And, having grand ideas of family holidays spent building snowmen and ice skating and enjoying the slopes together, they'd pack us up in the car and take us to Perisher and Blue Cow. We'd ski all day and spend lunch eating the sandwiches we'd stashed in our jacket pockets, watching all the other kids with their expensive hot chips.
We'd play Monopoly at night and then I'd crawl into bed, away from my family. I went to a Catholic school, but didn't go to the big guy very often. I'd save all my prayers for ski holidays, just because I hated them so much.
Please God, I'd say to the darkness. Please let the mountain be closed tomorrow.
The mountain never closed because, well, it takes a lot for a mountain to close. And slowly, somehow, somewhere along the way, I grew up, found my ski legs. Went on a couple of holidays to New Zealand. Explored the resorts of Canada on a delayed gap year.
I ended up doing an instructor's course, and then another one. Went back to Canada, and didn't leave again for four years. Went to Japan. Then ended up back in Australia, where I'm a very proud member of the Snowsbest team, discovering all ski corners of the globe in my spare time – from Thredbo to Switzerland and back again.  I've now been working in the ski industry for most of my adult life and I wouldn't have it any other way.
The truth is, I'm still an anxious adult, and still not very athletic. But skiing has ended up to be the best way for me to conquer every fear in this life, proving to myself that in the end – the very great majority of the time – everything will be okay.
Life isn't always kind to us as females. We all know that.
Our souls and hearts can take a pummeling over all kinds of things – whether it be gender discrimination, unequal pay, self-esteem issues, bullying, brutal relationships, brutal friendships, brutal family situations, ridiculous drama.
And life isn't always kind in the mountains. Over the many days I've had on snow, I've been frostbitten and battered and bruised. I've hiked up slopes that have almost killed me. I've smashed myself into ice and torn rotator cuffs and tumbled all the way down double-black runs. I've taken up snowboarding and given it up again.
I've been lost in poor visibility. I've cried with frustration more than once, because I'm having a garbage day and my skis don't seem to be turning the way they're supposed to be turning, and I'm hungry and tired and the café at the bottom is just so far away.
But here's the thing: the mountains don't care. They just don't. They don't care if you're hungry or exhausted or you're emotional.
And they certainly don't care what gender you are.
They're bigger than you, and they're bigger than your problems, and that simple fact has the most humbling way of putting things in perspective – making you just get over yourself, and your anxieties, and get down the damn run, even if it's just one turn after another.
The mountain environment can bring out the best and the worst in people. And as women in the mountains, we all know the worst.
The guy that sits on the chairlift, bragging about his skills, refusing to ride with girls because they "just can't keep up". The guy that can't stand skiing or boarding behind a girl, going top speed to overtake, even if it means losing control. The guy that mansplains. The guy that refuses to acknowledge a female athlete.
Thankfully these guys don't last long in a true alpine environment. Because those who have lived and breathed the mountain life, and the snow industry, and seen the dark moments and fought their own demons to achieve what they've achieved: they know the truth.
True snow lovers know that there are no males and females on the slopes – because it doesn't matter. We're all just people who love the sport and want to get more people into it, which is all that really matters to keep it alive.
True snow lovers don't care what gender you are, because they're busy getting their heart pumping with every turn, filling their lungs with fresh air, battling both the big slopes and the poor visibility, lapping up the bluebird days and the powder turns.
True snow lovers know that skiing and snowboarding is a personal sport. At the end of the day, everyone's just getting down the mountain in their own way, even if it might be messy or slow, or fast and spectacular, or some kind of middle-ground that's also perfectly fine.
Have I had some rubbish experiences with being a female, skiing with males who think they're too big for their ski boots, and then some? Absolutely.
But I've had a million more good experiences with the many men I've met along the way, with incredible presidents and senior executives, ski instructors, lifties, the ski patrollers, and just your average dudes who make great friends to take a lap or two on the mountain.
And in the same way, I've joined the most incredible groups of lady shredders, who know that sometimes you just want to ski with a like-minded crew. The Chicks With Stix ladies, the older women you meet over a wine at Ladies Days, the girls that will shred the park with you.
Thanks to all of you – the lady pals and man friends who make the snow industry a wonderful place to be, and who put any haters to shame. I couldn't be happier to be a part of it.
---
ALEXA HOHENBERG. Snowboarder. Mountain guide. Founder StillStoked.com
WHEN I WAS a little girl aged 11, I discovered snowboarding. It was all I wanted to do. It spoke to my sense of adventure, rebellion, and creative spirit.
The thing was, the world back then looked very different from today. The snowboarders I had to look up to as a grom were all men. Baggy pants, punk-rock-fan-boy, men. If there was one token girl in the videos, she was in disguise:  A tomboy with a backwards cap and the same baggy pants.
You'd be forgiven if you missed her for she only had one trick in the movies but you could be sure I knew exactly what time that trick would appear. I wore that damn VHS tape out rewinding her 'part' over and over.
It was pretty rough being a teenager with pro snowboarding dreams when I had no women to look up to. I guess at least that one woman looked a little like me. She was white, blonde and blue-eyed.
That wasn't the case for every girl.
Fast forward, 25 years. Coming off another season guiding in Japan as a lead guide, I'm proud to say my world today looks very different. Women in all colours, shapes and sizes, warm the seats of my catski on a regular basis. My Facebook feed is filled with video clips of the ladies throwing down at comps all over the world. More often than not, with way more style and finesse than they guys. They look like women, beautiful proud ladies of multicultures that move with grace in movement and beauty in being.
Times they are a-changing – Can I get a hell, yeah?
In my world of mountain guiding, which is still heavily male-dominated, today women hold many of those prestigious leadership roles. They bring a unique mix of strength, intuition, and softness to an otherwise hard, tough and lonely environment. Women like Lel Tone and Kim Grant have become mentors to the younger generation (myself included) showing that indeed, women can do or be anything in the ski industry no matter their background, and they no longer need to suppress their femininity to succeed.
Today we have women athletes like ski mountaineer Caroline Gleich showing us that modest, softly spoken, and petite women could climb the highest peaks, ski the steepest lines, and meet the most ambitious mountaineering objectives. We have 4x X-Games Gold medalist Chloe Kim with South Korean heritage, ruling the halfpipe and representing the USA.
It's never been a better time to be a woman in the ski industry.
While we still have a long way to go towards the equal representation in positions behind the scenes, more and more women are taking up skiing and snowboarding and venturing out in their all-girl crews, exploring the beauty of the backcountry, and seeing elements of themselves represented in athletes on the world stage.
A little girl today has a plethora of inspiration and role models to look up to. For me, I'm proud to have paid my very small part. In sharing my own personal story from professional snowboarder to mountain guide, or by building StillStoked.com, a platform for women to discover the inspiring stories of others, so that they too can follow in those same footsteps should their dreams carry them in that direction.
---
NADIA ELLIS. Snowboarder. Resort marketing manager.
I WAS WORKING a corporate job in Auckland, New Zealand. The hours were long, the work was soulless, but hey, I was earning good money and was proud of my ability to sprint in high heels when I was late for the bus.
Only, my marriage was shit.
Most weekends I escaped the grind to ride the mighty Mt Ruapehu and it's two ski fields four hours from the city. For a few precious hours I was able to truly live in the present moment, away from the doubts and relentless chatter of my inner critic.
One Saturday in the tiny ski town of Ohakune I was reading the paper (as one did in the olden days before smart phones and social media) and I saw a job for 'Mt Ruapehu Marketing Coordinator'.  
My heart raced. Should I? Could I?  I thought I'd just apply, but I probably won't get it.  A few weeks later I was offered the role which meant leaving the city and moving away from my husband. I reasoned with myself that it would be 'just for one winter'.
That was 15 years ago. 
Ruapehu was, at the time, a masculine environment and if often felt like women had to be hard as nails to get true respect. It is an active volcano, a raw and wild place, a place of extremes. I still rate Turoa as the best place in New Zealand to ski on a good day, but the weather up there is super gnarly. Good days don't happen often enough.
Back then only one woman on the whole maunga (mountain) drove a skidoo and when a storm closed in, I was told that one of the guys would drive my car down the hill. They were trying to look after us I suppose, but it felt patronising.
I finally got divorced and moved to the South Island to Wanaka to take on a marketing role at Cardrona, a place I'd only visited briefly. I cried my eyes out as I got on a plane to begin a new life. It may have been the same country but it felt like I was moving across the world.
One of the last pieces of advice a senior male leader gave me as I left for my new job was "make sure you get on the right side of the owner" as if my work wouldn't be enough. I replied, "you watch what I achieve, you'll see". It was safe to say I felt that I had something to prove.
Turned out Cardrona was a dream. The team were great, our guests were always smiling, and closed days became a distant memory. I felt like I'd hit the ski resort marketing jackpot.
Wanaka was a paradise. But it wasn't easy.
I've always been passionate about the industry and my work. I have also always struggled with imposter syndrome, which means finding balance is tough. For a while it felt like my whole identity was wrapped up in my job and I was so focussed on working that I stopped putting my boots on and getting out on the snow.
It wasn't healthy, and even though my heart was in the right place, I wasn't always easy to be around.  
Thankfully Cardrona is a place with a whole lot of soul and they stuck with me through the ups and downs. This is in no small part due to our General Manager, Bridget Legnavsky, who is a force of nature, and without a doubt, one of the most incredible women in our industry. I'll always be grateful to Bridge for believing in me even when I didn't believe in myself.
When, a few months after having my son, I returned to work as a single mum with baby boy in tow, the Cardrona whanau wrapped around me and Bridget decided the time was right to double down on my professional development. I embarked on a massive learning journey with corporate coaching, a series of 360-degree reviews and I'm now only a few months away from finishing my master's degree. 
It has been a tough but rewarding pathway that has helped me become a better leader, marketer and workmate. People don't often associate the ski industry with a professional career path but that has certainly been my experience at Cardrona. In the 11 years I've been here our skier days have more than doubled and I'm super excited that Treble Cone has just been added to my portfolio. 
Bridget often talks about supporting people 'to be the best they can be'. That is true of my journey. At Cardrona we believe in a life well lived and everything we do is bring mana to our people, our maunga and our future.
It's a unique philosophy for the snow industry where traditionally focus has been on masculine areas like operations and infrastructure. Cardrona is people, culture, connection, caring for each other and our environment.
50% of our management team are women and I think it shows.
A lot has changed since the day I walked away from the high heels and corporate gig. The world, the industry and most of all me.  
Like many women, my emotions are always close to the surface especially when it's something I care about. I've had to work damn hard at not letting my emotions yank me around whilst at the same time being authentic and honest.
I hate feeling vulnerable and opening my heart and sharing my story is not something that comes easily. But vulnerability IS courage and as women we need to speak up even if our voices shake. 
As a woman in the snow industry I am lucky because I know that when things get tough, I can walk out the door and be in the mountains. Every day the maunga is different, it is breath takingly beautiful and I'm so privileged to be a kaitiaki/guardian of this place. 
Looking out over the Southern Alps puts EVERYTHING in perspective.
Breathe, reset, begin again.   
---
ALEX PARSONS. Snowboard instructor. Resort content producer.
THE SNOW INDUSTRY. What a sausage fest. We know there are fewer female skiers (about 40%) than male skiers. Even fewer snowboarding women (around 30%) than snowboarding men. So when we get into the professional industry, being a female snowboard instructor makes you a goddamn unicorn.
When I was hired as a new snowboard instructor at an Aussie ski school in 2015, I was one of only two female new-hires.
In 2015/16 I worked for an international ski school in South Korea and was the only female snowboard instructor. Read that again. The only female snowboard instructor.
I've been on training sessions as the only female snowboarder. Done backcountry tours as the only female. So in short, being a female in the snow industry means feeling a bit weird and lonesome as you're frequently the only one of your kind.
But it's not all bad.
Being a female in the snow industry means that in snow towns, if you're single and straight, the odds are ever in your favour (or not). You get hit on all the time. Everywhere. But sometimes I don't want to be hit on at the bar and the lunch line and on the chairlift and the locker room. Most of the time I just want to snowboard.
Being a female in the snow industry means feeling a bit awkward about private lessons when your male client asks you to join them for lunch. Or for drinks afterwards. Or to see his hotel room. Is it sinister or are you just being paranoid?
It also means having the smallest selection of snowboards, and most are aimed at the beginner market so the boards are too soft. The boots pack out too fast. Your gear is frequently less waterproof than the men's version. Because fashion over function, right?
As if there are any women who need gear that lasts. And none of them are going to the gnarly zones anyway. Right, guys? So professional female snowboarders often ride men's boards (I have one). We just don't choose the ones with naked women on them.
Being a female instructor means realising that us ladies ride differently. Our hips are wider, we have a lower centre of gravity and our femurs are more angled inwards. It means I understand how to adjust for these differences and give women a better day on the hill.
Being female means that we learn a little differently, because we're socialised differently. As a general rule we don't like to huck ourselves off things to impress people. We're into understanding something really well and then building up gradually with a solid foundation. Knowing how I learn means that I can really connect with my female students and get the best out of them.
Being a female in the snow industry means being objectified frequently. Winning "cutest snow bunny" titles at the end of season awards. Or having male co-workers talk among themselves about how good your ass looks when you're in the locker room getting changed after your lessons (true story). Or having your supervisor tell you at line up that, "It doesn't matter if you can't teach – because you're hot." (Also a true story.)
I could tell you so many stories. Because the snow industry is like any other industry. So #metoo applies.
But, over the past 11 seasons of being in this industry I've seen things shift.
I am never the only female snowboard instructor anymore. There are always other ladies heading into the backcountry or doing training. I have female friends in the locker room. More importantly, everywhere I go I am finding a tribe of badass snow ladies who are there to shred.
In Thredbo, we had "Lady Shred Crew" hoodies. Here in Nozawa, Japan, we've created an all-female backcountry crew. In Mt Hutt, there are more female instructors than I've ever seen before. In Whakapapa, most of the supervisors are women.
Being a woman in this industry means I am here at a time of great change.
One where female participation in snow sports is greater than ever. When women are starting to be paid equally in competitions. When they're landing big tricks and garnering attention for their skills over their looks.
Yes, it can be lonely and sexist and downright exhausting. But it is a great privilege to be a woman in the snow industry now, because I know I can be a part of the change.
***