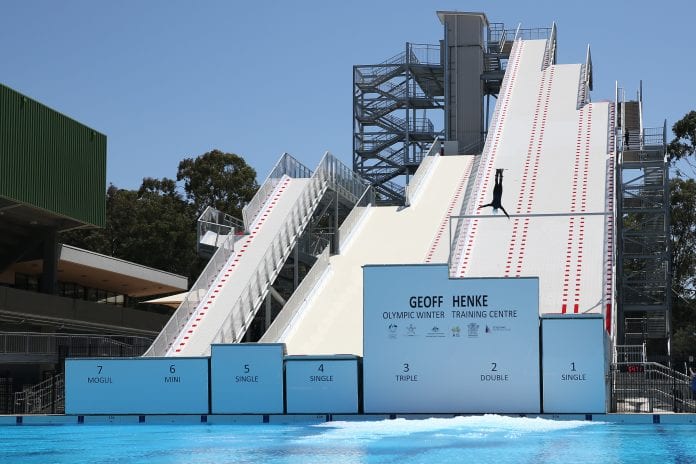 The new water ramp training facility at Sleeman Sports Complex in Brisbane has been given an official title this week.
The impressive facility for aerial and mogul skiers will now be known as the Geoff Henke Olympic Winter Training Centre.
The title acknowledges the life-long contribution Geoff Henke AO has made to Australian Winter Olympic sport.
"No-one has fought harder to create this wonderful facility than Geoff.  More broadly, his vision has seen Australian winter sports flourish. The Henke Centre is a fitting acknowledgment of his contribution," said AOC President John Coates AC.
"For two decades Geoff served as Australia's Chef de Mission to the Winter Olympic Games. His influence in the years that followed has seen Australia emerge with 15 Olympic winter medals – five gold, five silver and five bronze – all because Geoff was persistent in his belief Australia could achieve international success."
The $6.5million centre is the result of a combined agreement between the Federal Government, including the Australian Institute of Sport, the Queensland Government, the AOC and the Olympic Winter Institute of Australia (OWIA).
Aerial skiers test new Olympic Winter water ramp in Brisbane
The Queensland Government provided the location through Stadiums Queensland, with $4.5 million in funding provided by the Federal Government and the AIS, with the AOC contributing the remainder.
Also recognised is OWIA CEO and Chef de Mission for the Beijing 2022 Winter Games Geoff Lipshut.
The lift transporting training athletes to the start of their jumps at the Henke Centre will be known as "Lipshut's Lift", recognising the specific contribution Geoff Lipshut has made to Australia's aerial skiing program.
"Geoff has been a pioneer, particularly through the creation of a transfer program which has converted skilled gymnasts into world-class aerial skiers" says AOC Vice-President and six times Winter Chef de Mission, Ian Chesterman AM.
"The names of Marshall, Cooper, Camplin, Lassila, Peel and Morris, are all aerial World Champions or Olympic medallists, and I am sure each would agree that Geoff Lipshut was a major contributor to their success."
The Geoff Henke Olympic Winter Training Centre will be officially opened next year.
Check out Australian Winter Olympic mogul legend, Britt Cox, behind the scenes at water ramp training on our Instagram highlight.