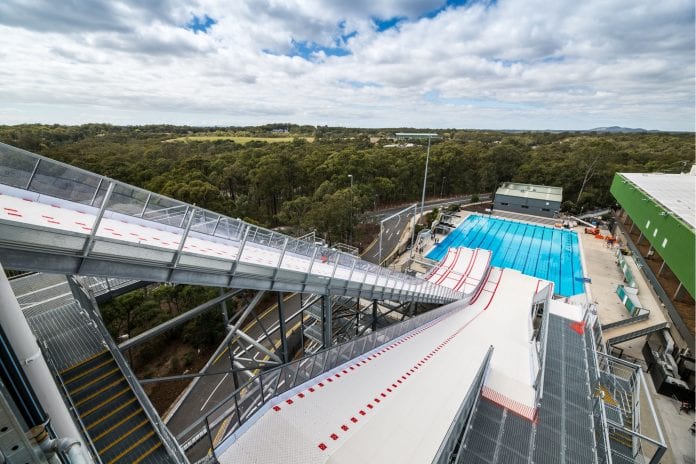 It's been a long time coming but Australia's best aerial and mogul skiers are set to soar through the Brisbane sky this week as they test the new Sleeman Centre's water ramps at the Olympic Winter Training Centre.
The $6.5 million facility is the first year-round outdoor aerial facility in the world and is a collaboration between the Australian Government through Sport Australia and the Australian Institute of Sport (AIS), Queensland Government, Australian Olympic Committee (AOC) and Olympic Winter Institute of Australia (OWIA).
The Sleeman Centre will be the new home base for Australia's elite athletes and boost the talent and training pathways to identify and develop the next Lydia Lassila or Alisa Camplin, who grew from junior gymnasts to Winter Olympic champions.
Australia's rich legacy in aerials and moguls has netted eight of Australia's 15 Winter Olympic medals, including three gold.
The 'Flying Kangaroos' aerial ski team members Danielle Scott, Abbey Willcox, Gabi Ash and Airleigh Frigo are the first to trial the facility, beginning this week with single and basic double somersaults before progressing to larger jumps and more complex skills throughout the testing phase.
The moguls team, including PyeongChang 2018 silver medallist Matt Graham, current world number two Jakara Anthony and 2017 World Champion Britt Cox, will begin their training at the centre late next week.
From the top of the 37 metre high facility, athletes can reach maximum speeds of over 70km/h and launch up to 17 metres above the water, trialling and perfecting aerial manoeuvres in the safety of the water-landing before transferring them to the snow.
AOC CEO Matt Carroll said he was thrilled to see the project completed and athletes testing the centre.
"It's fantastic to see this world class facility come to life and have Olympians showcasing their skills in Brisbane," Mr Carroll said.
"This means Australia's best talent can be identified, developed and reach their peak performance right here at home, while being close to family and their community."
Australian athletes have had to hone their skills overseas, with a water ramp facility in Utah having more than 3600 days of training logged by Australian athletes from 2013-2017.
The centre has different jumps to cater for a wide variety of Olympic winter disciplines and experience levels, from beginner to the tallest triple jump.
OWIA CEO and Chef de Mission of the Australian Team for Beijing 2022 Geoff Lipshut welcomed the opportunity to give current athletes a performance edge and help identify and develop the next generation of Winter Olympians.
"This is a huge step forward for athletes at the next Olympic Games in 2022 and importantly for our athletes of tomorrow," Mr Lipshut said.
"Through our partnership with Gymnastics Australia, this facility creates huge potential for gymnasts to successfully transfer their skills into aerial skiing. Our transition programs have already produced great Olympic champions in Alisa Camplin and Lydia Lassila, world champions in Kirstie Marshall and Jacqui Cooper and the current world number one, Laura Peel."
The structure, comprising 289 tonnes of steel, measures 37m and is equivalent to three Brisbane City Council buses stacked end to end. Elite winter athletes will now join cyclists, gymnasts, divers, swimmers, weightlifters and more at the Sleeman Centre.
The official opening of the facility is expected to occur in 2021.