Red Mountain Resort in Rossland British Columbia, Canada is a cult mountain for those looking for big mountain skiing with no lift lines and a cool local vibe.
Canadian Paula Gaul calls Red home and has lived here for 15 years, setting up and running Big Red Cats skiing operation with her Australian husband, Kieren. 
This is her Insider Guide.
Why Red
We wanted to run a business in the mountains, in a mountain town with an excellent lifestyle for raising a young family. We visited most of the ski towns in British Columbia, and found that, for us, it had the best mix of terrain, demographics, economic potential, sheer beauty, annual days of sunshine, quality education, and welcoming people.
Favourite run
We spend most of our time cat skiing or working, so don't ski at the resort as much as we'd like, so my favourite run is wherever my ski buddy wants to go that day, and it depends on conditions. You can wiggle through the glades anywhere and find great terrain, but I'll say Booty's.
Where to on a powder day
I just lock up the office and go out with Big Red cats, because ownership has to have its privileges, doesn't it?
Best après
Fresh Cafe and Après, not just because I own it and it's beside my office, but the food really is great thanks to our chef, there is cool local beer on tap, and that is where I can go and chat with my cat ski guests after their ski day. 
Best on mountain dining
Nachos at Rafter's is a huge pastime, and I'm expecting great things from Marc-Andre at the new Velvet in The Josie hotel.
Best village dining
Mook Thai when I feel like Thai, or Friday afternoon 'pizza day' at the Alpine Grind. 
Best coffee 
At the resort, Fresh Cafe in the Red Rob's building. In town, Seven Summits Roastery, but Alpine Grind is also really good and has more seating and snacks.
Best hot chocolate
Mountain Nugget Chocolate Company.  Trish does fantastic chocolate-everything.
Best breakfast 
Breakfast at Fresh Cafe & Apres for me.  I like the avocado and poached egg on toast with sprouts and salsa, but you can just grab a brekkie burrito and go if you prefer. 
Best off mountain activity
Watching live music at the Flying Steamshovel Pub in Rossland. They get some great bands.
Must do activity
Cat skiing! Though I'd call that a ski/board activity, it's just so much freedom.  There are some great cabins to ski-tour around to just up the highway in the rec area; enjoy lunch next to a warm wood stove and meet some locals. Cross-country at Blackjack and the biathlon area is beautiful.
Best side trip
Whitewater Ski resort, possibly finishing with Ainsworth Hot Springs.  Whitewater isn't big, but it's gorgeous, has great snow, and really good food.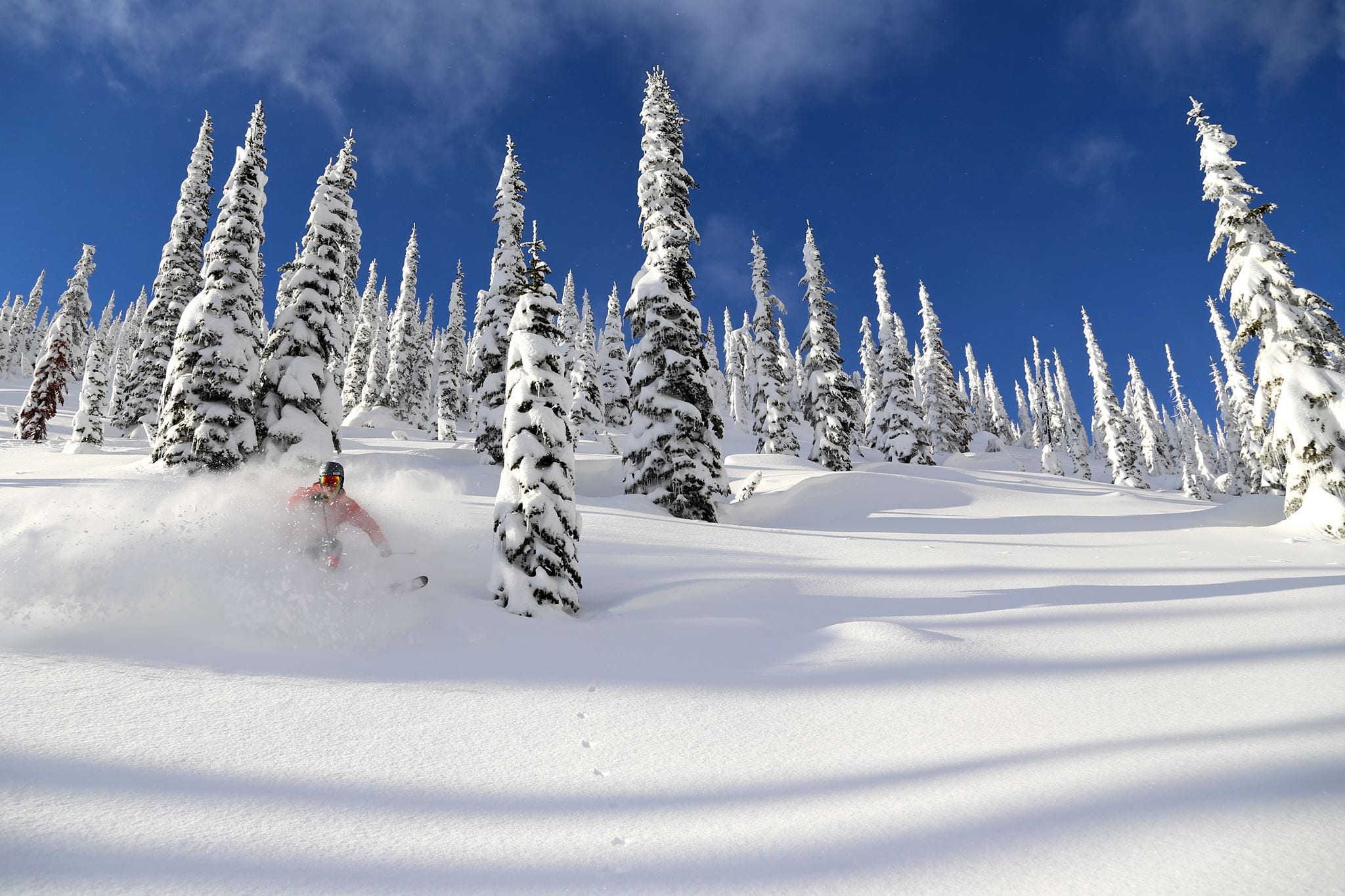 Best shopping
Columbia Avenue in Rossland. There are a quite a few good shops within a two-block strip.  Great quality for such a small town (the grocery store doesn't just have organics, it has imported foods like Vegemite). 
Where would you go for date night? 
I'm too busy to date until spring, but if there's a good band, I'd go to the Shovel, but it sounds The Velvet would be a really nice dining experience. There is also a spa at the Josie, so a massage followed by dinner sounds appealing. A ski-in hut with wood stove and candlelight probably beats them all.  
Best activity in resort or town for kids
Red is best for families with older children who can ski, but a bit of "tobogganing" is always a good time.
What should visitors not leave your resort without doing  
Cat skiing, if the budget can handle it, because it really is a special bonding experience for friends and families, the freedom and exhilaration of powder skiing through gladed slopes is hard to forget. 
What item should visitors take back with them  
Chocolates from Mountain Nugget, but they may not make it home intact, they're so good.