Tony Harper is the name behind Balls Deep Inn and self contained villas in skier and snowboarder Japan paradise, Hakuba Valley. He's been skiing in this region for four years. This is his Insider Guide. 
Why Hakuba
The quality and amount of snow, the variety of pistes, the vibe of the town, the friendly people and the food.
Favourite run
The top of Goryu gondola to the bottom of Hakuba 47 gondola. It's a beautiful long run that has all levels of terrain in it. Soft banked cat tracks, some challenging mogul black, tight course home and after a cruisey, long journey you have to really fang it to get to the gondola at the bottom. There are many options for the run to keep it interesting.
Powder day
Anywhere except Cortina. On a powder day in Hakuba, skiing and boarding is awesome everywhere. If you're early enough the groomers have sweet tracks. Cortina has such a powder reputation that everyone seems to flock there after a big fall. The lifts are packed, the runs are tracked out and choppy early, and meanwhile the rest of the Valley is Aussie free.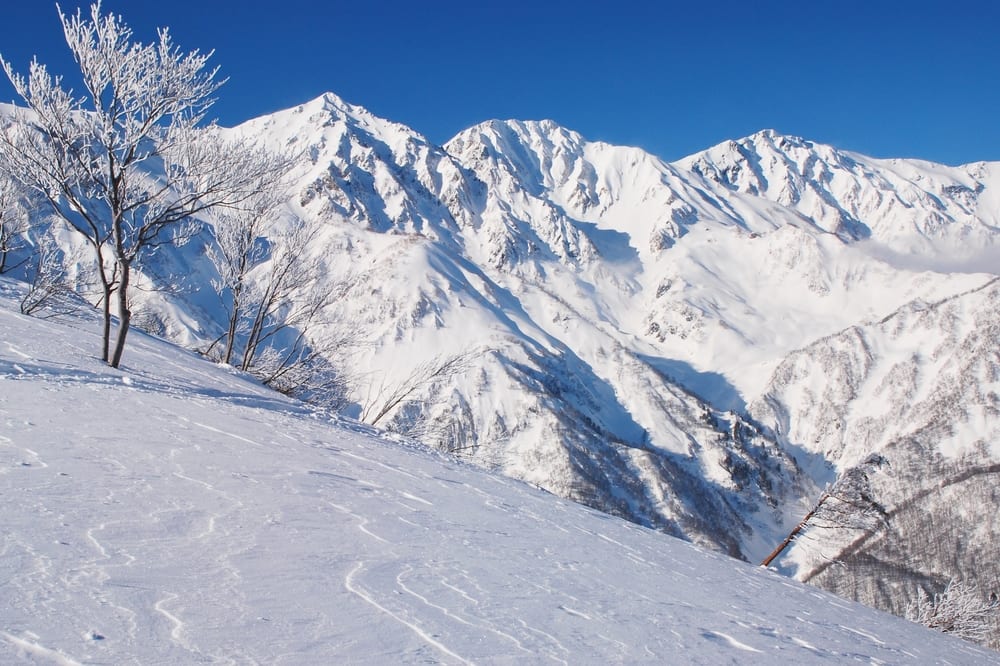 Best Après
Mocking Bird. It's a small bar in Echoland that has very laid back atmosphere, DJ some nights, great staff, superb cocktails. The yuzushu (Yuzu sake) here is so good I tracked down their supplier to keep myself stocked up.
Best on mountain dining
There are so many great, cheap options for Japanese food on mountain. It really is one of the biggest plus points for skiing in Japan. I have two favourites, probably because I found them on my first trip and they have that association. The ramen at Eden restaurant to the left of the mid station gondola at Tsugaike Kogen is served with great ceremony, packed full of flavor and energy and about $A12.
At Goryu there's a small restaurant lodge on the home run called Green Grass. They do cheesy, mushroom gratin that's perfect on a cold day.
Best village dining
Favourite village dining and why, whats the 'go to' dish? There are plenty but if I have to choose one it's Zen. Small share plates. I've tried most of the menu in 5 visits and loved every one.
Must do non ski activity
If you don't mind the drive then visit the Snow Monkey Park (about 90 minutes away). A visit to a Japanese supermarket like Big is strange but fun. But the best non snow activity is an onsen. There are many different options and if you have an issue with being naked in front of strangers ask your accommodation hosts to book your family into a private onsen.
Best coffee
In town I'll swing by Lion Café or Rhythm Snow Sports. On the mountain my fave is the café at the top of the Hakuba 47 gondola. They fresh grind and use Aero Press, which is what I use when travelling for an excellent black coffee.
Best sugar fix
If chocolate's your thing (and it's my daughters) grab a crepe at the bottom of the Immori or Iwatake slopes. At Immori there's a guy in a van just behind the Hakuba Snow Sports school who makes savoury and sweet crepes that are exactly what you need when you come in from a big day in the snow.
Best breakfast
99 times out of 100 we're smashing bacon and eggs in the self contained villa – when the snow's this good breakfast seems a luxury too far. Can recommend the Rabbit Hole (their burgers are awesome as well – as is there merchandise, Perisher was full of Rabbit Hole hoodies this season).
Best day side trip
Jigokudani snow monkey park. Balls Deep Inn villas come with use of a free car and it's great to be able to head out to see the monkeys at your own pace and for much less than the pricey local tour fees. Ditto with the epic Matsumoto Castle.
Best shopping
Mountain geeks love Rapie. The best place to get sorted for back country kit, and climbing gear for the green season. Some great deals on second hand skis and boards that will do you proud in pow.
Where do you take visitors to impress them?
Everything impresses visitors to Hakuba, but if it's a photo op then Cortina looking down at Hotel Green Plaza. That never fails.
Date night
Netflix and chill on our couch. Save yourself for the first gondola.
Best family activity
They ski right? If not, Hakuba Heat can't be beat or, fireworks are legal, and can be let off in our front yard.
What should visitors not leave your resort without doing
Try the wasabi edamame at the restaurant closest to the gondola base in Hakuba 47. It might sound like a small pleasure, but it's actually life changing.
What item should visitors take back with them
Get to Big supermarket and spend all your spare yen in the lolly aisle.  You'll find some amazing (and disgusting) 'treats'. Almond Fish are apparently perfect for lovers of fish and almonds (who knew).
If you're after gifts get the Popin Cookin DIY kits. Super fun, super tasty, super weird – Japan in a box.
Check out more Insider Guides for Japan here.