You know you're doing something right in life when you're invited by SnowsBest to shred some amazing powder at two of your favourite resorts (Niseko and Sapporo Kokusai) as well as time in the famed Hokkaido backcountry.
Then report about it.
Best of all? I'd be staying in Jozankei Onsen hot spring village.
It's an exciting little village and makes a great base for deep powder adventures in Niseko and the resorts around Sapporo.
Jozankei Onsen town
Jozankei boasts 56 different hot spring sources ranging in temperature from 60 to 80°C delivering over 8,600 litres every minute. The perfect place for relaxation after some big days shredding the famous Japanese powder snow.
If you do spend some time in Jozankei Onsen, and I suggest you do, then make sure you hit up the Jozankei Gensen Park. It was built to mark the 200th anniversary of the birth of Miizumi Jozan, an ascetic monk who built the foundation for Jozankei Hot Spring Village back in 1866 by opening the first hot spring spa in the area. There is a variety of hot springs to soak your feet and hands in as well as a special area to boil an egg (a must when in Japan).
I stayed at the Shogetsu Grand Hotel as my base for the next few days. It is a beautiful older hotel that was recently renovated and now features a range of different hot baths and relaxation areas as well as first class restaurants and spacious rooms with views over snow covered mountains.
I had also timed my arrival perfectly because all guests have access to free beer between 5 and 6pm. Winning!
Dinner was equally impressive and consisted of a seven course meal (yes seven) made up of seasonal produce, many of which was locally sourced in either Hokkaido or across Japan. It would be rude not to soak a second time after dinner, right?
Niseko Backcountry
Niseko sits an hour's drive from Jozankei and my first day was spent with the crew from Hokkaido Backcountry Club. Our guide Mattais gave us a safety briefing and condition report at Hokkaido Backcountry Club HQ. The Niseko area had just received another large amount of snowfall and although it was still a little windy, conditions were looking great.
Our plan was to head to the base of Nito Annupuri about 20 minutes away. This mountain sits just behind the Niseko United Ski Resort and is a frequent choice for backcountry skiers and boarders in the area.
The climb up was really quite easy and it was evident very early that there was a lot of fresh snow. Mattais knows his stuff (and terrain) and got us into some really good, untracked snow. We proceeded to do lap after lap, utilising our original skin track to get back to the ridgeline after each drop in.
After five crazy good laps, some equally as good onigiri (Japanese rice triangles) and more high fives than I can remember it was time to head back to the van.
We called into Abucha II restaurant on our way back through town to sample some local cuisine and were treated to a huge selection of dishes accompanied by Japanese beers. The perfect finish to a perfect powder day.
Next stop, back to Jozankei for another relaxing onsen and a good night sleep.
Niseko United Ski Resort
Since the forecast called for great weather after heavy snow overnight the plan was to hike the peak at Niseko United Ski Resort.
This is hands down the longest run in the resort and a must-do for anyone visiting the area. Make sure to go with someone who knows the way and also wear your avalanche safety gear since it does require you to leave the resort area via one of their backcountry gates.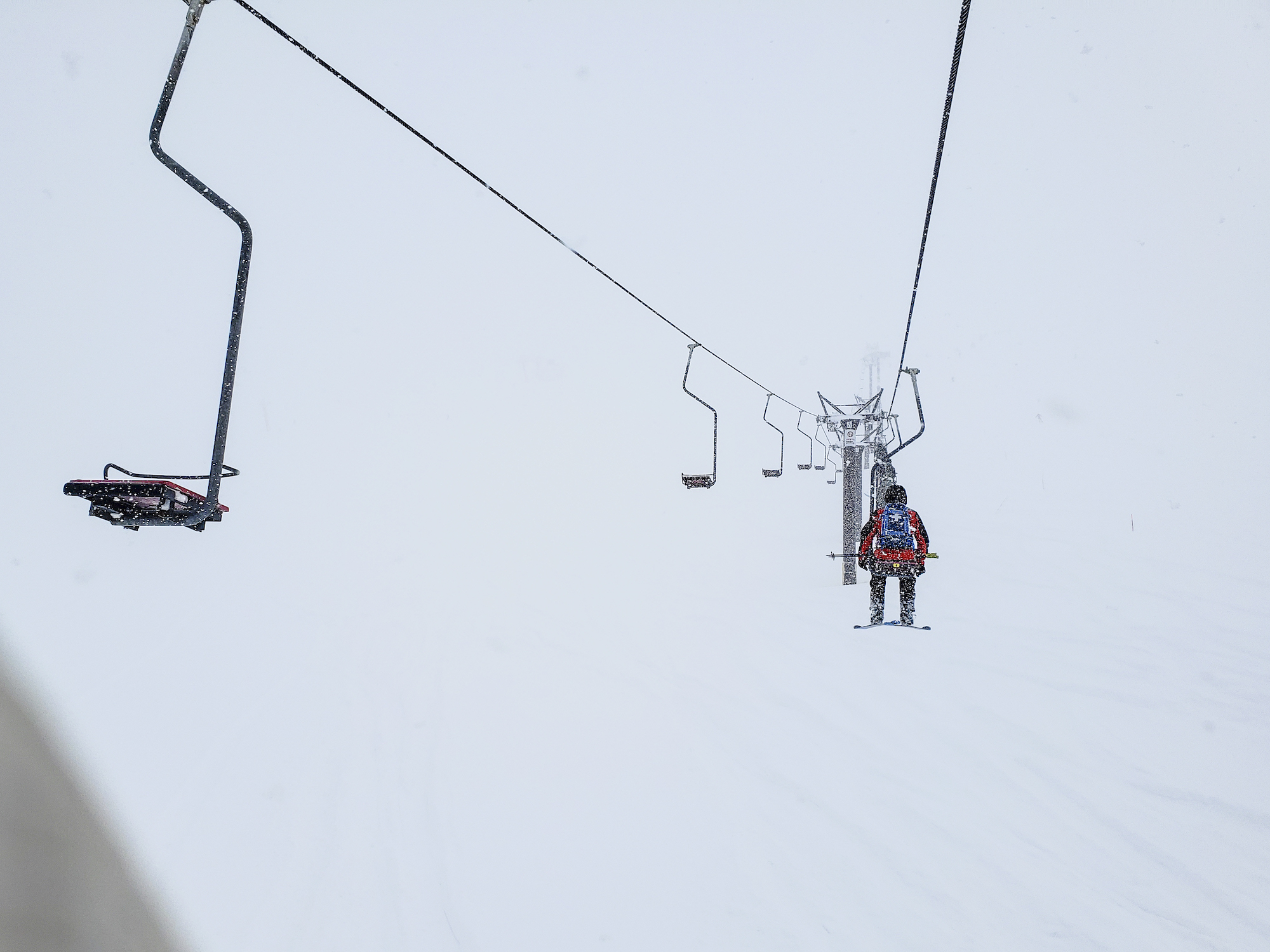 After travelling on a gondola, then a quad chair and finally a single chair (often referred to as the meat hook – see photo for why) I was at the highest lifted point in the resort. It was now time to walk the last few hundred meters.
It's a pretty straightforward walk and took me about 15 minutes to reach the summit. I took in the view briefly but quickly returned to my goal, snowboard off the peak and down into the Hanazono Resort ski area.
After a brief wait for some clouds to clear and the sun to come out, I was off. The first few hundred meters is a vast open area with absolutely no obstacles, just wide open space to carve some of the biggest and fastest turns of my life. Then I started to get amongst the trees… well, the tops of the trees since there was around 4m of snow in the base.
The snow was epically deep and fluffy. Then the trees tighten a little and I followed a small ridge line to where it meets a cat track. This cat track is graciously put in by the resort and allows for a very short walk back into the ski area.
Alternatively you can continue to ski past the cat track and eventually lap back into the base of Hanazono but on really deep days you want to make sure there has been some traffic going before you, otherwise you are in for a long hike out.
I then used the lift system to get back to the top and put in some really fun in-resort turns before heading down for lunch.
I've lived in the Niseko region for 6 years and one of my favourite places to dine has always been the Green Farm Café in the heart of the village. Local farmer, chef, restaurant owner and nice guy Dennis VanDerBrink puts together an amazing burger combo to help restore snow spent energy.
I finished the day back in Jozankei at the Kokorono-sato foot spa.  Donning a traditional Japanese winter kimono jacket, I ordered a plate of cookies and a hot tea, then went outside and placed myself pool side, right near the waterfall. I then rolled up my pants and soaked my legs and feet in the hot onsen water. There is a big chance I fell asleep, but I could be wrong.
Last but far from least was the Jozankei Onsen Yukitouro which translates to 'snow candle way'. Lights from over 1,000 snow lanterns light up the local shrine and surrounding woods and there's also 'flames of wishes' where visitors light a flame and pray for their wishes to come true.
My wish for deep powder was definitely working.
Sapporo Kokusai ski resort
Day three was spent closer to "home" with a day at Sapporo Kokusai Ski Resort just a short drive from Jozankei. The weather was going to be almost perfect and I was very excited to shred in the sun.
The drive from Jozankei to Kokusai Resort is only about 30 minutes and winds its way through the mountains and valleys until you finally arrive at the parking lot.
Kokusai Resort has some of the best terrain in the area and my sights were on the glorious resort riding and side hits that make this resort a favourite amongst the Sapporo locals.
With virtually no lift lines and bluebird conditions I piled on run after run and eventually had to take a break to rest my legs. At the top of the gondola is a little cafe and just what I needed.
If you still have energy to burn then head to Sapporo city for a bit more adventure at the Sapporo TV Tower and the famous Ramen Alley or hit up Odori Park, home to the Sapporo Snow Festival every February.