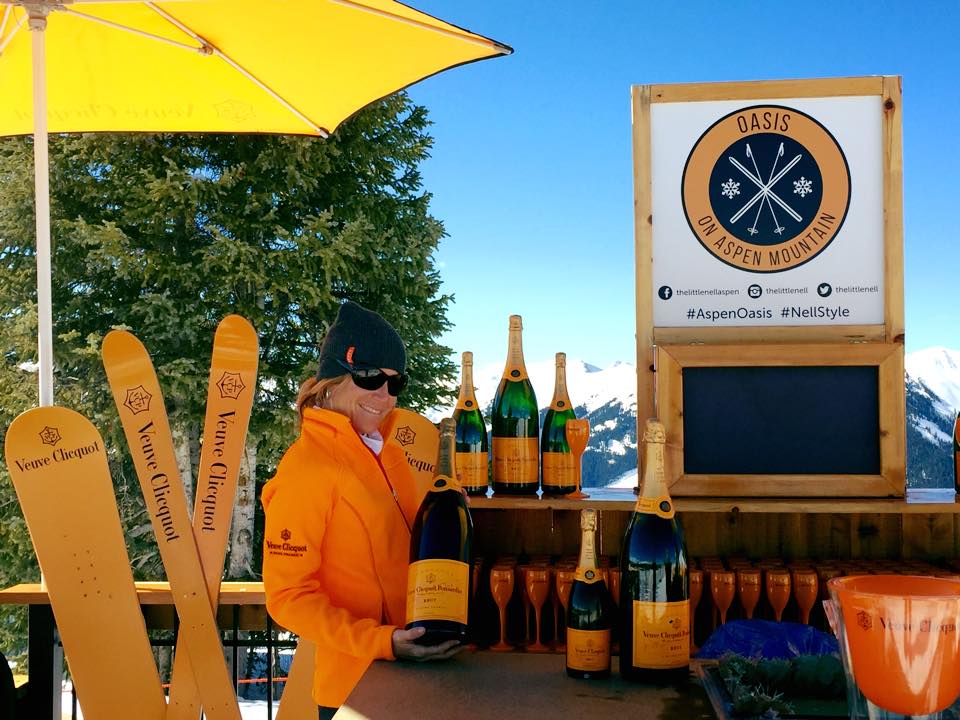 Ever wanted to land a hot job in Aspen? May Selby went from ski instructor to PR gal about town working with The Little Nell & her own social column.
My first glimpse of Aspen came in 1988 on a summer trip with my dad. We were traipsing around Colorado visiting colleges (dating myself here, I know) as I had my heart set on moving out West as the next chapter after my Cincinnati upbringing.
We stayed at his friends' Fasching Haus condo just up the hill from The Little Nell, dined at the now defunct La Cocina Mexican restaurant where I remember the police officers were jovially gathered in the bar having drinks with fellow locals. We rode the then-new Silver Queen Gondola to the top of Aspen Mountain and I recall being shocked watching hikers heading straight up the slopes.
I met one such hiker at the top whose backpack was full of rocks. We exchanged hellos and he told me he was downloading and hiking up again, "training for a trip to the Andes."
In the evening, paragliders filled the sky, soaring over town with their bright chutes, which reminded me of a trip to Switzerland. Aspen left an impression as a beautiful place with a friendly feel, but little did I know I'd later call it home and feel so enriched living here.
After graduating from the University of Colorado – Boulder with a major in French and a minor in Art History, I joined several friends – Chris Davenport being one of them – to make the move to Aspen for one single season. As the story goes, ski season turned to spring travels to the Caribbean, then back for the unbelievable summer filled with activities and adventures galore then came the glorious fall and it was onto another winter.
I'd always been a skier, but in the wake of the snowboarding boom, I picked up the single plank, too, took a liking to it and tried out as an instructor. Just like the scene in "Aspen Extreme," when the ski school candidates rush to read the posting after try-outs to see if they've made the cut, my fellow applicants and I checked the ski school wall once the decisions were made and, fortunately, I'd been hired.
I taught kids and privates for a couple of years, waitressing at night, and living in a house with seven friends. It was like college without the classes – social and fun! One of my friends suggested we spend the next winter in Chamonix, a sister city to Aspen, so we left for six months and lived like bums in the Alps, learning much more than ever anticipated about big mountain skiing and going on hut trips frequently.
When we returned to town, I took a job with 10th Mountain Division Hut Association with cabins from Vail to Leadville to all around Aspen. Founded by former 10th Mountain soldier Fritz Benedict, an architect who studied under Frank Lloyd Wright, and his wife, Fabi who hailed from France, it was a great way to learn more about the history of Aspen skiing and careful growth of the town.
I worked at 10th Mtn for several years, in the office for reservations, in the field as a support guide for trips with the schools and senior center, and other such projects. By the time I "retired," I tallied more than 80 nights spent in the huts – great experiences in every season.
While there, I started writing a weekly social column in The Aspen Times. The way I landed that job was completely by chance. I've always been a social person, have had a lot of parties. At the time there was just one woman named Mary Hayes who wrote the only social column in town and had been at it for about 50 years, naturally covering an older crowd as she'd gotten to know them over time.
One night, I was hosting my annual retro ski party and some friends of mine called Mary to suggest she come cover it. She declined the invite, but offered to run any photos provided afterward. When the article ran, the editor tracked me down and said he'd been looking for someone to represent the "younger generation of Aspen."
He offered me a social column of my own and I've run with it every week ever since. I think my last column I filed was #829?
I met a chef around that era named Troy Selby and we began dating. We've been together ever since, later tying the knot in 2005 and having a little rugrat in 2013 named Remy who we affectionately refer to as Squirm.
Back to my early days, though, after 10th Mountain, came jobs in the events world. I spent a year working as a coordinating producer on a reality TV show for the Outdoor Life Network and American Adventure Productions based in Aspen.
That was by far one of the most fun work experiences I've had to date! We filmed an adventure-based series with 50 amateur athletes who were selected from 1000 applicants for the chance to first compete in Moab, Utah; then 25 made the cut for a winter adventure in Aspen; then 13 made the cut for a trip to the Kalahari Desert in Africa; then 12 went on Costa Rica for a jungle odyssey; then 9 when on to Iceland and 5 made the final team to attempt to climb Mt. Everest.
Just 2 summited (1 being a close friend here in Aspen – Ted Mahon), and all aired on OLN and ABC. But it didn't get renewed so I was on to a new job.
Next came a development job, overseeing the Aspen Celebrity Downhill benefiting a non-profit that's no longer in existence, but brought inner-city kids to Aspen for a week in summer or winter to live with local families and embark on adventures. During these programs, they held nightly "rap sessions" to provide a forum for these kids to speak about their struggles and be encouraged to overcome them. Nary a dry eye in the house at these gatherings and the stories they'd share in confidence could be brutal to hear.
The success rate of the program helping kids get on their feet and reach for a better life was overwhelming. It was fulfilling work and gave me an opportunity to run their development program alongside the board, raising money to keep these programs going and expanding into monthly retreats in their home cities.
I then left to work for a developer of luxury resorts, based in the Roaring Fork Valley, with properties from Tuscany to the Caribbean to California and more. Working for Timbers Resorts was an incredible experience that would last nine and a half years where I eventually became the director of events and social media.
I loved the travel opportunities, which were frequent and the company's growth kept things interesting. When I started there were just three properties in the portfolio, which expanded to more than a dozen during my tenure.
The 45-minute commute from Aspen to the Carbondale office was a struggle, so to make the most of my time, I became a DJ and did most of my listening and searching for music on satellite radio on the road, then took lessons from Aspen DJs Dylan Regan and Mike Nakagawa at night.
I now DJ frequently everywhere from private parties to apres-ski bars to benefit events to weddings and other such occasions. I don't know if I would have had such a grand opportunity to play in a public setting if I lived in a big city with much more competition and fewer connections.
Through my column in The Aspen Times, I'd been invited to join events as a media guest at The Little Nell from time to time. I once thought to myself, whoever runs the PR side of things here has the ultimate job in town. Well, when that position opened up in the fall of 2014, I figured I'd revamp my resume (which hadn't been touched in nearly ten years) and submitted an application.
It was precisely a month from my first conversation with the director of sales & marketing to the date I received a job offer, so things moved quickly. I couldn't turn it down and started December 1, 2014. I love working for The Nell, overseeing the public relations and social media for the hotel and highlighting its many personalities, as well as the outlets from Ajax Tavern to element 47 restaurants to the adventures offered year-round to the luxe accommodations and more!