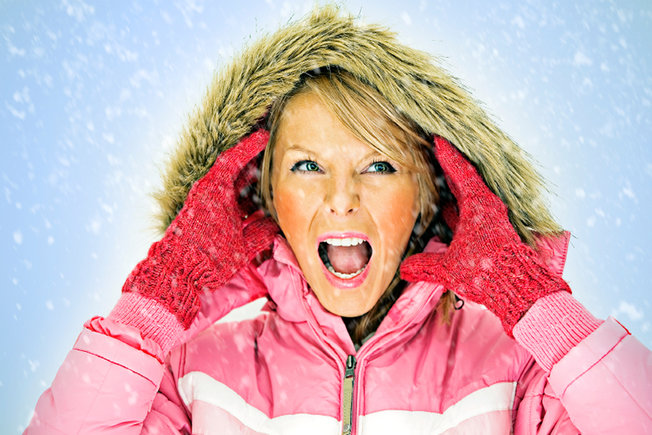 Australian skier wants wall built between Aldi and the Alpine Way. 
The annual Aldi ski and snowboard sale may be in hot water this year after one Australian skier started a boycott on Aldi's well made, well priced ski and snowboard gear.
"I mean, it is offensive to those of us who take pride in the external brand logos on our carefully curated ski gear" said Ms Penelope Powder-Perfect from her harbour view home while sipping a dirty chai latte in a cup branded 'recycled' in large letters.
"What next? Priceline to sponsor the inter school races? Pretty soon we'll have state school families wanting to join our private ski clubs and we all know where that ends up. Car parks filled with Japanese cars. Aldi is not Audi."
Ms Powder-Perfect has started an online petition for those appalled by the idea of affordable ski gear for their fast growing children. So far three well known trustafarians, an Instagram influencer with 30 000 instabot followers and Scott Morrison's ski instructor have signed up.
Ms Powder-Perfect is hoping their petition will go global and maybe even incite the wrath of Trump who, according to Ms Perfect would never be seen in Aldi. "We're hoping he will build a wall between Aldi and the Alpine Way."
"It's sales like these that make skiing more accessible and will tear at the very heart of skiing and snowboarding in Australia and our ski industry built on big dollars forked out by the public" said Ms Powder-Perfect's first boyfriend since her recent (and second) divorce, yogi DJ to the stars Nirvana Nathan, 25.
"I mean I charge thousands of dollars for my yogi DJ skills where I push my laptop button to start the music with my big toe while in a wide legged forward bend with hands in Namaste pose" continues Nirvana Nate.
"That takes a lot of skill and people pay for that. It should be the same with ski gear. You should pay for it. A lot."
Aldi are daring to sell girls snowboard pants for around $30 with fully sealed seams, goggles for less than $20 and with two lenses and compression gear with change from a twenty.
"I mean no one flies to Australia to spend money at the Aldi sale like I fly to Verbier to buy Frauenschuh and Aspen for my Moncler" says Ms Powder-Perfect.
"They are clearly delusional and I think they are a super market, anyway, well that's what I read. Supermarkets sell supermarket stuff, ski shops sell ski stuff. You don't have to be Jennifer Hawking to know that. Go tend to your avocados Aldi."
"I know what you mean, I spend my yogi dollars flying to Canada to buy Lululemon direct from the source" pitches in Nate. "I always request a vegan meal in First Class though."
Snowsbest has reached out to Aldi for comment.
This is not a sponsored post nor is it cash for comment. Aldi has not paid for this piece nor have they paid the writer for this satire even if the writer thinks they should pay, a lot.