Adventure photographer Andrew Railton aka "Rails" has lived in Mt Buller year round since 2010. He writes for SnowsBest about his greatest love, the mountains.
Back in 2009 and 2010 I had been exploring moving my Film and TV Industry career from south east Queensland to Los Angeles. (Prior to that point, I'd worked as an assistant cameraman, camera operator and photographer in the Film and TV industry in Queensland from about the day after I left school.)
But sitting in my apartment in Brentwood LA in late April 2009, I decided that this big dirty city wasn't for me. So I returned home to Bris-vegas (Brisbane).
But having been in LA on and off for the previous 9 months, I had let go of all but a few of my Queensland clients. So I needed to get some work happening quickly. I read an ad online for a position as a photographer with Fun Photos on Mt Buller.
I thought that could be a fun opportunity, and it would give me a few months to make some calls and get a few corporate photographic assignments and clients rolling again to get in to after the winter. So I sent an email, and made a call about the job.
Then the next day, I picked up a corporate assignment in Brissy, which kept me working for the next few weeks, and I totally forgot all about Mt Buller. Then suddenly about mid-late June, just as I was walking in to the building to deliver the finished project to that corporate client, I received a phone call.
"Where the hell are you? We need you here tomorrow", exclaimed Woody (owner of Fun Photos). So that day I packed up my gear and hit the road to Buller, and started shooting for fun photos the next day.
Pretty quickly, the Mt Buller Marketing Departments started using my photographic services to shoot images for Mt Buller. Shortly after, I was offered a position by Mt Buller to work full time for them. And we'll, I've simply never left since.
The mountains are quite enchanting and magical. They suck you in, get a grip and all of a sudden you can't leave. The pace of life up here for the most part is completely the opposite of the crazy, busy, noisy, fast pace of the City.
The winter quite obviously has its peak visitor periods, which anyone who knows Mt Buller will understand that Bourke St on Buller can be just like Bourke St in Melbourne. As can the Kooroora and just about every other hospitality venue on the mountain. Bustling with people and live with energy.
Let's face it, Buller is a place people come to socialise and connect, not just ski. Which is in contrast to the quieter summer months.
As a mountain biking destination, Mt Buller is about as good as it gets in Australia. A true alpine mountain biking experience for all styles of riding. With arguably some of the best trails and trail experiences in the country. Which is a major part of why I chose to stay.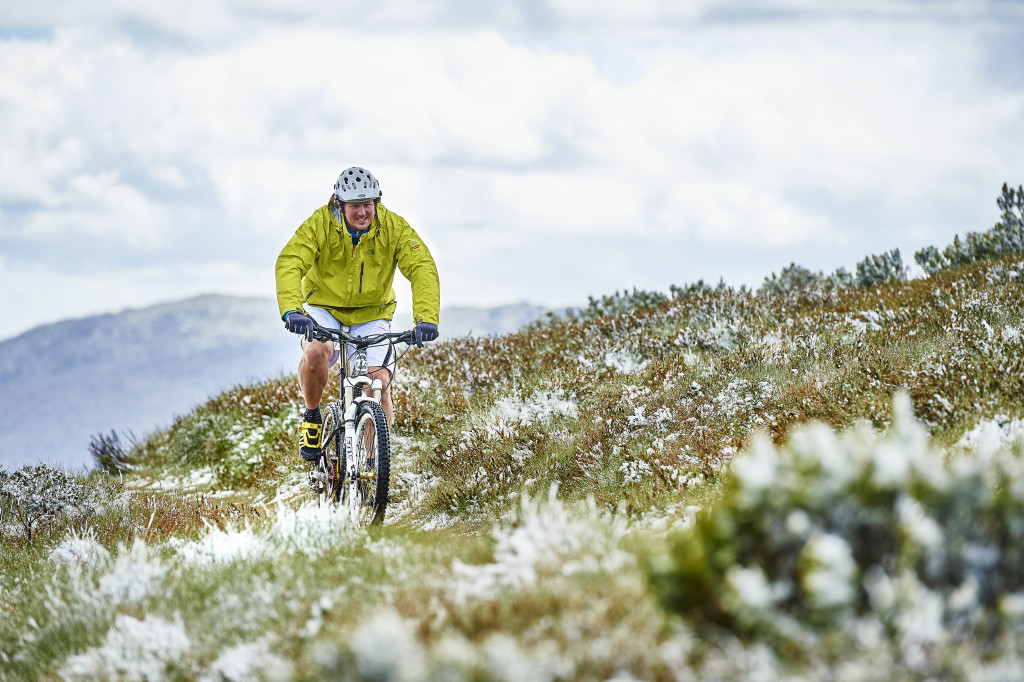 But the longer I stay here, and the more I do to help grow the summer visitation, the more summer is slowly becoming like winter.
But we still have two very different experiences each year.  Not just environmentally, but I mean socially.
Buller grows to having up to 8000 people up here in peak of winter, and then shrinks down to less than 100 in the summer with maybe only 25-35 actual on-mountain village residents.
The relationships you have with other residents in such a small community are quite special. It takes a strong person to last any time up here.  But the seasonal changes mean that it really is quite a dynamic social environment, always changing, and that keeps you honest.
But from a purely physical environment perspective, there are not many places in Australia where you can get a snowy covered winter, and a warm and sunny summer. Very few people get to experience that, let alone live in such a place. Which makes it all the more special to be able to say that I live on Mt Buller.
The most vivid memory I have of a special time on Buller occurred a few winters ago. Another local at the time, Tom Richardson, a buddy of his and mine headed up to the summit for a sunset photo shoot.
We got a couple of really nice shots, and after we'd lost usable light, Tom pulled a six pack from his backpack to celebrate a successful shoot. Life was pretty good.
Then from out of nowhere walked a highly recognizable Buller regular, Jock Gunn, who without prompting, produced a bottle of scotch, which he'd had concealed inside a of Wilderness First aid kit, as you do. Complete with 4 matching crystal scotch glasses.
We warmed ourselves on that cold and exposed summit until well after the sun had gone with that medicinal scotch. Eventually the bottle was emptied, and it was starting to get a bit late to be hanging about on the summit.
But the highlight came when we boarded and skied all the way back down to the village over freshly groomed runs. It was perfect corduroy the entire way.
It was like skiing or floating on a cloud.
We pulled up right outside the front door of the Après Bar, racked our respective pieces of alpine sporting equipment, high five'd each other, then proceeded directly to the bar to order another round. The light was amazing, the photos turned out pretty darn good and the company was outstanding.
When it's going off, the pow up here is pretty darn good. And I'm not just taking about the white stuff. The brown pow gets pretty epic also. In fact I'd say it's even better. Quite obviously it's the natural environment that draws and keeps people up here in the mountains. And the outdoor recreational activities that come with that.
For me, nothing beats the feeling of hitting a perfectly naturally groomed ribbon of virgin hero dirt with any one of my several bikes. And those rides usually happen mid-week when there is not a single soul out on the trails.
It's just like a powder day in winter, but even better. Sometimes mid-week in summer, that hero dirt is all mine. Whereas in the winter I'm usually working flat out under the pump to get images shot and distributed in a timely fashion. But in summer, I can get out for a few hours to enjoy a ride on wicked trails in a stunning landscape, and live in the moment.
My 'me' spot.
A favourite spot of mine would have to be Yully's yodelling chair on the side of the Medusa trail. Near the top of the climb up Corn hill, I can often sit for up to an hour, just taking in the views, watching the wildlife and contemplating life. Bliss. And in the winter months, being resident on the mountain, affords me the ability to grab those rare opportunities when they exist.
There's nothing like making a last minute decision to pack a bag with the bare essentials, go for a hike over the snow, and stay the night in a cabin out on Mt Stirling.
We need to also talk about coffee. When it comes to coffee, I head to Grimus Grind for sure. Anton Grimus (Olympic skier) has in a short time built quite a following for his Grimus Grind coffee window at Hotel Pension Grimus, which happens to be two doors up the street from where I live. My local as it were.
And just this summer he built a unique Coffee cart/truck. It's an ex-Army Land Rover Defender, still clad in its Army camo paint. It just happens to have a commercial coffee machine built in to the tailgate. It's a very cool piece of kit, with great coffee, and the bloke running it is alright also.
See more of Andrew's work at his website.
For more Locals that Love and Insider Guides visit our locals page.