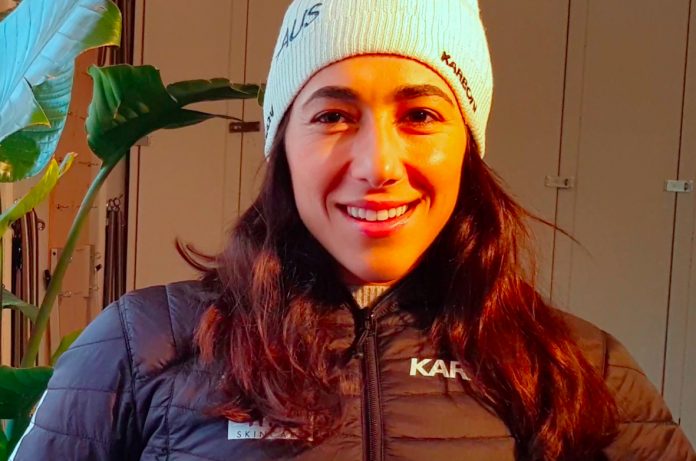 There is a part of me that's always been a little intimidated by Olympian and aerial skier Lydia Lassila. Not because she throws herself off giant walls of hard packed snow, ejecting a million meters into the sky while twisting and tucking and falling to the ground on skis. That, I know, is out of my league.
It's her confidence, her steel resilience, her gritted focus, her ability to know exactly what is in her own best competition and training interests that I find so awe inspiring. We're Facebook friends but I can count on one hand the number of times I have met her, each time I approach with hesitation and hopefully respect in the hope I can get some interview time. I know her as a woman who can say no, for her best interests, and that is a powerful thing of which I envy.
"Angry Lydia is a frightening Lydia" she tells me at Deer Valley after failing to make the FIS World Cup aerial finals a few days after our interview. Only she doesn't seem angry, she seems relaxed, happy in her own skin, aware this is her last competition season and clearly determined to enjoy those little 'last time' moments as she asks for a photo at the bottom of the course.
The fire (and anger) will come later when she's back in her digs. Lydia doesn't like to lose, it's what makes her an Olympic gold medalist (Vancouver 2010). It's what drove her to land the first triple by a female in training and throw it into competition in Sochi, knowing she could still win gold with a lesser jump, but putting it out there also knowing if she didn't land it the degree of difficulty would get her on the podium and the performance would get her in the record books. She won bronze and the love of her nation for going hard or going home.
A week after failing to make the final at her first FIS World Cup for this season, that fire and anger saw her win gold at the FIS World Cup at Lake Placid  and then back it up with silver the next night.
There's a softness and grace to Lydia Lassila on this rainy day in Park City in mid January. She's granted me some interview time and appears calm and collected despite jet lag after her flight from Finland where she has been training. We talk in the car about her kids, the interior details of her new home in Lorne that is finally finished, mutual friends, life on the road, love and loss amongst family and we laugh, a lot. It feels good to be around her.
[srizonfbvidsingle id=1926476387366655]
Impending retirement is clearly allowing her to exhale and come down to earth from a career spent so sky high, literally and figuratively. A lot has happened in Lydia's life over her competition years. Injuries a plenty including that devastating public moment when her knee collapsed at the Torino Olympics, a marriage, two sons, an award winning documentary (The Will to Fly) made with her aerial colleague and producer Katie Bender and now a new found love of surfing.
She is honest about moving on after PyeongChang, knowing that she will never do an aerial jump again. Unlike golfers, tennis players, swimmers who can go on to partake in their sport for leisure, aerial skiing is not a sport one does on a weekend after a BBQ.
"It's a bit different too from swimming up and down a black line, but, you know, a sport like this can really strip you down to your core"
"I can get a similar high from surfing" she says about how to replace the feeling of aerial skiing. Though I suspect she'd need to do that surfing on a wave of great white sharks to even come close.