If you're feeling like you need some rest and relaxation after the madness of a pandemic – who can blame you?
But rather than booking yourself into an expensive yoga retreat, follow us to Minakami Town in Japan's Gunma Prefecture for some snow and onsen action.
Minakami Town is the hidden gem that you didn't know you needed in your life. Just 75 minutes from Tokyo by bullet train, Minakami is recognised by UNESCO as a Biosphere Reserve, offering an unparalleled gateway to nature that will have you unwinding in no time at all – and even home to rare wild animals such as the Japanese bear and Japanese serow.
From onsen therapy, with no less than 18 onsens to choose from; to the delicious food found in town; and an incredible variety of activities to get you immersed in the natural environment surrounding you, here are seven of the must-see spots, according to the locals.
1. Minakami Kogen Ski Resort
There are eight ski resorts within close distance to the town of Minakami, making it a favourite with lovers of the outdoors. Minakami Kogen Ski Resort is especially popular, famous for the amount of powder it's lucky enough to get every season, plus the convenience of having a ski-in, ski-out hotel on the slopes.
The tree runs are magical for those who are powder hunting, and there is plenty of both beginner and intermediate terrain to suit every skier and boarder in your group. But where the resort really comes into its own is for the kids.
It has sledding areas for them to play in the snow; plus special snow racing scooters, snow huts, a tubing carousel and snow shoeing. Plus there's a beautiful open-air bath at Minakamikogen Hotel 200 to enjoy after the slopes.
2. Tanigawa Onsen
With so many onsens in Minakami, you'll have to clear plenty of space in your calendar to get to a few and experience the crystal-clear spring water that the town is famous for.
Kanzan is one of the top onsen picks, having been established in 1961 as a family business and loved ever since among the locals. There are just six rooms available to stay here, as they want to provide the ultimate hospitality experience; plus there's a 24-hour onsen and private baths with open air scenery and added hydrogen for healing purposes.
When it's time to eat, Kanzan serves up local cuisine with a pairing of various Japanese Sakes, along with short concerts of the traditional flute instrument "syakuhachi", relaxing enough to perfectly drift you off to sleep after a day of skiing or onsen.
3. Tanigawadake Tenjindaira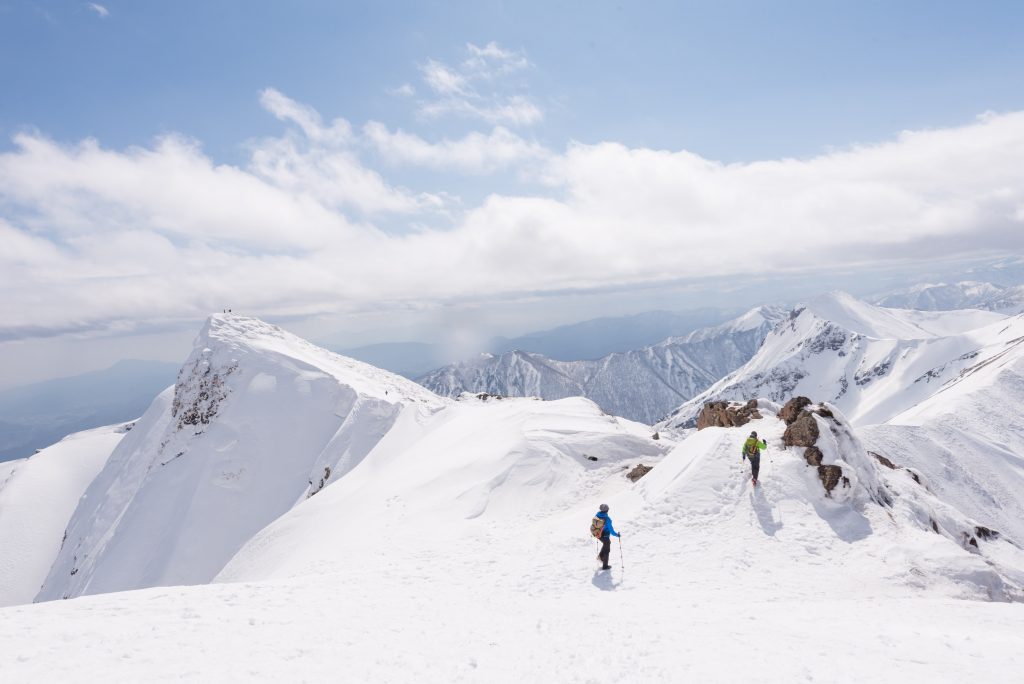 Tanigawadake Tenjindaira, known simply as 'Tenjin' by most, is the kind of backcountry destination where people arrive and don't ever end up leaving.
The Tanigawadake Ropeway carries you from the foot of Mt. Tanigawa to the base of the ski slopes at Tenjindaira, with the 15-minute ride offers stunning views of the mountains on clear days. From there, you can opt to tackle the milder slopes, or see why people from all over the world flock here; the backcountry runs with some of the best powder to be found in the world.
A guide is essential, so touch base with someone like Kieren from Tenjin Lodge for both accommodation and guiding of the best terrain for the conditions.
4. Kamimoku Onsen
After all that skiing, you're going to need more onsen time, and Kamimoku is another must-see on your list. Set along the Tone River and just 10 minutes by bus from Minakami Station, it's believed that Kamimoku's spring is fed by snowmelt from Mt. Tanigawa that is heated underground for up to 17 years before emerging at the surface. After all – there's nothing like 17-year-old spring water to really unwind those weary ski legs.
The location is also ideal for those who want to snowshoe, ski or sightsee on the mountain when they're not enjoying the onsens and accommodation.
5. Minakami Town's local restaurants
If you love booking holidays to tick local delicacies off your bucket list, you'll love Gunma. Going above and beyond the delicious cuisine that the Japanese are known for, everything in this region is fresh, hearty and based on what the locals have been eating for centuries.
To add to your must-try list:
Yaki Manju, buns covered in a sweet miso sauce and roasted over charcoal, which are traditionally served in this area.
Okirikomi, a hot-pot meal with thick, long noodles, miso and seasonal vegetables in a pot – perfect for those cold winter days.
Sukiyaki hot pot, with beef, tofu, vegetables, mushrooms, and konjak noodles, all from ingredients produced in the Gunma prefecture. You can enjoy the Sukiyaki hot pot at Minakamikogen Hotel 200 after enjoying the snow activities.
Sashimi made with "ginhikari" trout, the highest grade of selectively farmed rainbow trout in Gunma with a high-fat content – resulting in the most delicious fresh sashimi you could hope for.
Wash it all down with a beer from OCTONE Brewing and Taproom, a creative craft brewery founded by Yasuharu Takeuchi, who chose the area because of the famed quality of the water.
6. Sarugakyo Onsen
One more onsen for your onsen-hopping experience. Sarugakyo Onsen is a small onsen resort on the north shore of Lake Ayaka. Historically, it was a rejuvenating stop for weary travelers along the route between Tokyo and Niigata.
Legend has it that a monkey once cured a burned human child here in a hot spring; now it's popular as an outdoor bath with striking views of the lake, and monkeys still live in the mountains nearby.
The hot spring resort area has a variety of unique accommodation options, ranging from cozy traditional inns to modern hotels. You can stay within close proximity to the skiing and snowboarding nearby, then enjoy your evening with a local meal featuring their delicacies.
7. The simplicity of the surroundings
Every skier and snowboarder knows the magic of the mountains, and there's no better way to relax and refresh than simply getting among them.
Mt. Tanigawa is the highest mountain in the Tanigawa mountain range, located on the border of Gunma and Niigata prefectures. Its location, dividing the Pacific and Sea of Japan, makes for those amazing weather systems that result in plenty of snowfall for the area.
Thanks to the nature of Minakami, you'll never see too many people here – either in town or on the slopes – and may just be lucky enough to get the magic all to yourself as you wait in a lift line or wander through town.
Plenty of hikers and mountain climbers are also drawn to this area during the summer and autumn months, with the Tanigawadake Ropeway for those who want to enjoy the mountain's views without having to hike.
Ready to go and discover Minakami Town? Find out more about it here.