I feel so relaxed, said no one ever after a ski holiday. It's exhausting, all that schussing, drinking, schlepping and fun. But there are ways to ensure you return from your precious annual leave having experienced both the highs of skiing and the zen of wellness.
A number of wellness retreats have set up shop in the mountain wilderness no longer reserved only for ski resorts. Add a mountain wellness spa resort to your ski trip and thank us later.
You can combine a week at a ski resort with a week at a nearby wellness retreat or, like some we've listed, simply stay at a wellness retreat as your ski accommodation. Problem solved.
We've curated the best snow laden retreats in the peaks of Canada, USA, Japan, New Zealand and Europe so you can ski in and zen out.
Southern peaks: Aro Ha, Queenstown New Zealand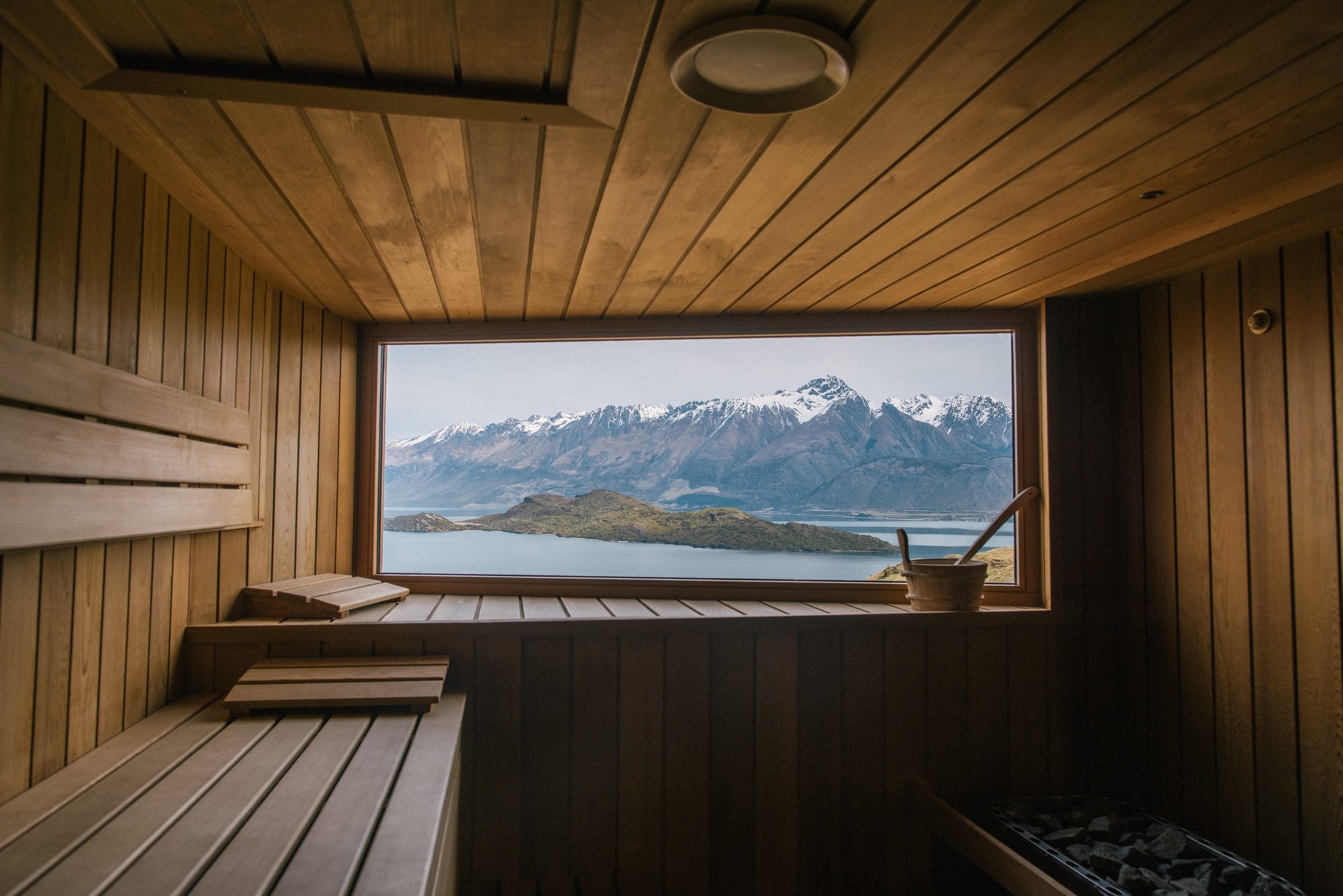 Start the day at Aro Ha with those aching views across Lake Wakatipu that seep into the soul and reboot you while you're looking.
Then yoga, breakfast, hike, hike some more, keep hiking, lunch, massage, sauna, activity, chat, dinner, yoga, bed. All while dining on produce grown on site, sleeping in a gazillion dollar sustainable property that's won every award under the spa sun and knowing the skiing peaks of New Zealand's Southern Alps are spitting distance but a tranquil world away. Choose from a 5 night or 7 night retreat year round.
Now exhale.
Crystal waters: Sparkling Hill Resort, British Columbia Canada
You'll find this beauty perched high on the shores of Lake Okanagan not far from SilverStar and Big White ski resorts.  Book in for a multi day wellness retreat or even a Heli ski wellness retreat and step into your own chopper outside the front door.
Guests at Sparkling Hill Resort have access to seven themed steam and sauna rooms, four experience style showers, an outdoor infinity pool, an indoor salt water pool, hot pools and Kneipp hydrotherapy.  You can book in for anything from a traditional massage to cryo cold chamber treatments, dine on farm to table local fare and soak in the mountain and lake vistas.
The resort also boasts 3.5 million Swarosvski crystals throughout the property and 100 plus wellness treatments to choose from. Nice. 
Peace-full: Amangani, Jackson Hole, Wyoming
Aman Resorts are the epitome of effortless relaxed chic for the discerning traveller. Amangani near Jackson Hole, Wyoming is hosting a
Journey to Peace
retreat with Tibetan Bon Buddhist spiritual master and scholar, Geshe YongDong from 29 January to 2 February, 2020.  
Stay for four nights and experience daily breakfast, an hour nourishing ritual, a private 60 minute snowshoe mindfulness session, Geshe YongDong's book and CD and three days of meditation training.
Ommmm.
Adventure wellness: Red Mountain, St George, Utah
A few hours drive south of Park City, you'll find the beauty of Red Canyon amongst Southern Utah's spectacular desert dunes.
You'll also find
Red Mountain Resort
nestled into the base of the canyon with daily guided hikes into nearby canyons, wellness buffets and a la carte cuisine designed for optimum health, an activity schedule from yoga to cardio, day trips to Bryce and Zion Canyons and a spa dedicated to relaxation. 
Spend a week skiing then a week chilling and hiking. 
Austrian alpine: Park Igls Mayr, Tyrol Austria
The Park Igls Mayr medi wellness spa near Innsbruck offers multi day retreats for those looking for a detox and overhaul. Hike the nearby trails, even get a spot of downhill skiing in at the local Patscherkofel resort, work out in the gym, take a class, dine on spa cuisine or take a facial, massage or meditation. The focus here is creating a new way of sustainable living for longevity.  
Ski chic health: Tschuggen Grand Hotel, Arosa Switzerland
The spa at the Tschuggen Grand Hotel in Switzerland looks like a vertical glass version of the Sydney Opera House thrusting skyward through the snow. Step inside and enjoy a 5000 square metre wellness facility dedicated to your rejuvenation. But that's not all, this Swiss shrine to chic design also has it's own private funicular to the Arosa ski slopes for hotel guests.
The hotel offers a 7 night spa week throughout the winter season which includes half board, a facial, massage, manicure, pedicure and more throughout your week or you could sign up for the Peak Yoga and Ski Retreat, a luxury 4 night experience dedicated to yoga, skiing, hiking, soul and body nourishment from 9 March to 13 March. 
Sign. Me. Up.