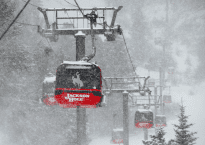 Australian big mountain skier and FWQ and FWT competitor, Nat Segal, skis year round. She calls Jackson Hole in Wyoming her happy place and gives Snows Best her top ten must do moments when in Jackson.
Dawn Patrol up Glory Bowl with friends who kick your ass
Glory bowl is located at the top of the Teton Pass (a principal driving route between Idaho and Jackson Hole) and stands at a friendly 3,074 meters above sea level. The hike up Glory is a classic early morning tradition that consists of a boot pack that heads straight up for 500 meters non-stop. Between the altitude and your fit local friends running up in front of you, Glory Bowl is the best way to test your mettle.
Breakfast at Lotus Cafe
A classic American breakfast isn't hard to find the town of Jackson, but of late a new craze has come to town- health food. There are several yummy, cute cafes that I would recommend around town but my favourite is by far Lotus Cafe. Order a freshly squeezed juice, eggs, tempeh, quinoa and the lemon Béarnaise sauce. Once you go GF you never go back.
Take an early Tram to the top of Rendezvous Mountain when it's quiet
During the busy season, the JH Tram is consistently packed tight like a sardine tin with keen skiers. However, my favourite time to ride the tram is first thing in the morning, early in the season when the crowds are thin and the groomers are smooth. You have all the space in the world to stare out into the distance and ponder flying.
Hike Cody Peak with Crystal Wright
Take the tram, click on your skis and traverse out right for about a minute- mind the whoopdeedoos. Next, check your avalanche beacon, pop your skis on your pack and scramble up and over the ridge that leads up to Cody Peak. Don't go without experience, knowledge or your backcountry gear- if you're a newbie find a good, certified backcountry guide. I was lucky enough to have the company of local shredder Crystal Wright when I first popped my Cody cherry, who decided to take me down one of the steeper lines off Cody Peak- Twice. Let's just say it was early season and we hopped over quite a few rocks.
Core Pilates
You can't ski every day, even if you want to, you'll just end up tired, sore and grumpy (even when it's pow). This winter my secret to a long season has been stretching, yoga and reformer pilates. If you're feeling a little worse for wear, take a morning off, drive downtown and check out Core, their studio and classes helps you zone out, forget your aching muscles and decompress for a few minutes. They also have quite the Lululemon range- just saying.
Visit Teton National Park
Grand Teton National Park is one of Jackson's treasures that I am only beginning to explore. Hidden in her depths is a plethora of stunning vistas, hikes and my favourite- epic, skiable couloirs. Whether you just drive through the park on a sunny day or decided to take you ski touring set up for a spin the National Park is a must visit destination in Jackson- maybe you'll even see a moose.
Ski Granite on a busy day
My introduction to Jackson Hole in 2011 was made by Granite (the backside of the Jackson Hole Mountain Resort). We skied bottomless pow up to my neck and never saw tracks. Since then I've found that Granite is the perfect place to go hide out on a busy day at the resort. The hike out can be a ball-breaker (picture at least a 30 minute side step and traverse) but the ski down is worth it- especially when there are so many different lines to choose from.
**Granite is not patrolled or bombed for avalanches and should only be skied by riders with the right gear and knowledge- many of the couloirs end in cliff bands. If you don't know- take a guide.
Nachos and Spicy Margs at Spurs
Jackson Hole is well known for it's incredible after ski party scene, it's vibrant, authentic and there is more than just one bar to choose from. However, my favourite apres isn't at the Mangy Moose or the VC- it's heading to Spurs with a few buddies around 3pm for a blood orange spicy margarita and a big serving of nachos. While the Mangy Moose has a live band and crazies dancing on the tables, Spurs has big, comfy couches that you can melt into while you chow down on the best nachos at the village and talk sweet nothings over tall margs.
Snow King Flare Run
As usual, there is too much to do on New Years Eve in Jackson Hole. However, if you have a free schedule, I can't emphasize how important it is for you to buy a bottle of Fireball whiskey, grab you ski gear and drive to Snow King (the town ski resort) for the NYE Flare run. Not only do you get to ride the chair up the resort at night with two live, flaming flares- but you get ski down with them!
Stage Coach (Disco night/ Sunday night)
Somewhere between the Teton Pass and the turn off for Jackson Hole Mountain Resort is the town of Wilson. It's home to the greats; TGR, Pearl Street Bagels and most importantly The Stagecoach. What easily looks like a dive bar, equipped with the usual pool tables and jukebox, is a venue that comes alive at night to host some of the best groover moments of the week. I can highly recommend heading to Thursday's Disco Night, where dressing up is never frowned upon or to check out 'Church' on Sundays- the world famous Stagecoach band. 
Have you been to Jackson Hole? What would you add to Nat's top ten?
Which Jackson Hole resort made it on to  Snows Best fifteen luxe snow hotels to salivate over?