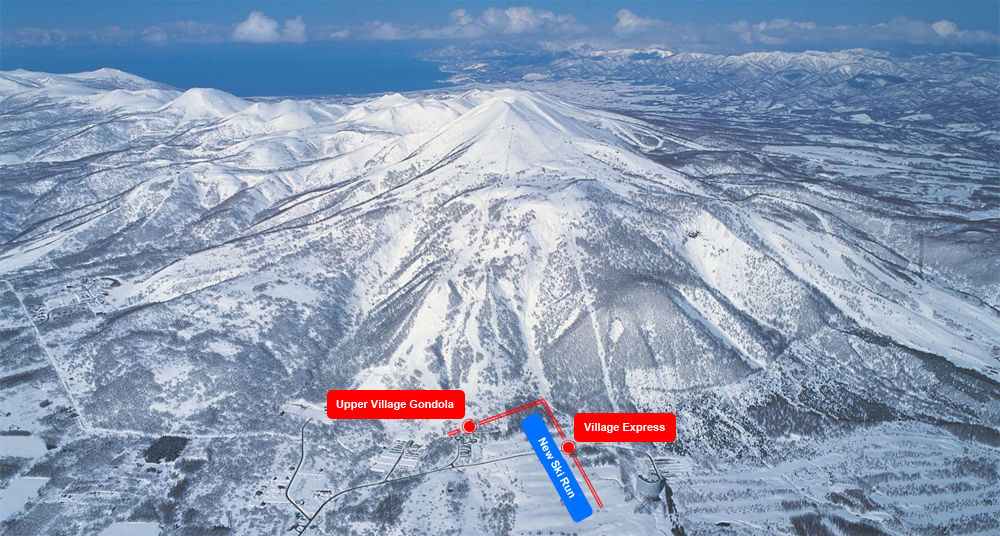 New gondola chairlift combination and new ski terrain announced for Niseko 2016/2017 season.
YTL Hotels' commitment to continually enhance the infrastructure, accessibility and overall experience at Niseko Village in Hokkaido, Japan has resulted in the investment of two new all-season lifts that will be constructed in summer this year and operational by December 2016, at the start of the ski season.
The state-of-the-art Village Express and Upper Village Gondola lifts will both be unprecedented construction designs for a major ski resort in Japan, keeping in line with YTL Hotels' innovative master plan vision for Niseko Village. A new ski run will also be created within the village along with two magic carpets surface lifts for beginners.
The Village Express will be an 830-metre long high-speed detachable lift, comprising of six-person chairs and eight-person gondolas on the same line for ultimate comfort. A mid-point station will be built beside the main village hub near Two Sticks, an Asian tapas & bar, for easy accessibility to shopping, entertainment and dining outlets.
Constructed by Nippon Cable, the state-of-the-art Village Express will be the first gondola and chair mixed lift in Japan, the only lift with a single gondola cabin with a glass bottom and the first six-person chair within a major ski resort in Japan.
Nippon Cable has also been awarded the construction contract for the Upper Village Gondola, a new 300-metre pulsed gondola that will allow guests from Kasara Niseko Village Townhouse and The Green Leaf Niseko Village properties to access a beginners ski area on The Green Leaf Niseko Village mountainside that will also undergo enhancements in readiness for the 2016/17-winter season.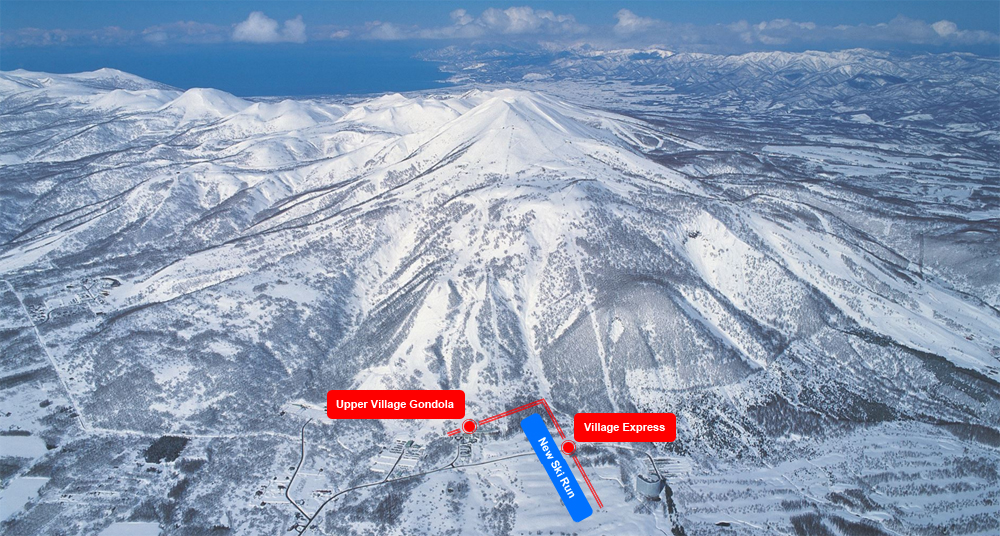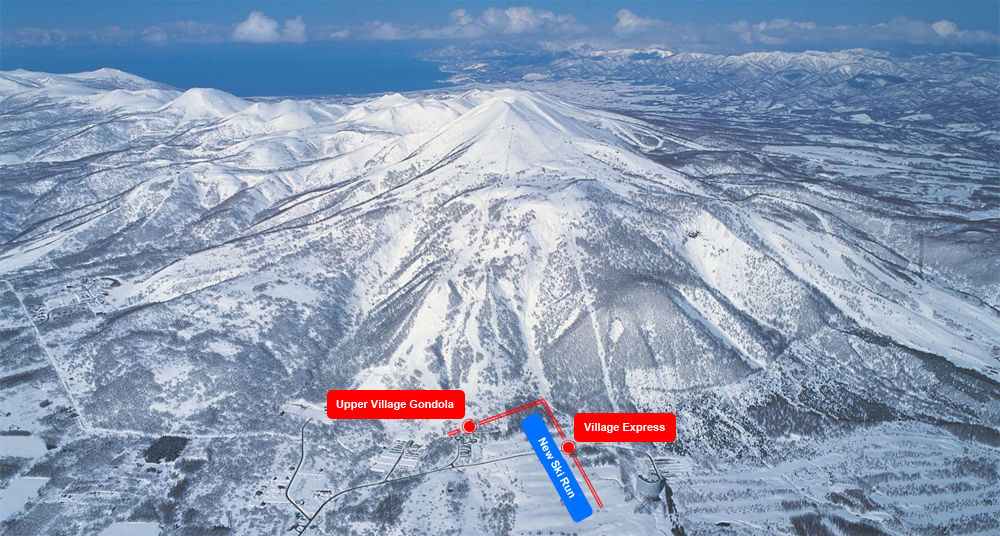 The Upper Village Gondola lift will additionally provide access to the top of the Village Express lift for easy connectivity around the central village, restaurants, shopping and hotels. The pulsed gondola will be another pioneering move for YTL Hotels as it will be the first ski lift of its kind to be constructed at a Japanese ski resort.
A completely new 1.2-kilometre ski run will be created from the top station to the Village Express lift base with earthworks starting from midway down the existing Shaky Knees course with a turn to the skiers' right. The course will run from The Green Leaf Niseko Village and Kasara Niseko Village Townhouse, down the fall line of the mountain alongside the central village retail and dining area, traversing by a ski-over bridge across the road that accesses Hilton Niseko Village with no impact to the current road system.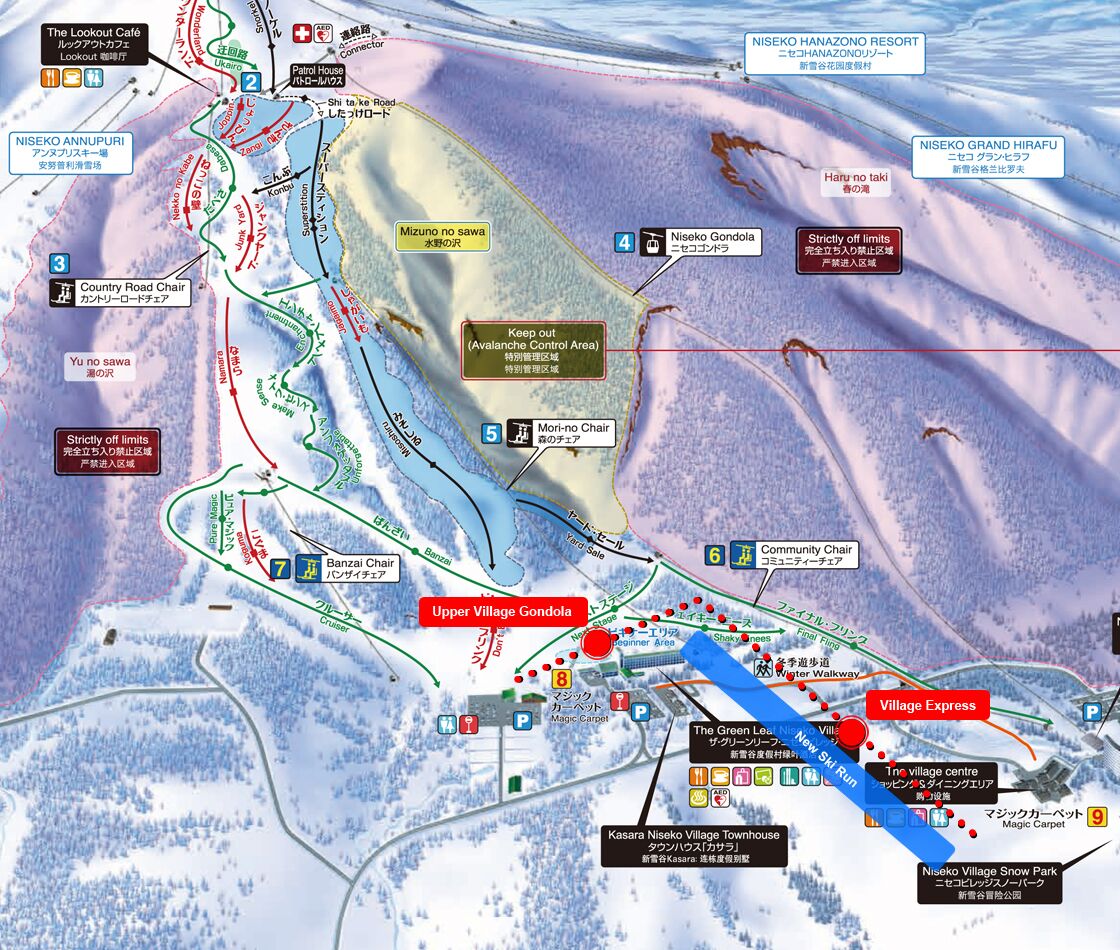 Two magic carpet surface lifts will also be constructed between the Village Express lift base and the Niseko Kids beginners' area to create a superb learning area for new skiers before progressing onto the Village Express.
Shiau Wee Long, Chief Executive Officer for Niseko Village said, "This investment represents the next step within the master plan to develop Niseko Village into one of the world's greatest all-season resorts. Niseko has fast gained worldwide acknowledgement as the premier ski resort in Asia and this enhanced lift infrastructure will continue to grow the destination's popularity and keep us top of mind.
As an integrated all-season resort, Niseko Village is committed to provide all the existing accommodations, shopping, entertainment and dining facilities including future developments within the resort with the ultimate ski-in ski-out accessibility, day and night during winter.
The new lift infrastructure will run throughout the year giving travellers added reasons to return during summer for sightseeing and activity offerings within Pure at Niseko Village, our nature and adventure park, from 2017 onwards."
The Upper Village Gondola and the Village Express lifts will be operational until 10pm during winter for guests' transportation convenience between their accommodations of choice within Niseko Village and the heart of the village for an evening out. Skiers can take advantage of the lifts' operational hours to enjoy an expanded night skiing area that will also have the Mori no Chair lift operational during peak season, from Christmas through to Chinese New Year.
Luke Hurford, Senior Vice President – Sales and Marketing for YTL Hotels added, "Leveraging on Niseko's long standing recognition as a powder mecca for skiers domestically and around the world, Niseko Village has since established Niseko Village Snow School, an internationally certified world-class ski school, and Niseko Kids Snow School that offers day care and programmes for young children and budding skiers.
These new lifts and terrain alongside its courses will position Niseko Village as Asia's best destination for beginners to learn to ski and snowboard, and enhance the experience for skiers from all over, in one of the world's best powder destinations.
Niseko is quickly becoming a truly international destination with skiers arriving not just from Japan and Asia, but we are welcoming more Europeans and Americans than ever before. We are looking forward to an exciting season soon!"
Read more:  Big plans for Telluride ski resort in Colorado