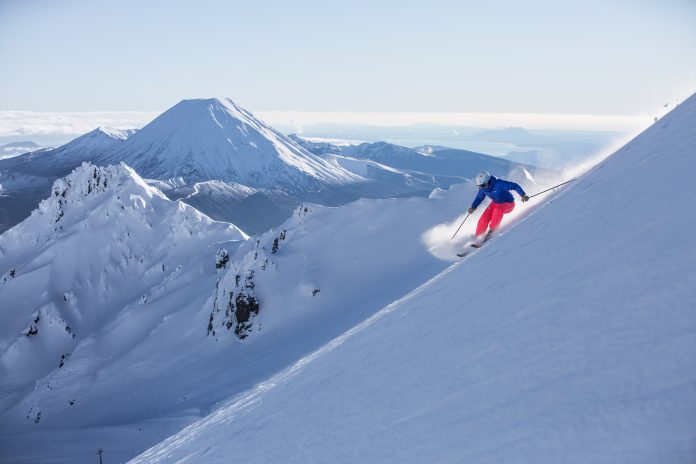 I had heard rumours of an active volcano in New Zealand that doubled as a ski field long before I saw it for myself. By the time I made it across the ditch to the town of Ohakune at the base of the mighty Mt Ruapehu I was convinced I would be skiing on a field of red hot lava under an ash filled sky while channeling my inner Lara Croft.
What I found instead, was a firey love story between three volcanic mountains on the North Island of New Zealand. According to Maori legend, Mt Ruapehu was a beautiful maid and married to Mt Taranaki. But she fell in love with Mt Tongariro when her husband was away. Taranaki returned and went into battle with Tongariro but lost.
He left in despair to the west coast, leaving Taranaki to sit between his lover Ruapehu and his rival Taranaki. Ruapehu sighs when she remembers her husband whom she still loves, Tongariro smoulders in anger knowing he will never have Ruapehu again and Taranaki's mist is the visible love he holds for his estranged wife.
It feels fitting that Ruapehu is a woman for the ski mountain is generous with rolling bowls of powdered goodness on the Turoa ski field side and majestic with soaring chutes and rocky boulders on the Whakapapa ski field side. Separately they are the country's two largest ski areas, together they make up one volcano in the heart of the North Island.
There's something powerful about sliding down the slopes of Mt Ruapehu knowing the volcano still rumbles beneath. It feels intrepid and daring, even with the knowledge it is super safe thanks to forecasters, geologists, ski patrol and the like.
Both of Mt Ruapehu's ski fields, Turoa and Whakapapa are accessed by the one mountain ski pass and collectively serve up over 1000 hectares of skiable terrain. Happy Valley on the Whakapapa side is New Zealand's premier beginner's area with not one but four magic carpets and two of those are covered. Add a double chairlift and a slope side bistro and learning to ski and ride just got a whole lot easier.
Everything is bigger up here in the belly button of the North Island. Ruapehu has the biggest ski season in Australasia from June to November, the biggest vertical with over 722 metres at Turoa and the most snowfall in the country. Come 2019 and the biggest gondola in New Zealand will also call Ruapehu it's home with a $25 million 50 cabin gondola travelling 1.8 kilometres at Whakapapa.
Then there's the carrot. It's big too. Few know that the village at the base of Turoa, Ohakune, is the carrot capital of New Zealand and to celebrate this agricultural wonder the town have, in their quirky wisdom, constructed a giant carrot on the access road into town. The carrot makes me feel like Alice in Wonderland heading to a tea party.
But the biggest of all are the hearts of the people who inhabit these streets. Spend some time here and expect to meet folks with names not given to them at birth. Names like Little Hands, Moo and Chub, nicknames bestowed upon folks as children who as adults forget the names they were christened with. See, it is a tea party!
It's really all part of the small town charm that spends summers riding mountain bikes and winters on the slopes. You'll find the locals within the bars and restaurants at 'The Junction' that comes alive each winter. Pull up a stool at the Powderkeg pub and it won't be long till someone's telling you a story or two during apres hour.
Foodies will love the burgers flame grilled on a Manuka woodfire grill at The Blind Finch. The health conscious head to Eat Takeaway Diner for organic fare, coffee snobs grab a Santos coffee at Utopia and no one leaves Ohakune without inhaling a famous chocolate éclair at Johnny's. Too many of those and you won't fit down that rabbit hole.
A few days here and life takes on a slower pace. City folk exhale, shoulders lose their tension and faces relax with every perfect turn made upon this magic mountain.
Stress belongs to that other life, the one before you arrived.
Five nearby towns
Mt Ruapehu is serviced by five towns each with daily shuttle service to the ski fields, Ohakune the thriving base village at Turoa, the laid pack villages of National Park and Whakapapa Village on the Whakapapa side and then further afield, 40 minutes away you'll find the trout fishing heaven of Turangi on the Tongariro River. You can even stay in the lakeside adventure town of Taupo, one hour and fifteen minutes from Ruapehu.
Fly into Auckland or Wellington and self drive or take a connecting flight to Rotorua, Taupo or Palmerston North.
The deals
For the best Ruapehu deals including fifth night free and deals from AU$399 per person check out
Ski Max Holidays ski deals
for New Zealand's North Island.