Leon Tarbotton works as the Snowsports Manager at GoSnow Niseko in Niseko United, Japan. He's been there for three seasons, so he has some excellent insider tips to making the most of your holiday there, whether it involves whiskey or crab ramen…
What made you choose Niseko?
I went to Japan hunting the powder that I had heard so much about. I'd previously holidayed to Hakuba/Nagano with friends and loved the Japanese people and the culture.
Favourite ski run
Miharashi or the north face… but shhh…
Favourite powder day run
It's always a powder day in Niseko, it just depends on which direction it has come from. If you hit up the two runs mentioned above, the back bowl or Higashiyama, you're bound to find untracked gold.
Favourite apres spot
Amaru is great for couple of value for Yens cocktails before heading to the quaint little Bar Rumba for a Jet Lee or Bruce Lee. If you're a fan of whisky then a visit to GYU (fridge) bar is a must and the entrance is probably worth an Instagram too.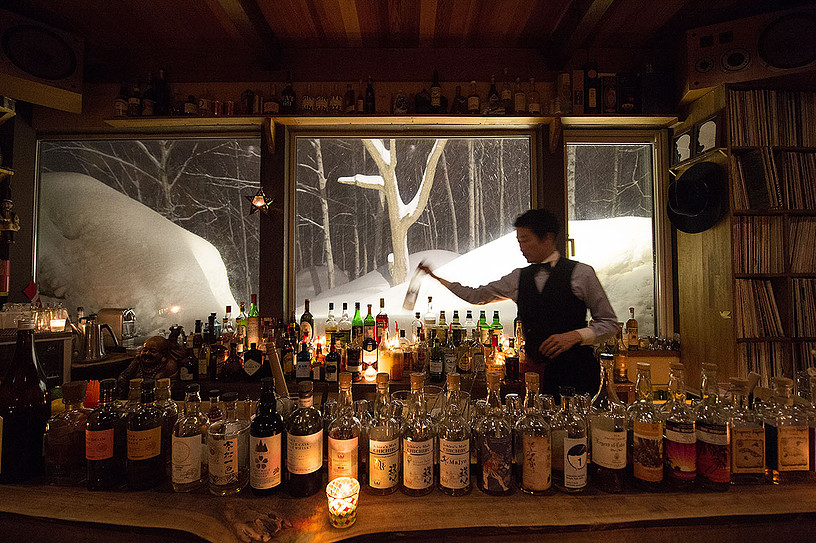 Favourite on-mountain dining
One of the best katsu curries you'll taste is a short walk from the top of the King Pair chairlift, owned and run by a local Japanese family.
Favourite village dining
There is so much variety around to satisfy whatever your craving is – from Canadian-style burgers at Big Foot and design-your-own burgers (including vegetarian) at Burger Boss, to Tsubara-tsubara (soup curry), ramen or if you're game, Devil Ramen at Bar-moon, to the fine dining of the Barn or An Dining's 5-star dining that includes incredible knowledge and history from the chef and sommelier of the local food and wine that they prepare and serve.
Must-do snow activity
Get on a guided tour from one of the local snowsports schools like GoSnow, learn about the unique gate system and safely discover some of the easily accessible and amazing terrain that Niseko United has to offer. For competent skiers, I'd also recommend venturing to one of the nearby mountains where you're likely to see and experience slightly less prominent Japanese environments and cultures.
Another must is the experience of an onsen. There are a number of single sex and mixed onsens that are easily accessible in and around Niseko (do your homework on what the common courtesies are, especially if you have any tattoos).
And finally, from the moment you arrive in Niseko, you will fantasize about climbing and skiing Yotei. Make sure that you again do your homework, check the weather, use a guide and take all of the precautions to do it safely.
Best hot chocolate
A hot chocolate in Japan tastes like melted and liquefied pure chocolate. In saying that, An Deli on Gondola Road does one that's pretty close to that taste of home.
Best breakfast
Greenfarm or Monty's for a haloumi bagel.
Favourite non skiing/boarding activity
Running, indoor soccer, climbing at NAC.
Favourite date night
There is a huge variety of dining where I'd like to take a girl, followed by a night cap at Gyu.
Best activity in resort or town for kids/families
Take a lesson or guided tour to discover some of the hidden beauty of Niseko for your self. Visit the Takahashi farm/milk kobo and see how many of the absolutely delicious cream puffs you can handle. A good mate of mine managed 10 of the custard filled treats that are to die for. The Takahashi's also run workshops where you can make your own ice cream and all of the dairy is produced locally.
Where do you take visitors to impress them?
Skiing on my favourite runs, share a beer tower with a crab ramen for lunch, an onsen and  karaoke into the night.
What should visitors not leave your resort without doing?
Trying something new. Japan has unique cuisines and cultural habits or beliefs. Be bold and embrace the different.
What should visitors take back with them?
Loads of photos and memories from a fantastic trip, likely a couple of extra kilos from all the delicious food, and the want to return.