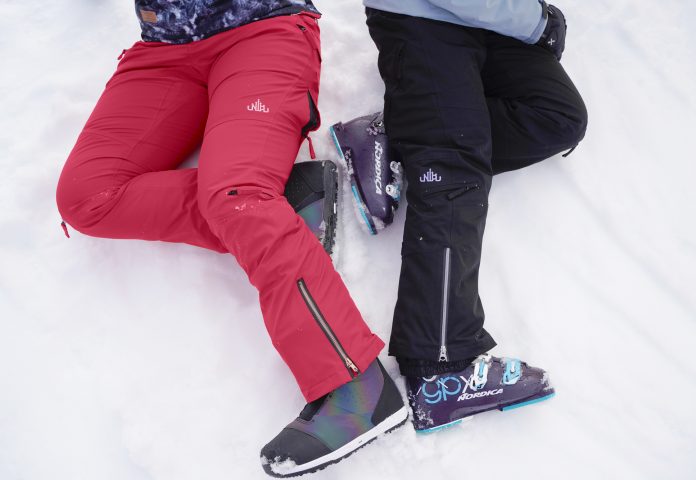 Snow apparel start-up, Nobody's Princess, is on a mission to raise $100,000 to fund the manufacture of revolutionary women's snow pants, via the crowdfunding website, Kickstarter.
This will be the second crowd-funding campaign for the young start-up. In November 2020, Maria raised over $12 ,000 via Crowd-funding to build a prototype of the snow pants, and has sparked the interest of women who ski and snowboard, globally.
The idea was backed by almost 100 investors (women that ski/snowboard) who pre-purchased the pants purely based on a concept. She raised 50% of the funds in just 48 hours and had over 8,500 views.
The innovative product is an industry first, concentrating on the physiological features of the female body and is the only one of its kind designed specifically to fit multiple women's body shapes.
Tailored to look good, and fit well on different body shapes and sizes, Nobody's Princess has created pants for women who ski, snowboard, or just enjoy being in the snow. Pear shape, apple shape, hourglass shape, tall, or short – they have you covered with their snow pants.
 "Women who participate in the sport are looking for something they can fit their butt and thighs into comfortably," says Maria Baker, Founder at Nobody's Princess.
"After lengthy discussions with many women involved in the sport, we realised how many were actually purchasing men's attire due to the lack of suitable women's gear. We've gone straight to the source to identify the pain-points women experience in the snow, and addressed each of them to create a pair of pants to suit any body shape and instil confidence in women so they can concentrate on enjoying their time in the snow".
The innovative design comes as an increase of demand for appropriately fitting snow apparel for women becomes more apparent. Research by Nobody's Princess concluded that 62% of women between the ages of 16-60+ could not find acceptable fitting gear and more often than not, resulted in them purchasing men's apparel.
The pants that have been designed by a world-class snow apparel designer, feature a 4 point waist cinching system to fit all body shapes, 2 stretch panels for easy garment dressing, a mid-rise waist, 8 deep and well placed pockets, dedicated lift pass/card pockets, unique split 20/60g insulation for warmth, gusseted crotch to prevent tears, 4 way stretch for ultimate movement, a unique vent placement to reduce bulk around thighs and are made in 2 lengths and to fit over ski/snowboard boots.
The Nobody's Princess pants will be available in sizes AU8-22 or US4-18 with high waisted, stretch panels in the waist to fit almost every body shape, and the ability to adjust the fit using an innovative new system to adjust the waist at 4 different points, finished in a 4-way stretch material.
If successful, the pants are expected to be available from the end of October, 2021, world-wide. They are available for purchase for $259 via the Kickstarter campaign.