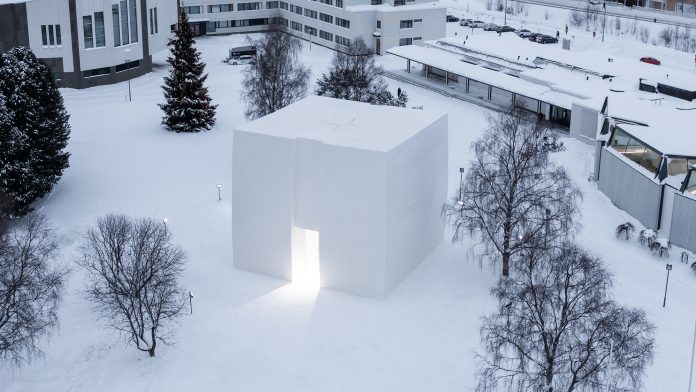 Those creative peeps at Polestar have opened a first-of-a-kind retail snow Space in the Arctic Circle and it's magic.
The pop-up 12-metre high cube snow design is open in the city of Rovaniemi, Finland from the 10th of January until the 26th of February.
Experimenting with sustainable techniques and materials, the "Snow Space" is a collaboration between Polestar and the Arctic Design Week in Rovaniemi to promote and showcase sustainable and responsible design.
3,000 cubic meters of snow from the nearby Ounasvaara ski resort, transported by electric trucks, was used for the construction. To close the loop, Polestar will return the snow to the slopes when the "Snow Space" is closed at the end of February.
"The city of Rovaniemi is known for its wonderful design. We wanted to honor this by creating a beautiful work that was inspired by our brand's minimalistic and pure design language. The choice of building material was easy due to the location and our desire to use circular materials: of course, it had to be built from snow," says Polestar Finland's Marketing Manager Martin Österberg.
Inside the two meters thick snow walls, the fully electric fastback Polestar 2 is on display, together with details such as rims, suspensions and brakes crafted as ice sculptures by local artists.