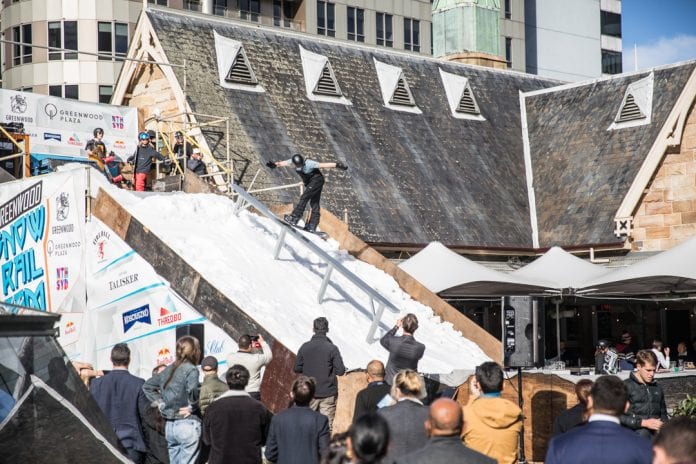 Can't make it down south to the ski resorts of New South Wales? Never fear, the snow will come to you tomorrow at the Greenwood Hotel in North Sydney with the country's best riders hitting a purpose built rail jam from midday.
Olympic boarder cross silver medalist Jarryd Hughes has collaborated with the Greenwood Hotel and the annual Snow Week to create a full rail set up, thanks to 100 tonnes of snow on the rooftop of the Greenwood centre with the North Sydney skyline as a backdrop. 
Think you're good enough to win the jam?
Luck for you the competition is open to all with swag from le bent and Thredbo up for grabs  for skiers and boarders plus $3000 cash for the open snowboard category.
Expect to witness the likes of pro snowboarder Biba Turnbull, pro skier Mia Rennie, Burton snow boarder Billy Hayman, regular Mt Buller Cattleman's Rail Jam winner Jye Kearney, champion groms Valentino Guselli and Jesse Parkinson alongside Winter Olympic Silver Medalist Jarryd Hughes.
Competition registration starts at noon with the competition kicking off at 4pm to 7.30pm followed by an after party. 
It's all free with DJs hitting the decks all day plus giveaways and food and beverage specials.
Yep, that's Saturday sorted. Nice one.