Endless, gorgeous lake views. Lush hotel rooms with all the little touches. A lobby that's straight out of the pages of a magazine.
I'd only been at the The Rees Hotel and Luxury Apartments in Queenstown for a few minutes, but I already had a major problem – I never, ever wanted to leave.
I just wanted to put a chair up against the door, tuck myself into the plushy linen of the king-size bed, barricade myself with pillows, and refuse to go anywhere else ever again. Hotel management couldn't really kick me out if I staged a sit-in, could they?
Yes, I know I sound like I'm gushing but I'm not alone, the hotel has received 1000 awards from TripAdvisor, Wine Spectator, HM and The World Ski Awards, those who gush more than me. So I feel validated in my hotel love.
Of course, I eventually left, that's the narrative of a holiday right? Arrive, enjoy, leave, end, dream about arriving again. But if I had to stay in one place for all time, this would be it.
Here's why.
The Hotel
This longtime, five-star town favourite is named after one of Queenstown's first explorers, William Rees. They offer up a choice of swanky lake view hotel rooms or one to three bedroom apartments with an on-site restaurant, library and wine cellar, all with the most ridiculous views of surrounding mountain ranges positioned perfectly on the lake; plus a fitness centre (if you like that kind of thing) and complimentary parking.
The hotel launched The Rees Lakeside Residences last year, a series of stand alone lake side villas within the resort complex complete with a butler for residence guests. Expect two stories boasting three bedrooms with private spa pools.
Keep an eye out for celebrities and high-profile names as you stroll along the outdoor walkways to your room. It's a stomping ground for the rich and famous, along with plebs like me, because it's relatively affordable; you can snap up a twin share room from about NZD$270 a night.
Location, location, location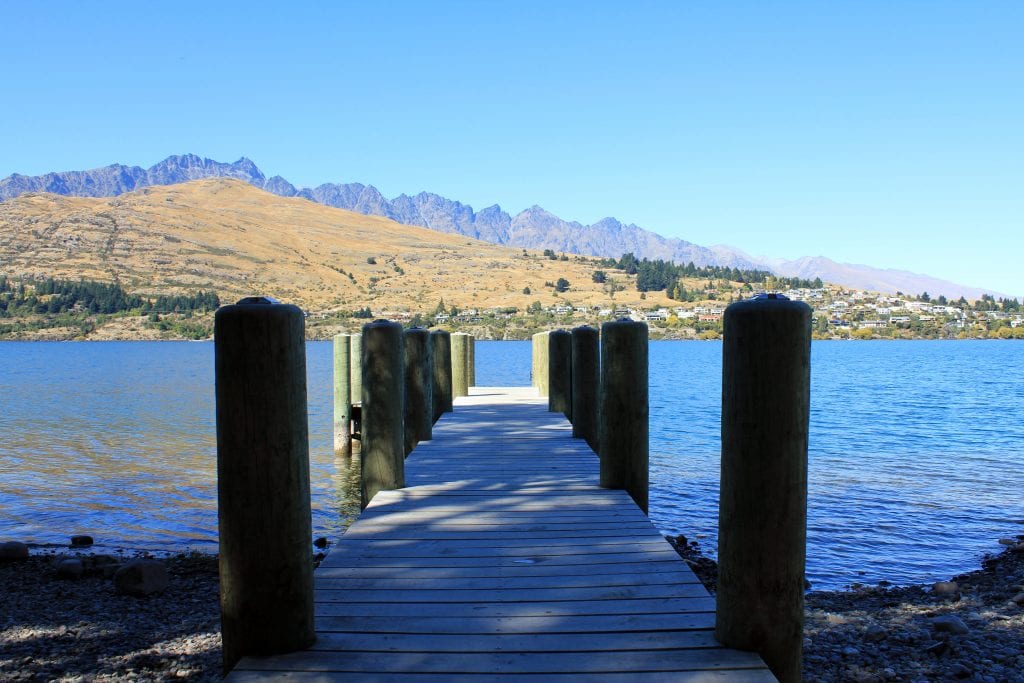 You're about a five minute drive from the heart of town via the hotel's complimentary shuttle that runs until 10pm.
Ski the nearby Remarkables (35 minute drive) and Coronet Peak (25 minute drive), plus Cardrona (1 hour) and Treble Cone (1.5 hours). No worries if you don't have a car, as ski shuttles go past the hotel regularly.
There's also a very excellent water taxi deal which will take you to town for just $5. Being right on the shores of Lake Wakutipu, the Rees has its own dock for this exact purpose so you can arrive in Queenstown in style.
The Food
Try sitting down to a breakfast menu where you get the best of both worlds – a buffet along with a selection of hot dishes, like a smoked salmon eggs benedict that I have not stopped thinking about.
Enjoy an après cocktail and complimentary snacks or hit up the private wine cellar, which combines the fine wines and vintages of France, Italy and Australia with the famous producers of New Zealand.
Or sit down for a beyond-fancy dinner in the True South Dining Room with some of the region's best offerings including an 8-hour cooked merino lamb shoulder.
Sign me up and roll me out.
The Ski Bits
There's a complimentary ski concierge service here so you can just relax while they arrange your ski or snowboard packages, along with gear hire (which can be pre-ordered to wait for you in the ski locker, or custom fit in your hotel room).
They can even book your lessons or your heli skiing (remember to book that extra seat, for, well, me).
The Team
Are the nicest people I have ever met in my entire life, hands down. I basically wanted them to adopt me.
The team there will ask you about your day, then remember exactly what you got up to upon your return; they'll make personal recommendations for restaurants, bars, activities, and happily drop you off in the shuttle; they'll fetch your skis from the ski locker with a huge smile and make sure to try to get you a late check-out.
My tip? Book now to stay next season (or during the summer would be grand too – you can even swim from their beach out front) and buy me one of the apartments while you're at it. I'll take anything with a lake view.
Nat was hosted by The Rees, Queenstown. 
---
Please help SnowsBest remain your independent source of snow news this winter with a "Covid contribution", from as little as $1, so we can continue to deliver the news and content you value in a season when we need each other most. Contribute here.
---