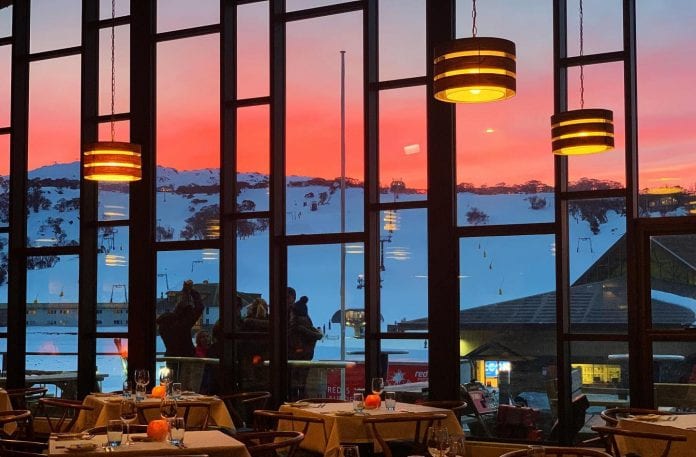 I've always been envious of people who grew up staying in Australian ski lodges. Growing up in a small family that always crammed ourselves into one-bedroom apartments in Jindabyne on ski trips, the lodge existence seemed like the dream.
I wanted to spend the day on the slopes and come back to on-snow accommodation, skipping the drive or the Ski Tube. I wanted to hang out with a big group of people every night and play Uno, cook pasta and debrief on our ski days. I wanted to see those people year after year, every school holidays. I wanted to wander through the snow gums to get to the lifts.
But ski lodge memberships can be few and far between, especially without an existing connection; or they may not be the best option, depending on how often you plan to be snowbound.
Happily for me (and you, if you have similar ski lodge dreams), I found the next best thing. The Man From Snowy River Hotel, an 'almost' ski-in, ski-out lodge in the heart of Perisher, close to Front Valley.
The hotel
The Man has been around since the 1950s and is Perisher's largest hotel, with an excellent mix of old-school lodge vibes and luxe mountain finishings and the resort's only undercover parking lot for those who choose to drive. For those who prefer the ski tube, there's a snowmobile luggage transfer service that will bring your bags up to the hotel.
There are plenty of room options to sleep from two to five people, perfect for families who don't mind bunkering down together for ski-in, ski-out convenience. For true mountain nerds, opt for a Mountain View room to see the groomers going by at night, and the chairlifts starting up in the morning, all while never even having to leave bed.
The rooms are all comfortable, although not all have been recently renovated so some of the bathrooms are more rustic than others, and soundproofing isn't necessarily the best. But this is the snow, you came here to ski, and pass out.
If you're not on the mountain, you're probably in the beautiful lounge bar or dining room, reserved exclusively for guests and full of cosy leather armchairs, soothing salt-lamp lighting and plush carpets.
This is where the Man really comes into its own and becomes the kind of place that you never want to leave.
It's easy to order a drink at the bar and get chatting to the other groups of skiers and boarders debriefing on their mountain days, or settle in with new friends and play a board game by the fire before heading through the connecting door and into the public pub; those exact kind of lodge vibes that I've been searching for.
The food
Your breakfasts and dinners are included with your stay at The Man. There's something intensely relaxing about going on holiday knowing that two out of three daily meals are completely taken care of for you – the only decision you have to make is whether to dine in the dining room or in the pub.
Those in the dining room can choose a more high end menu. We tried everything from pork belly to steak, lobster linguine and cannelloni during our stay, but options change daily, so you're unlikely to get bored unless you stay weeks on end.
For a more relaxed option, try out the pub food, which will still leave you happy as a clam, if the clam happened to be full of pizza and beer and other deliciousness. 
As for breakfast? Expect a mountain buffet to get you perfectly geared up for a day on the slopes including perfectly cooked omelette or eggs of your choice. Or go for the pancake station, the fruit, the pastries. It's all there.
The spa
Look, I came to Perisher to ski… but once I walked into the Mountain Spa, I never, ever, ever wanted to leave. The spa is located within The Man, but open to the general public as well as hotel guests, offers everything from massages to facials to spray tans to lash tints to deep soaks in their oversized heavenly bathtub.
It's relaxing and yet gloriously unpretentious, plus decently priced (considering you're mountain-side) and they use all-organic products.
If you can get the kids and/or significant others out on the mountain and get them to leave you to it, you can hide away in here to get your hair done, participate in an aerial yoga class, get a paraffin wax treatment, and still venture out onto the slopes afterwards to meet up with the crew for lunch.
Other honourable mentions
Free kids club. Parents will be in their element with a free kids club, which runs every night from 5pm through to 9pm when babysitters will feed and entertain the kids.
Ten points for their environmental initiatives.
If you decline your housekeeping service on any given day throughout your stay, you get a food and beverage credit on your room account. 
More skiing. If you want to ski on the day of your arrival, the team at the Man are more than happy for you to get there early and leave your luggage at the hotel while you take your gear; you can also ski on the day of your departure and use the hotel's gym showers should you want to rinse off before driving home.
The price
Being ski-in, ski-out at Perisher, The Man from Snowy River is obviously not going to be the cheapest accommodation for those booking a ski holiday. Pricing depends on the time of the season along with the type of room, but you could be looking at about $700/night for two adults twin share.
Take everything into consideration for that price – including your breakfast, three-course dinner, slopeside accommodation, the kids club, free laundry – and you may just find that it's well worth it. And for those on a budget, there are plenty of early season specials still available if you'd really like to get a taste of that luxury lodge-style living. 
The author was hosted by The Man from Snowy River at Perisher.