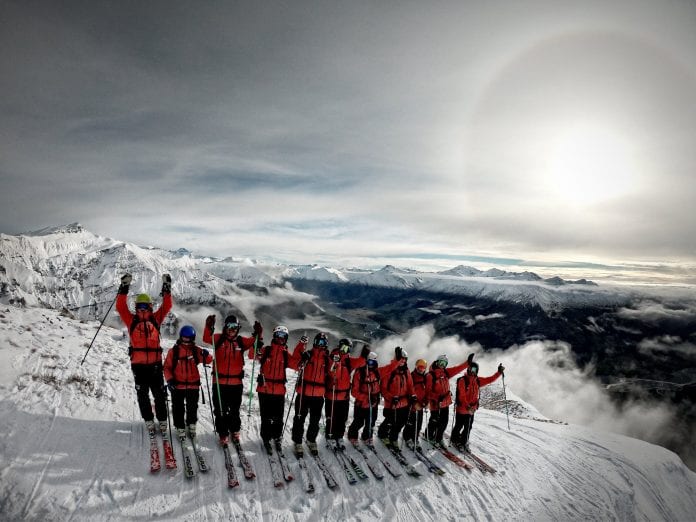 I am the ultimate intermediate skier with really bad habits – or so I found out when I enrolled into Klaus Mair's Sofa Ski Camp at Treble Cone New Zealand this season.
If you are like me and have admired others effortlessly gliding down steep black runs, popping over moguls without popping knees or waving back at you from their heli ski helicopters then this may, too, be for you. A girl's gotta try, right?
Klaus is your down to earth Austrian with a super sense of humor and absolutely no "I'm a really auuuwwwwesome Level-3 Auuuwwwwstrian ski instructor" ego at all – although if he did he'd deserve it.
He's the founder of Sofa Ski School, the name behind a YouTube ski technique channel with a gazillion views and is genuinely interested in wanting to make you a better skiier. Really, he is.
Klaus says "The better you ski – the more fun you will have!" and, damn him, he's right.
The Sofa Ski Camp runs for five days every week during winter at Treble Cone with a sixth day dedicated to heli skiing should you feel confident and have the cash. 
The camp's teaching discipline is based on the Austrian Teaching Method of skiing. Lots of precise drills that are fun and far from monotonous despite sounding like a sergeant camp. Each run on each day brought something new and a real kick as you found that when mastering a simple drill you get so much more ski swagger.
The Instructors
All Sofa Ski Camp instructors are hand picked from the world's leading ski resorts each with impeccable credentials as skiers, teachers and people. They are nearly as funny as Klaus and don't be surprised if you've learnt how to Yodel by the end of the week.
The Process 
A couple of weeks before your Sofa Ski School week starts Klaus emails a questionnaire that YOU MUST COMPLETE or else. Nah, only kidding, but you do have to fill it in.This allows him to allocate you to a similar skill group, with the most appropriate instructor best suited to how you like to learn and who will give you the best outcome depending on what you want to achieve.
On the first day Klaus will ski the first couple of runs with each group to assess whether you and he are happy with your group and to make sure you haven't exaggerated how good you are on your questionnaire (yep, guilty).
On the first day your instructor then shoots a video of your pre Sofa Ski technique that Klaus, together with your instructor, uses to decide which drills you should focus on for the week to improve your technique and get the results you want.
On day 4, another video is shot of the 'new ski you' which is used to compare with the old-ski you from Day 1. Think of it as the before and after shots you find in tabloid women's magazines, only these ones are not airbrushed.
Minor adjustments made to my technique brought major improvements to my style, and confidence.  By the end of the week I skied with no pain plus I could ski harder for longer all thanks to my new Sofa Ski style (I know, I sound like an infomercial).
The best part is, if, like me, you retain information like a goldfish then during the final analysis, there's no need to madly scribble notes on paper or film on your phone. Klaus is one step ahead of the game with a professional video camera in place to film all of his and your commentary on your ski technique and how you can continue to practise and improve for future skiing. 
This is then dumped onto USB for you to keep forever and refer back to when needed. Voila, your entire skiing life on a stick in your pocket.
The Social Side 
The Sofa Ski week was not all about skiing there's a social side too and you can choose to play or not. There are apres ski drinks and dinners planned most nights where ski tales are told and friendship formed.
Ski For Life
One Sofa Ski School participant I discovered was over 70.  She told me her reason for attending the Sofa Ski Camp (this also was her second year) was to add 10 years to her 'ski life' by improving her technique to ensure ski comfort and reduce the risk of injury.
Take Home 
Over the week, you'll notice your instructor using his Go-Pro to take video and photo of the better moments of your week as you ski your first black run or nail the Summit. This is all included on that USB along with Klaus's Day 4 Ski Analysis video, making it the perfect reminder and warm up video to your next ski holiday.
But wait, there's more
Day 6 – If you don't want it all to end on Day 5 it doesn't have to, Sofa Ski School gives you the chance to opt in to a challenge be it backcountry skiing or heli-skiing with your instructor.
What Next 
Sofa Ski Camp doesn't just end when you finish your week, Klaus has a great community of students and instructors on the Sofa Ski School Facebook page to keep you in the loop of Sofa's next ski weeks and activities and keep you connected with your new found ski mates.   
Tory Van Brugge was a guest of Sofa Ski Camp, Treble Cone and Release Wanaka.