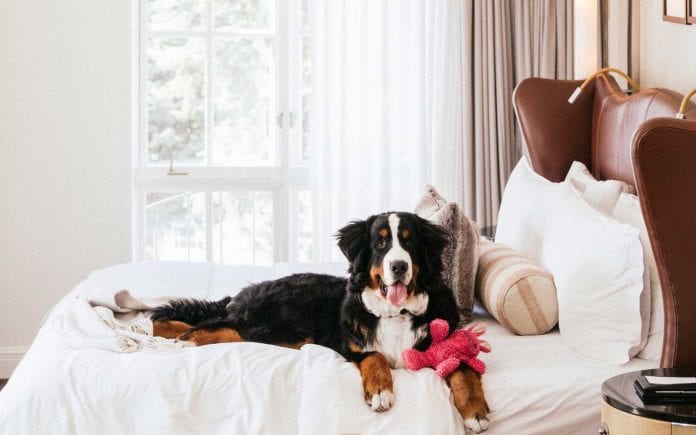 Kitty, the Bernese Mountain Dog and resident canine at The St Regis Aspen Resort needs a new Fur Butler and it could be you.
The downtown Aspen hotel wants to pay you to look after Kitty all day long. It's a new full time paid position created to look after Kitty's daily schedule and the execution of the Resort's pet offerings.
Meaning you don't just look after Kitty's welfare, but also the needs of all fur guests. All those four legged friends to be, well, friends with.
And before you ask, yes, Kitty's a bloke. In December of 2018, The St. Regis Aspen Resort received a gift from the North Pole – a new puppy named Kitty. 
The gentleman who founded the original St. Regis in New York in 1904, John Jacob Astor IV, had a dog named Kitty. As the second property in the collection, The St. Regis Aspen Resort honors his legacy by having a hotel dog also named Kitty.
Now the resort is taking the hallmark Butler Service, introduced initially over a century ago at The St. Regis New York, to the next furry level with the introduction of a Fur Butler at the Resort.
The Fur Butler's success is rooted in a deep passion for animals, service, uncompromising standards, the ability to anticipate needs, and impeccable interpersonal skills. You'll need to have a keen interest in photography and social media is encouraged.
This role is a full-time hourly position that reports into the Front Office Director with active collaboration and alignment with the Director of Marketing. If you're not an American resident then you'll need a green card or relevant working visa.
HOW TO APPLY
Post a video or photo to Facebook or Instagram using #kittysfurbutler which demonstrates why Kitty should choose you to work in Aspen with him. Kitty would love to know what makes you the purr-fect person.
After sharing your #kittysfurbutler post, email your resume to kitty@stregis.com – make sure to include your social handles!
Now wait. Kitty will be in touch. 
The deadline for application is December 1.