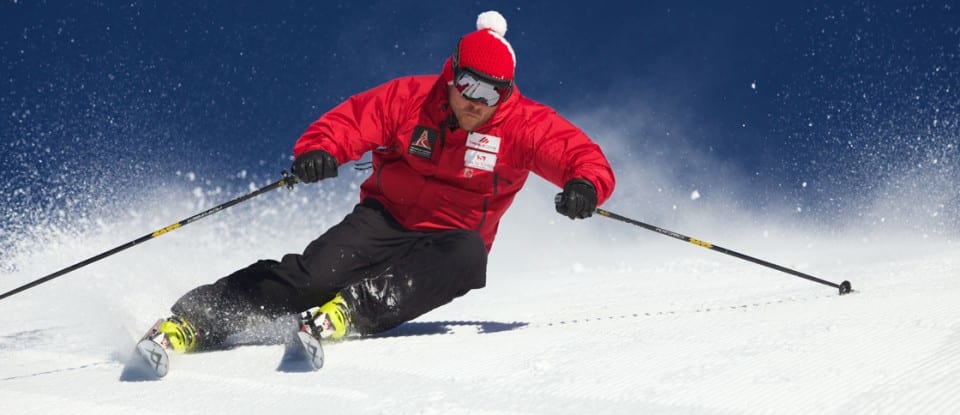 Klaus Mair is a YouTube celebrity who critiques your skiing ability from the sofa.
The premise is simple. Video yourself skiing and send the video to an experienced ski instructor to analyse and recommend how to improve with both written and video analysis sent direct to you.
That experienced ski instructor is Klaus Mair, Austrian Level 3 Ski instructor and the director of the Treble Cone Ski School during the southern winter and instructor in his hometown in the Arlberg in Austria during the northern winter.
Klaus is famous on YouTube. His learn to carve video has been viewed almost 3 million times and his devout group of ski obsessed followers purchase his DVDs From Blue to Black Diamond and From Blue to Powder and join his Sofa Ski School Lounge Room forum for private online instruction.
Myself and a friend meet the entrepreneur for a private tour of Treble Cone's Saddle Basin in New Zealand on a bluebird day. The snow is dry and plentiful with some wind drift powder still attainable a few days after the most recent storm.
The beauty of Klaus is his humour. He's down to earth, accessible with a wry and cheeky smile and absolutely no airs or graces. If he has an ego then he must have left it in his ski locker on this day and like most Austrian ski instructors and former racers he skis like a fluid dream, all rhythmic sweeping turns at one with the mountain.
This man knows Treble Cone. Every hidden stash, secret run, perfect view point, backcountry hike and is greeted by all who see him. Lucky for us he also knows how to ski. We're here for a tour not a lesson but he kindly offers titbits of instructor gold to get us enjoying both the good and the variable white stuff.
If we had stayed another week we could have enrolled in the Treble Cone Sofa Ski School ski camps with Klaus as our on mountain instructor for five days and on the sixth day gone heli skiing with our new and improved ski technique, Harris Mountain Heli and Klaus.
But you still can and many do, returning every year to up their skiing ante. The camps run every week for seven weeks this season from July 19.
If you do go make sure you hashtag #misssnowitall on your instagrams so we can salivate with envy.
Join our social chatter on Facebook, Instagram and Twitter
SnowsBest was a guest of Treble Cone, Ski Tourism Marketing Network of New Zealand and Air New Zealand.