Four of the best food joints in the ski areas of New Zealand's South Island to put on your foodie list.
A lot has changed in the food scene in the decade (plus some) that I have been skiing in Queenstown and Wanaka. Joe's Garage has morphed from a local's coffee shed near the Post Office to a country wide franchise and Fergburger moved from the hole in the back lane wall to a main street position with a queue to match.
We've watched Amisfield Winery take prime lunch position and the Bunker go from intimate dining establishment to intimate dining establishment with rocking upstairs bar. Some new and old establishments I totally rate and some are completely over rated by their marketers.
But rather than point out the ones that I won't return to I thought I'd give you four that I hit up on my most recent trip across the ditch.
Federal Diner, Wanaka
You must put this on your breakfast list if you are skiing at Treble Cone or Cardrona. The Federal Diner is a local favourite. Their cheese scones are seriously ridiculous and only matched by their date scones which are equally moorish.
My breakfast pick is the Hawea Flat with spinach, mushrooms, tomato and haloumi on polenta cake. Ask for poached eggs with that to take it to the next level.
The bad news is it gets crowded and noisy. The good news is you will get a consistently good coffee every time. But just remember, a latte in New Zealand is twice the size with twice the milk of a latte in Australia so you're better off ordering a flat white.
There's free wifi which in my world should be de rigeur but in New Zealand's cafe world isn't. So this is another thumbs up.
Federal Diner is at 47 Helwick Street and open for breakfast and lunch daily and recently started dinners from Wednesday to Saturday.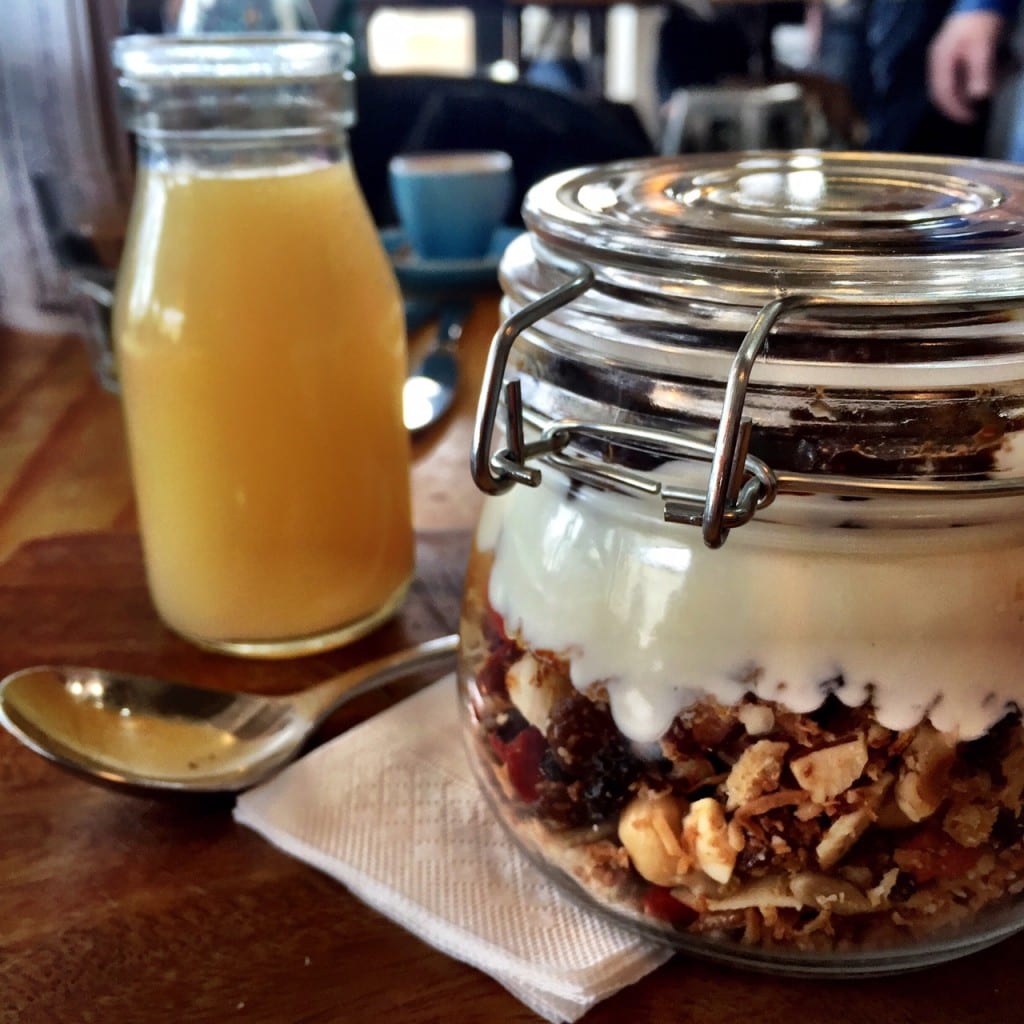 Chop Shop Food Merchants
While Queenstown has slowly been losing it's soul with over development, nonchalant Arrowtown down the road has been emanating an unassuming soul that packs a punch out onto it's heritage streets. I became obsessed with The Chop Shop when I visited last May and couldn't wait to return again this winter. It did not disappoint.
It gets busy for good reason but the service is so friendly and fun, especially with head waiter Rex on board, you won't mind sitting on an old leather couch being served the best coffee in town while waiting for a seat at a table. Besides it gives you time to drink in the creative fit out including those bicycle wheels that act as light chandeliers.
The restaurant is the brain child of Chris and Fiona Whiting and doesn't look like it will slow down any time soon. I predict some expansion plans to cope with the heavy load. Though the sun deck takes care of that each summer.
Our pick is the Ricotta Hotcakes with Tamarillo and the Turkish Eggs though the menu is seasonally changing so you may score even better than we did, if that's possible.
Open for breakfast that morphs into lunch. You'll find them at 44 Buckingham Street, Arrowtown. There's no website but they do have a Facebook page that's worth following.
La Rumbla, Arrowtown
So many of my local friends raved about La Rumbla in Arrowtown that I had to check it out for myself. The thing about listening to locals is their review depends on the general level of food across the board. A restaurant can stand out because everything else is seriously poor or it stands out because everything else is average or seriously good and this one is even better.
Remote resort towns can sometimes forget that their main audience come from big city postcodes that often come with thriving international food scenes. What's good in a resort town doesn't always mean it would be good side by side with what the visiting tourist has back home. Fergburger's new gelato bar in Queenstown is a prime example, you can't serve it up to Australians who have the creative genius of Gelato Messina, it's just not going to cut it.
But Arrowtown already held my new favourite, Chop Shop, so I figured La Rumbla must be good. They were right.
The shared plates of Spanish inspired Kiwi fare were inhaled by myself and my two friends. Traditional calamari with aioli, porcini mushroom balls with truffle sauces, pulled pork shoulder, peppered beef. All seriously delicious.
The ambience of the cosy cul de sac location is upbeat and fun with a wine list to match. Service was friendly and approachable and La Rumbla is on my list to return.
Desserts sadly didn't match the flavour standard of the savoury menu. We ordered three including a cheese. My dining partners didn't care for the rich truffles which meant more for me as I did care for them, a lot, but we all agreed the oat crumble dessert would have worked in any other restaurant but not after the stellar savoury fare here.
You'll find La Rumbla at 54 Buckingham Street. Again, no website, must be an Arrowtown thing. But you can check them out on Facebook.
Bespoke Kitchen, Queenstown
The team behind Bespoke Kitchen know what they are doing. After all the kitchen comes from the same team that created the original Vudu in downtown Queenstown and the much lauded Vudu Larder down the road.
The beauty of Bespoke is you have to know about it. The out of the main street way location make it an oasis for those bruised by the masses of tourists infesting the CBD streets. The menu mix of seriously healthy cuisine to seriously wicked temptations appeals to all manner of Queenstown psyche from the cross fit paleo princess who has come in from sprinting to the top of Queenstown Hill and back to the hungover Auckland with a weekender down the road.
Myself and my breakfast buddy had ingested a little too much wine at La Rumbla (see above) the night before. We dressed for a run around the lake in our gym gear only to walk outside to rain turning to snow so headed to Bespoke instead. We looked the healthy part but we ordered the walnut and maple brioche to prove that looks can be deceiving. The brioche tasted better than it looked, so case in point.
My beef with Vudu the last time I visited was the lack of wifi. They don't offer it, at all. So I was delighted to find that Bespoke did, though only free for an hour log in at a time. We didn't stay longer so I didn't get to find out what happens when you hit the sixty minute mark.
The menu is fresh, seasonal, on trend and delicious though the lack of avocado is something that needs to be addressed. Who has a menu devoid of avocado? Poached eggs are not poached eggs without the green fat goodness. Oh and butter, the toast for both our egg dishes came unbuttered. Maybe they thought they were doing our thighs some good?
Either way. Bespoke Kitchen is a must do visit. There's no table service, you order at the counter and pay and the food is then delivered. If the weather is good grab a seat by the open fire outside.
You'll find it at 9 Isle Street. Check out their Facebook page.
Read more: The quiet achiever in Queenstown
Read more: Live like a gazillionaire in Wanaka