It's back! The Snow Travel Expo returns to Sydney and Melbourne for 2021 after a 2020 Covid hiatus and boy, are we excited. All those fellow snow lovers to chat to, all those resorts to salivate over, all that powder, that snow joy and even a trans Tasman bubble.
Australia's most comprehensive ski show serves up all the resorts you're dreaming about in a one stop research shop. Get organised for your southern hemisphere winter now and talk to representatives from the Australia and New Zealand ski resorts.
Start planning your next overseas ski trip once Aussies are vaccinated by the end of this year. As travel corridors begin to open then you'll be more than prepared with where you want to go to enjoy the northern powder.
The show will be in Melbourne this Sunday, May 16 and hitting Sydney next weekend, Sunday May 23, so here's the ultimate guide to help you make the most of an epic day.
Plan ahead for when the borders open
We're all itching to go skiing and snowboarding overseas and there's nothing better than planning your dream trip (except going on your dream trip).
Regardless of what kind of adventure you're considering – whether it's an extended family trip to Whistler or a quick getaway to Thredbo sometime in August – you'll be able to speak to someone at the show about anything you have in mind, get their top recommendations, and even check out the special show deals they may have on offer.
Connect with Australia and the world's best ski resorts (New Zealand, Japan, Canada, USA, Sth Korea, Europe – Switzerland, Austria and France) to help inspire and plan your next winter ski trip.
Listen to expert presenters, check out the latest gear, connect with passionate snow-experts, and get inspired to hit the slopes for your next winter adventure.
Come armed with a variety of questions, or simply have a walk through each of the stalls and see what interests you most. Just be sure to set a good chunk of time aside for the show, as you can easily spend hours exploring all the options on offer.
2. Lock in your trip right there and then
At the show, you'll have the opportunity to speak to over 6 dedicated snow travel specialists. Want to speak to United Airlines about their latest flight routes? Or maybe you'd like some champagne at the Ikon Pass Après Lounge?
They'll be there, ready to chat, and generally also offering up deals that are show-specific just for those in attendance – so if you're looking for a bargain for an upcoming trip, you may just find it here.
3. Bring your wallet and score some snow goods
If you're in the mood for shopping, this is where you need to be. Check out the latest gear on offer – everything from skis and snowboards to goggles, helmets and gloves. No more driving around to all kinds of different ski shops on the weekends, you can find it all here.
4. The travel presentations
From the time the show opens at 10am, there's a line-up of presentations scheduled in for the day. Check out the schedules below.
Travel presentations for Melbourne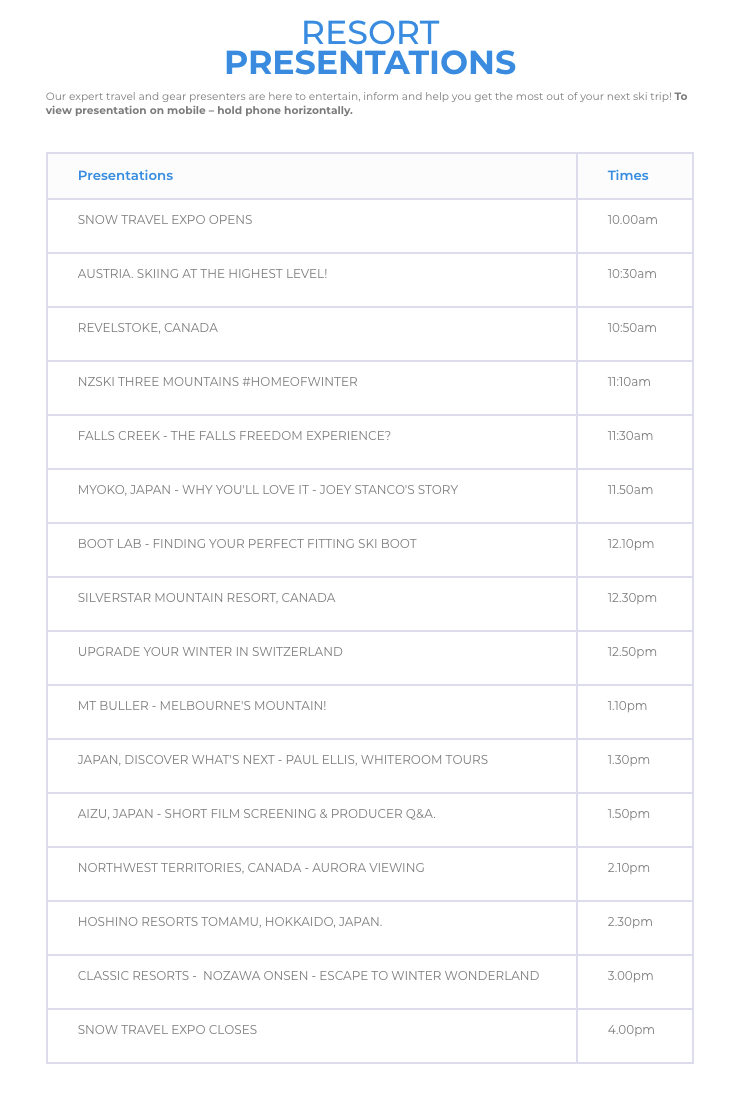 Travel presentations for Sydney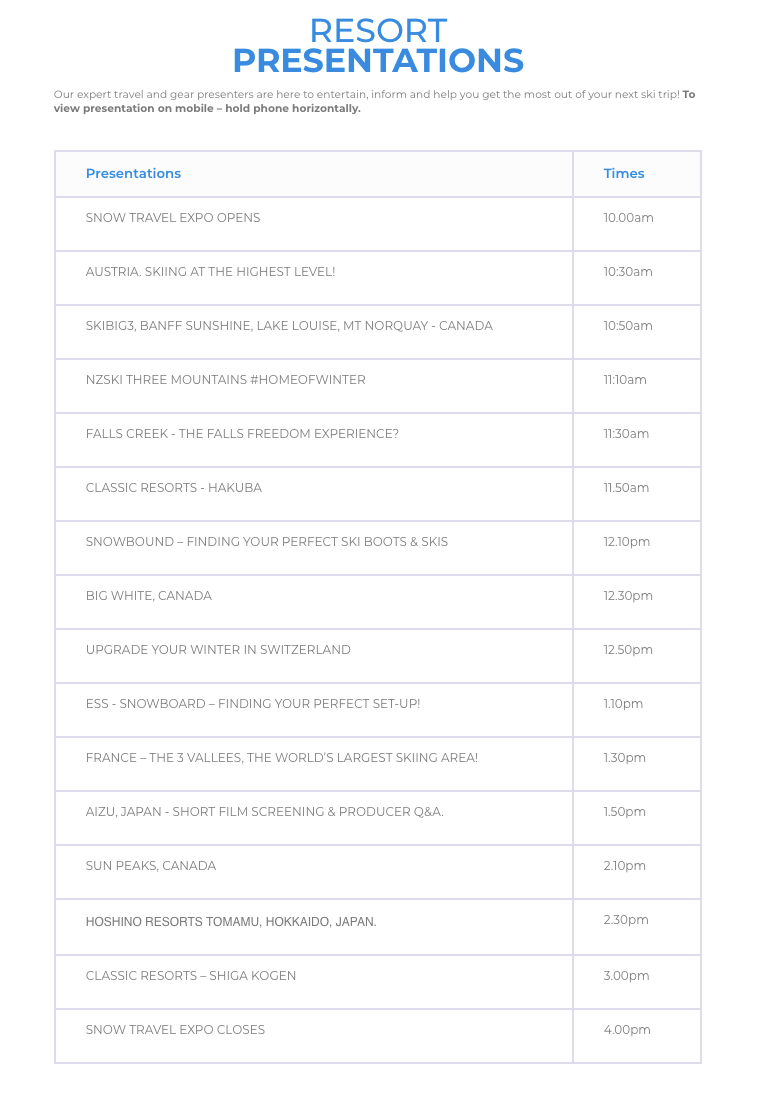 5. Enter ALL the giveaways.
There are no less than seven all star prizes up for grabs at the Snow Travel Expo this year, but you'll have to attend to be able to enter. Including:
A seven night ski holiday in Revelstoke; a ski trip for two to Banff and Yellowknife for the northern lights; a seven night ski holiday for two to Whistler with all the adventure trimmings; four ski nights in Meribel France; lift passes in New Zealand; Niseko lift passes and more!
6. See everything – for FREE.
These days, it's rare to find an activity that will entertain the entire family for most of the day in Sydney or Melbourne without also leaving your credit card crying in pain. All you have to do is register for your ticket.
Register for FREE tickets to the Melbourne Snow Travel Expo here on May 16.It'll be held at the Melbourne Convention & Exhibition Centre, Southbank from 10am to 4pm. 
Register for FREE tickets to the Sydney Snow Travel Expo here on May 23 And find it from 10am to 4pm at ICC Sydney, Darling Harbour "The Gallery."