It just won't stop snowing in California and Utah this season with the internet flooded with crazy images of mammoth snow formations.
Records for snowiest months are being broken every week and the "best snowfall in history" accolades are only another storm or two away for many resorts.
But with record snowfalls come record hours from safety crews on ski resort mountains digging out chairlifts and mitigating avalanches while downtown building structures are buckling under the weight of enormous snow accumulation.
California
Back to back atmosphere river storms pounded California in January and then again in March, causing widespread damage and power outages and bringing with them huge snow totals.
The team at Bear Valley ski patrol have had their work cut out for them with lift systems literally buried.
Meanwhile downtown in Tahoe houses (and cars) are creating artwork of their own that comes with a hefty price for home owners with a shovel and snow blower at hand. For many it's impossible to stay on top of snow clearing, leading to collapsed rooves and devastation.
Long time ski film maker, Scott Gaffney, has been posting incredible images of his home and those homes around him in Tahoe.
View this post on Instagram
Some other extraordinary images have been posted by the team at UC Berkeley Central Sierra Snow Lab field station (on Donner Pass in the Sierra Nevada). They've been recording snowfall totals with a huge snow pit that seems to go on forever. 
View this post on Instagram
As for snow totals, hold on to your hats because these numbers are big. Kirkwood Mountain Resort's year to date snowfall (as of today) is 649 inches, that's 16.5 metres.
Translated? A ton of snow. Huge, huge ton of snow and a huge effort to keep the ski resort operational.
Meanwhile at Mammoth Mountain the official snowfall from Main Lodge (the base of the mountain) as 618 inches (15.7metres). Imagine what's up top.
In January alone, Mammoth received over 208 inches (5.3metres) and Ullr has just kept giving month on month since then. Compare that to last season when the resort recorded zero, nil, nada snowfall in January.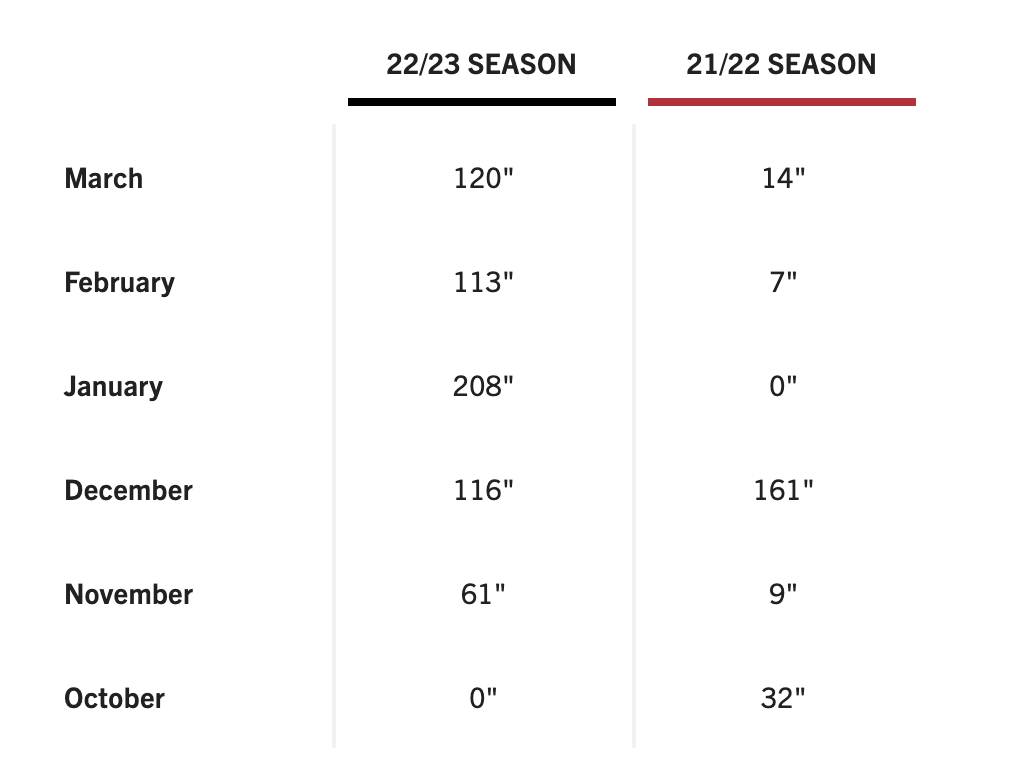 Utah
If you've skied and snowboarded in Utah then you know the snow is light and dry, so dry you can't make a snowball, the kind of snow skiers and snowboarders live for.
The state has been inundated with snowfall this season, enough to make you cry you're not there.
In Little Cottonwood Canyon Alta ski resort has 681 inches to date, that's over 17 metres. Say what? Seventeen metres. One, seven.
AND there's another 47 inches (1.2 metres) forecast for Alta in the next five days by Opensnow.com
Meanwhile neighbouring Snowbird has close to 16 metres with 625 inches of snowfall recorded thus far and have already extended their season.
Solitude and Brighton in Cottonwood Canyon are also boasting some big numbers. Solitude has 623 inches (15.8 metres).
But wait, Brighton's official snowfall to date is 699 inches (17.75 metres).
Brighton for the mega win.
Meanwhile over in Park City and Deer Valley, the snow keeps falling. Deer Valley has 485 inches (12.3 metres) and Park City 479 inches (12.15 metres).
OpenSnow has another 29 inches (73 cms) forecast for Park City in the next five days, and then some.
Watch this space.