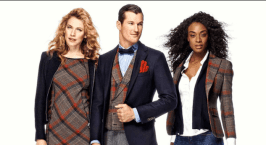 As usual the Olympics have produced some shockers and some winners in the fashion stakes already before an athlete has even walked into the stadium.
Prince Hubertus von Hohenlohe is a lucky Mexican. As the second oldest Winter Olympian in history and the sole team member in the Mexico Olympic Team he gets to wear this as his ski racing uniform. Yes laydeez he is a real Prince.
This has got to win the best outfit for Sochi before the Winter Olympics have even started.
We know that the Americans have to endure wearing this Ralph Lauren monstrosity circa 1920 college pep rally when entering the stadium at the Opening Ceremony so there's definitely no competition there.
The Czechs look like Ali G got caught in a racoon trap. Enough said.
And the Russians are just a colour purple away from a rainbow fingered flag. Bags not be the one to point this out to Putin.
Who can forget the Norwegians clown curling pants at the last Olympics? If you got it, flaunt it we say.
So they are, again, in 2014.
The Estonians have incorporated live huskies into their uniforms for much needed added security.
The Netherlands team will be serving drinks at the pointy end of the plane.
And the French, well, they have Lacoste on their side. Just in case they want to play tennis.
Looks like Latvia left the price tag on the scarf. Let's hope they kept the receipt.
The Mongolian team and their body doubles sport the latest in communist casual.
Aerbaijan's five athletes will be able to double as Christmas Elves come December.
Burton are clearly on the brink as they patch together the USA snowboarding outfits from fabric found on the cutting room floor.
Russian male snowboarders will look surprisingly good.
Though not sure why Australian brand Roxy have done the women's. I'm expecting an HQ move to Moscow and a rebrand from Roxy to Tetyana if all goes well.
Which uniforms get your thumbs up?