Over a decade ago I looked up a friend in Tokyo after a trip to Niseko and he suggested I catch the Shinkansen to Minikami and he'd show me around the area. He was new to skiing himself, but had heard that 'good skiers' liked a place up the valley called Tanigawadake Tenjindaira. 
I'm not sure if Tenjin had much of a reputation at that stage, but when we arrived at the base of the gondola on a crisp blue bird morning I knew this was somewhere very special.
The gondola itself runs up the middle of a valley flanked by accessible sidecountry runs that funnel back into a cat track, and exits into a bowl at the peak. There's a few small chair lifts in this bowl that service a bit over 100 metres of vertical for beginner and intermediate runs alongside the infamous backcountry gate.
During my first taste of Tenjin I could only look on in envy as a few serious Japanese locals geared up and headed out into the back bowls. Fast forward more than 10 years and I finally found myself close enough to Tenjin again to get a second taste and be better prepared and more experienced to venture out the gate.
The Jackson Hole of Japan
In the intervening years, Tenjin's notoriety as Japan's most daunting backcountry destination has been firmly cemented and is muttered in the same breaths as Gulmarg, Chamonix and Jackson Hole. Her north facing slopes straddle the highest peaks north of Hakuba and receive similar volumes of snowfall, providing anywhere from 800m to 1200m of steep vertical to the valley floor depending on how high you choose to climb.
As a reminder of the mountain's potential to chew up the uninitiated, I rolled into the car park just as the police mountain rescue crew were gearing up to search for someone who hadn't returned home the day before. It was for this very reason we'd lined up a day of backcountry guiding with long time Tenjin local and Aussie expat, Kieren McNamara from Tenjin Lodge who runs Tenjindaira Backcountry Tours.
McNamara had a classic tale of "I came to Japan for 6 months and ended up staying 20 years", almost half of which he's spent running Tenjin Lodge just near the base of the gondola. His winter clientele is a mix of serious global powder hounds whilst summers are spent hiking, canyoning and rafting.
Ironically, the busiest time of year in Tenjin is when tens of thousands of Japanese take the gondola up to see the autumn leaves in full colour. This helps explain the five storey car park below the gondola station that had less than 20 cars in it when I arrived on a cold, blizzardy winter's morning.
The weather is a huge factor for skiing Tenjin in terms of access, visibility and avalanche safety. I'd arrived at the end of a week in which over two meters of snow had already fallen with another front due to push through after lunch.
McNamara's first proposition for us is that the bottom exit from the backcountry may not open at all today, so buying a day pass may see us restricted to the beginner runs in the tiny top bowl. However, there are good signs the mountain staff are trying hard to get things open for the weekend warriors, and McNamara works the phone with his local contacts to get an idea of what's likely to happen.
Storm skiing at Tenjin
By the time we get to the peak, the weather has lifted enough to at least have visibility skiing a few warm up laps in knee deep powder under in the top bowl and by 10:30am we get the all clear to head out the back country gate. We do an avalanche beacon check and McNamara gives us a safety briefing on the terrain we'll be starting off in.
There's essentially one main ridge with myriad steep spines feeding off it flanked by deep avalanche chutes all leading to an eventual run out at the bottom. Take the wrong ridge and god knows where you might end up, so heading out with a guide that knows the terrain like the back of his hand is essential, especially as the weather is already closing back in and visibility is less than 50 metres.
Our first run down is a good warm up for McNamara to assess the group's abilities and everyone moves at a similar pace down a relatively mellow line without incident. By the time we get back to the summit for our second lap, the wind is hammering and visibility is down to 20 metres in places.
We push down a steeper spine on this run and are skiing cold, dry, thigh to waist deep powder through the trees.
McNamara made sure we were skiing one at a time down each exposed section, stopping in designated safe zones on the ridges and avoiding the avalanche chutes.
When too much powder is more than enough
Unfortunately, the powder-froth got too much for one of our group and he got lured deep into an untracked chute, buried his tip and lost his ski right in the exact spot you don't want to be. The sheer volume of Japanese snow is a double edged sword – you might be getting the deepest face shots of your life, but if you fall you could be in seriously deep shit.
We'd had about 40 centimetres of fresh snow overnight that was sitting on top of another 50cm from the day before, on top of another 60 centimetres the day before that. While you won't penetrate that deep on skis, as soon as they're off you'll be chest deep or worse and totally immobile.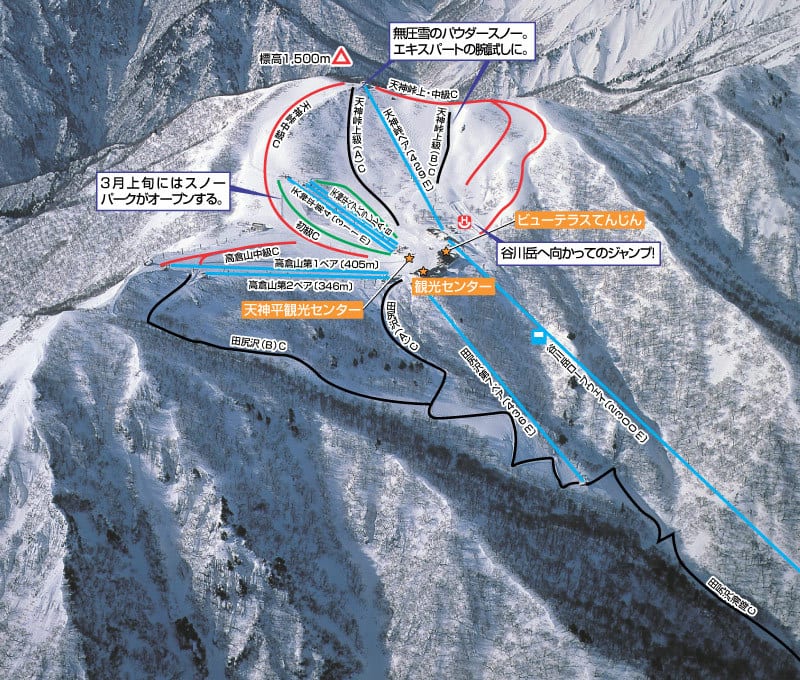 In this case, the ski ejected about five metres uphill from where the skier stopped, but it might as well have been five kilometres away – there was no chance he was going to get back up hill to find it. McNamara was luckily able to snowboard in above him and start poking around with a pole to find the missing ski, all the while reminding us that if the chute avalanched he'd be relying on the rest us to find both him and the guy who lost his ski.
Suffice to say, McNamara finally found the missing ski after about 15 minutes and everyone paid much more attention to his directions on where to ski and stop from then on.
The storm continued to hammer in and dumped another 20 centimetres over lunch alone, so by the time we did our last lap we were all skiing in safety mode due to the bitter cold and limited visibility. I'm pretty sure if I'd tried to ski Tenjin in those conditions without a guide as expert as McNamara, the search and rescue crew would be out there looking for me right now.
Third time lucky
So, after a second taste of Tenjin, would I come back for more? Absolutely. But next time I'd want to try the full buffet. Tenjin is the type of mountain that you need to put time into, learn the terrain, understand how different snow and weather affects it and get to grips with the quirks of the mountain's management. You'll need days not a day (and a guide like McNamara) but that's all we could spare on this trip.
Is Tenjin for everyone?
While anyone can upload to the top bowl, do a few groomed blue runs and download again, to really experience the mountain you should be very confident skiing steep tree runs in deep powder and have a bare minimum of a Level 1 avalanche course or a fully qualified guide and definitely all the safety gear in your pack (and know how to use it).
This is no bullshit big mountain skiing at its best.
EDITOR'S NOTE: This is high consequence avalanche prone terrain, if you go, do not go alone, take a qualified guide who understands how to read terrain and snow and who knows the area, have some powder experience and avalanche awareness yourself and do not go without avalanche equipment. 
Owen Lansbury was hosted by Kieren McNamara at Tenjin Lodge