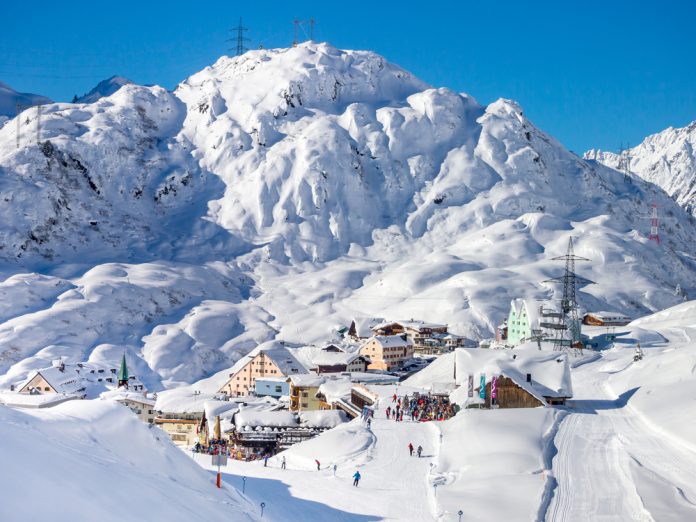 The Arlberg, in western Austria's Tyrolean Alps, is often regarded as the birthplace of alpine skiing. Though the Norwegians are credited with inventing the popular winter sport, it is the Austrians who pioneered it as a leisure sport then exported their knowledge to the world.
The opening of the Flexenbahn cable car last winter became the final piece in the puzzle connecting all the major Arlberg resorts – St Anton, Lech, Oberlech, Zürs, St Christoph, Stuben and Warth-Schröken – so that now the Arlberg boasts 305km of groomed downhill slopes plus a further 200km of back-country skiing. Best of all is that each resort is accessible using the one lift ticket (88 lifts), making the Arlberg Austria's biggest interconnected ski area and one of the five largest ski resorts in the world.
How to get there
Zurich is the closest major international gateway to the Arlberg, with private shuttles available for the 2.5-hour cross-border journey. The commute from the Austrian capital of Vienna, 550km away at the opposite end of the country, takes the greater part of a day. Flights into Munich are another option.
Where to ski
Without a doubt, St Anton is the Arlberg's poster child, with an international reputation for powder-packed, fun-filled slopes that are exhilarating by day and a frenetic après-ski scene that will exhaust you by night. Higher up the slopes, cradled on a ridgeline that's out of earshot from the lager louts trawling the bars in and around St Anton, is St Christoph, the spiritual home of the Ski-Club Arlberg and base for the Austrian Ski academy. Further west, Stuben is a family favourite that also attracts fans of ski in-ski out stays and powder hounds hell-bent on carving fresh ribbons through the snow.
Across the Flexen Pass, Zürs is Austria's one and only heli-skiing destination and a sentimental choice for those who are serious about their skiing, with few distractions. Its upmarket neighbour, Lech, has long been favoured by Europe's aristocracy and fur-coated glitterati, but it also entices those seeking fast, top-to-bottom skiing in broad highland bowls.
Where to stay
St Anton is the largest village in the Arlberg, consequently boasting its greatest range of accommodation facilities. The 16th-century Hotel Schwarzer Adler, located in prime territory fronting the pedestrian and retail thoroughfare of Dorfstrasse, is a classy hop, skip and jump to everything worthwhile, while budget-minded skiers and shredders should consider staying at the three-star Alkira Apartments (footnote: it's run by an Australian-Austrian husband and wife team who brew a wicked selection of beers in their basement brewery.
Over the ridgeline, in Lech, the quirky but cosy Kristiania hotel defines relaxed luxury, with guests under no pressure to conform to social norms. The Small Luxury Hotels of the World member is nestled on a rise offering sweeping views over the picture-perfect town and valley.
Where to party
Without a doubt, St Anton is the après-ski centre of the Arlberg and, some might even say, the world. Ski down the blue Galzig run any time between 3-8pm and you'd be wise to keep one eye out for skiers heavily fuelled up on beers and Jägermeisters.
Of the bars they're likely to be exiting, the Mooserwirt is perhaps the zaniest, with German oompah music blaring out across a sweaty moshpit ringed by tabletop dancers tapping their toes in ski boots. A little further up the hill, the Krazy Kanguruh plays a more contemporary brand of music to a largely Australian and Scandinavian crowd that's equally determined to let its hair down.
Lech's Hotel Tannerbergerhof Ice Bar and the K Club at the Krone Hotel are decidedly more low-key, but together they make it the only other Arlberg resort that's inclined to kick on once the lifts close.
Where to eat
By day, schnitzels, sausages, sauerkraut and strudels dominate mountain hut menus. By night, however, a host of celebrated chefs place their own culinary spin on traditional Arlberg cuisine, so much so that chef's hats awarded throughout the main resorts currently tally 46.
St Anton overflows with dining options, from pizzas and kebabs to à la carte silver service pandering. One way to escape the steamy crowds, however, is at the Museum Restaurant, housed inside a 1912 Tyrolean-style hunting lodge showcasing the Arlberg region's rich history, particularly in relation to alpine sports.
If it's character you're after though, book a table at the Hospiz Alm Restaurant – part of St Christoph's Arlberg 1800 Resort. Though this cosy, timber-panelled chalet was only built in 1988, you'd think it had been clinging to the upper slopes of the Rosanna Valley forever, such is its authentic appeal.
While you're there, don't forget to slide – literally – down to the basement so you can salivate over the wine cellar's world-leading collection of large-format bottles of Bordeaux reds worth an estimated €7 million.
Mark Daffey travelled courtesy of the Austrian National Tourist Office.
---
Please help SnowsBest survive 2020 and remain your independent source of snow news with a "Covid contribution", from as little as $1, so we can continue to deliver the news and content you value in a year when we need each other most. Contribute here.
---