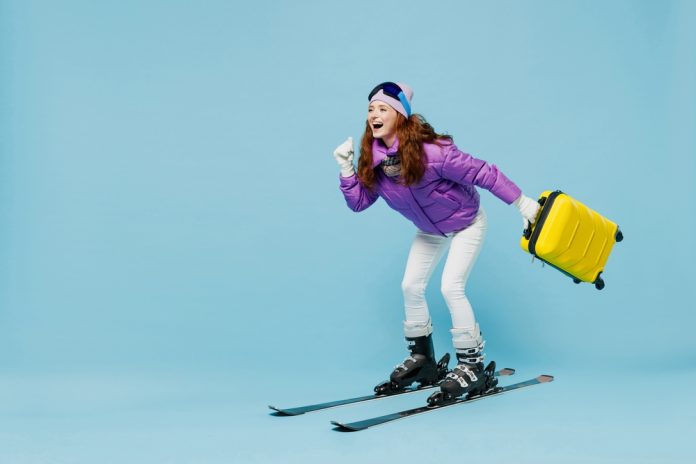 It's been almost three years since my last international flight, and my travel fitness has gone out. The. Damn. Window.
I used to jump on 16-hour flights without batting an eyelid. My carry-on bags were optimised, my travel hacks honed.
These days, I can barely fly between Sydney and the Gold Coast without panic-packing everything I own and triple-checking my flight details.
And based on all the people who let their passports lapse and are now freaking out over their renewal and the waitlist, I'm not the only one that has dropped the international travel ball.
With so many of us now scoping out our next trips, especially our Northern Hemisphere ski holidays from December through to April, I've done my bit to work out what we've forgotten and what's changed about post-pandemic travel – plus the little things that will help make your next trip that little bit easier.
Packing smart will get you far
Lost bags are rife just now, and so here is your reminder to pack your most irreplaceable things in your carry-on. For ski holidays, this especially includes things that can't easily be rented at the other end, should they not turn up: your exxy goggles, all those Merino wool thermal layers, your ski gloves.
It's worth also taking your biggest, heaviest jacket as your pillow on the plane, and a large scarf that doubles as a blanket. This once saved my bacon when I flew across the world to Switzerland only to discover that my bags had unhelpfully remained in Brisbane. With the spare undies and tops I always keep in my carry-on, I had enough to traipse around ski towns until my bags turned up.
TikTok's currently going wild over the pillow packing hack, where you cram a bunch of clothes into a pillow case and fend it off as a regular pillow. It probably won't be long until the airlines start catching on, and so it's probably best to stick to putting your clothes into good old suitcases – although there are compression cubes now available for making all that puffy winter gear a bit smaller.
As for skis and boards, even if you've spent a lot of money on your kit at home, it may not be worth lugging them overseas. Board bags are hellishly annoying to lug around airports, on and off public transport, around cities, between transfers, the list goes on…
Either look up specific ski bag transfer services before you go (Japan, for example, has a good one between Tokyo and Niseko) or cut your losses, pack only your ski boots and leave the rest behind to rent yourself something new and fun once you're over there.
The tech is much better now
While we were all stuck in our houses, clever entrepreneur people were busy making everything that little bit better. Like luggage, where brands like July have reinvented the lightweight suitcase. Others have included inbuilt batteries for charging your devices on the go via your bag.
There's plenty to be enjoyed on the entertainment side too; like the Bose Sleepbuds, which may just get you sleeping soundly on a plane. Or Bluetooth transmitters that plug into in-air entertainment systems and sync the sound to your wireless headphones of choice.
As for those lost bags? There are now easy and reasonably-priced ways of finding them instantly. Invest in an Apple Airtag or a Tile, so that you never again have to stand at a baggage counter, begging an indifferent attendant to work out where your belongings could possibly be. The Tiles or Airtags can even be used on everyday items such as keys when you get home, ensuring you're making the most out of them when you're not jetsetting.
Finally, don't forget about the websites which have always been favourites and only gotten better with age; SeatGuru, for example, for picking the best seat on a plane. Sleeping in Airports for those stuck between layovers or impacted by delays. Or Lounge Buddy, where you can purchase lounge access and toss up which one is really worth it.
Travel insurance is not what it used to be
I covered travel insurance properly here in November 2021 but TLDR: information is changing all the time, and things are really not as simple as they used to be.
Read things carefully, triple-check that you're actually covered for COVID, and understand things can be a bit complicated based on travel warnings.
Everything is just that little bit more… difficult
It's not just travel insurance and lost luggage that are causing drama. Restrictions and rules frequently shift between countries. Waits at airports and for delays can be long. There is more uncertainty than ever about flight cancellations due to staff shortages and many other complications.
Your best bet is to go through a travel agent for any bookings you might be making. They can advise on the most recent policies on visas, vaccination certificates, documentation, required insurance and even suggest a new itinerary should you require a stopover that just isn't going to work.
Otherwise, do much triple-checking via the Australian Department of Home Affairs website, and look into joining a Facebook group focused on your destination of choice so fellow travellers can guide you in the right direction. We have some good destination-based ones via Snowsbest here.
As for the long lines, Two Broke Girls recommend downloading a book onto your phone so that you can always have something to scroll through and keep you entertained, even without internet access in some destinations.
Have we covered everything? Let us know any travel lessons you've learned recently.