If you're heading to Japan or already there for Christmas and New Year powder turns then you've clearly made the right choice. Both Hokkaido and Honshu are lining up for some powder dumpage to take you through to 2019, though some resorts will fair better than others. 
Hakuba hasn't had an ideal start but the last week or so has secured a base from which they can build on. Lucky for them up to 189 centimetres (close to two metres) is forecast from Thursday through to New Year's Day. Not a bad way to see in a new year, we say.
Resorts across Japan are set to receive between 94 centimetres and 1.89 metres as winter settles in. But we all know what really happens on the ground. The classic Japan sleeper storms that promise 30 centimetres and deliver 70 centimetres. They're like those unwrapped presents you find under the tree that have no names on them. 
It looks like freezing levels will be low and temperatures too, so that pesky warm front that was creating slush last week in the Hakuba Valley will have dissipated and we can all go back to Japow as usual. That's cause to open another bottle of bubbles, right there.
So, we've taken the best forecasts from www.snow-forecast.com for the major resorts and also chosen the forecasts from their highest lifted points so you can pat yourselves on the back and say, well done, good choice, you did good.
Niseko 
Up to 129 centimetres over the next 9 days with snow falling every day. Every. Day.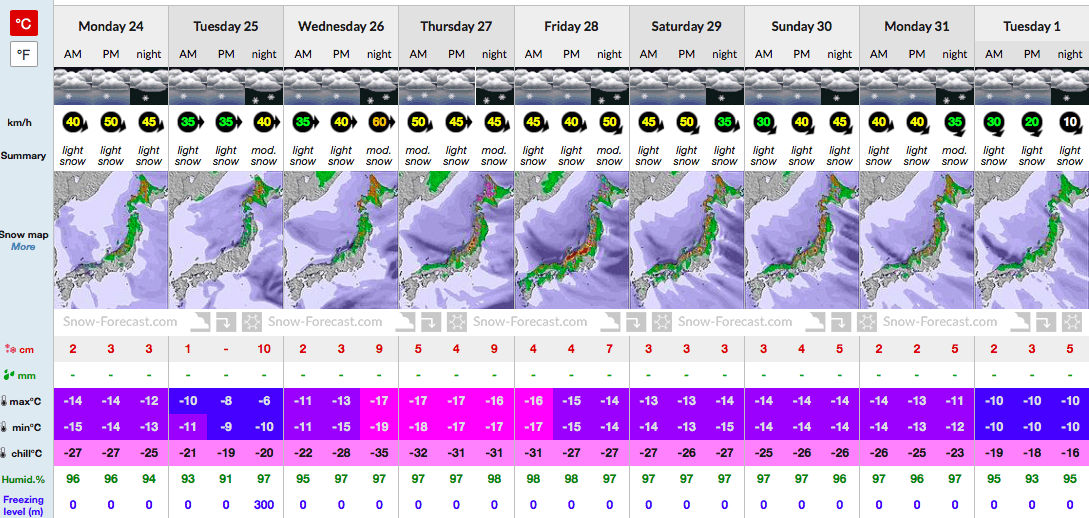 Kiroro
This quiet achiever always delivers the goods and the next nine days are no exception. Expect 164 centimetres or 1.64 metres. You're welcome. Rug up, it's going to be cold.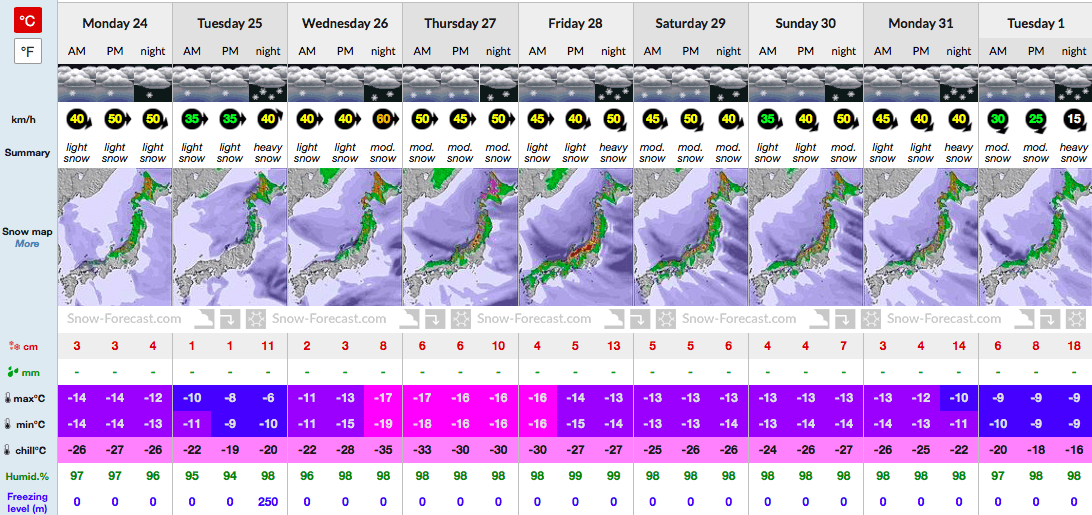 Furano
One. Three. Five. 135 centimetres of powder goodness lays in wait.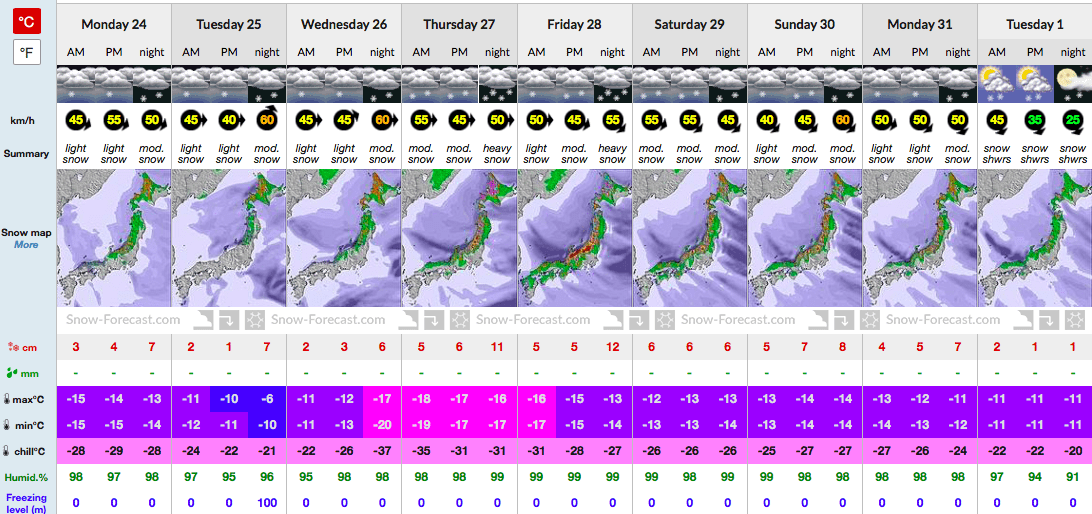 Myoko Suginohara
We ventured to Myoko last year on a sleeper storm day. Woke to 70 centimetres of surprise goodness. If you're lucky you'll wake to 117 centimetres from Thursday to Tuesday. Surprise!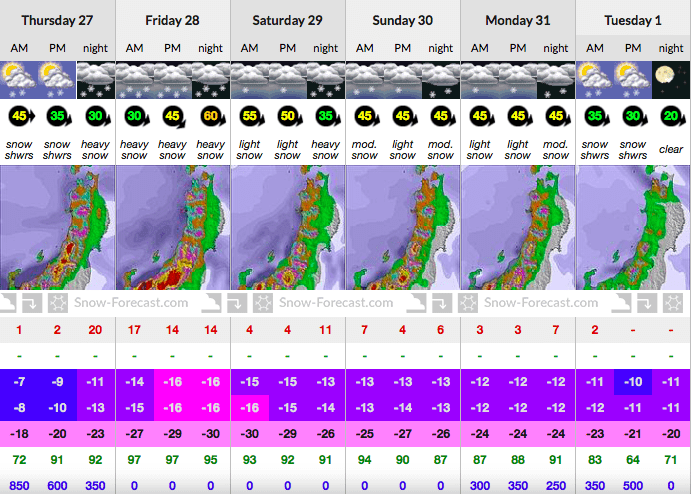 Madarao
Snow should start to show it's face from Thursday with 94cms over the next six days and the locals will be rejoicing.
Nozawa Onsen
Expect 133 centimetres of fun and temperatures way below zero.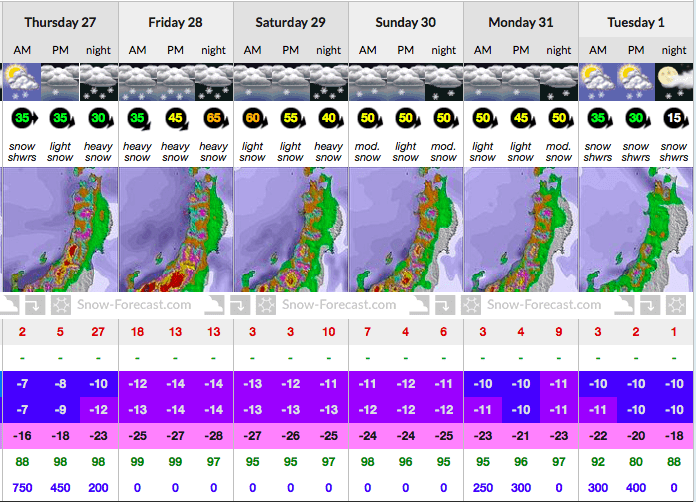 Hakuba
Here's the forecast those heading to Happo One have been waiting for 189 centimetres over six days. We expect powder pics, powder grins, frozen teeth and laughter.
Shiga Kogen
Japan's highest and largest ski resort (21 linked resorts) will receive 139 centimetres if the forecast below comes into fruition.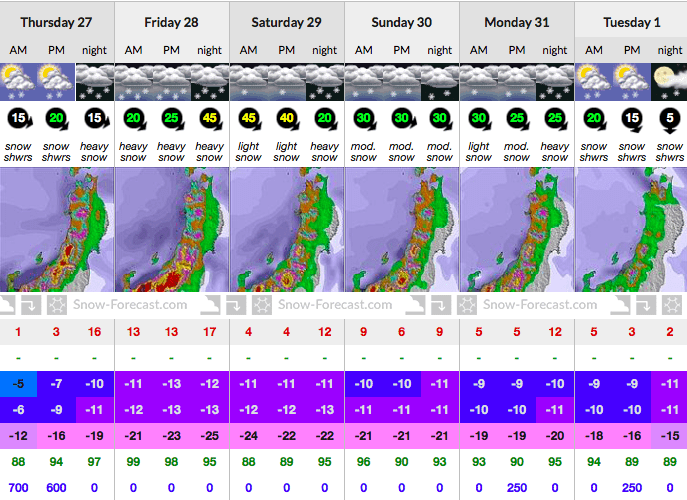 Join our Miss Snow It All Japan Deals and Chatter Facebook group.