Every year winter starts looming, and we all start making promises we know we're not going to keep. This year I'll be fit, this year I won't scratch my goggles, this year I'm not going to have one too many aprés and miss the powder day of the season, the list goes on.
Yep, we all know skiing is expensive – there's transport, new gear, lift passes, lessons for the kids, and if you're lucky you'll treat yourself with a heli or cat skiing trip when you're on your ski holiday.
That final promise you make to yourself every year, to book yourself into a camp to actually progress your skiing or snowboarding, is often the first one that gets broken when you really get into budgeting your trip.
So this winter, it's time to put yourself and your skiing first. And we're here to help with a comprehensive guide to the best ski/snowboard progression and improvement camps around the snow globe.
Ski improvement (and social)
Most camps offer a level of social engagement – you're with the same group for at least a couple of days, so for better or for worse, you're going to end up socialising with them. These camps balance out the social aspect with really great coaching as well!
Ski Aspen Improvement Programs
The team at Ski Aspen pride themselves on connecting with their guests, and creating a great vibe with their aprés sessions. You're in small groups for maximum progression, which also means you've got the opportunity to really get to know the others in your group over the 1 or 2-week programme. Ski Aspen also don't wait in lift line, which may or may not be a good thing if you've been going hard at aprés and you need a little break between runs.
Sofa Ski Camps
Treble Cone Ski Area's Sofa Ski Camp in Wanaka, New Zealand is another camp that boasts small groups and quality instruction on general on & off-piste skiing. Sofa Ski Camp has two aprés sessions in your week of ski improvement, and also offers a discount on an additional day of heli skiing with Harris Mountains Heli Ski. Head coach & Sofa Ski Camps founder Klaus Mair knows his stuff – you'll learn a LOT this week.
AllTracks Ski/Snowboard Improvement
If 2 weeks of improving your skiing or snowboarding in Whistler sounds like a bloody good time, that's because it is. The All Tracks Ski/Snowboard Improvement programmes run for a fortnight of 50% on-piste & 50% off-piste training.
They also take advantage of the infamous Whistler nightlife with a welcome party and a few social events throughout the programme. The AllTracks camps usually focus on ski and snowboard instructor training, so it's great to see an instructor training provider offering a programme without an exam at the end.
Best

camps for women
Women's-specific camps are usually run by women, for women. They're a great option for learning specifics about how your psychology & physiology impact your skiing, in a supportive environment with other ladies of the same level as you. Most of the camps tend to include a sponsor's goodie bag which seems to be missing from a lot of the "regular" camps. Go figure.
Keely's Camp – Portillo, Chile
Keely Kelleher (former U.S. Ski Team) offers women's-specific ski camps in Portillo, targeting girls who want to progress in backcountry or ski racing, as well as women's camps for ladies over 21 who want to gain confidence and improve technique on steeps, moguls and in powder. Biggest pro? Learning from a pro.
Element Verbier Women's Camps
Element offer small, all-female group camps for either 2 or 5 days (depending on how your season is shaping up). They cater for intermediate skiers and above, gearing you up for more advanced terrain and taking expert skiers to conquer the off-piste. The weekend programmes offer a really cool biometrics session to help understand why your body works differently, and how that impacts your skiing. Physiology nerds are gonna LOVE this camp.
The North Face Women's Ski Camp
Throughout the winter, Whistler Blackcomb host weekend-long, women's-specific ski camps for all levels. With two of North America's biggest mountains to ski on, these camps offer a real variety of terrain and conditions to really progress. There's a pretty good aprés session at the end of day 1 – just make sure you don't party too hard so you make the most out of day 2.
Shades of Winter Camps
The ladies of the big mountain ski film crew Shades of Winter run camps throughout Europe and the United States each winter. They're specifically targeted at women who want to progress their big mountain skiing and the coaching lineup includes members of the Shades of Winter crew. If you want to feel like a lady boss, surrounded by lady bosses, then these camps aren't to be missed.
Best for terrain parks
The common theme for terrain park camps seems to be "the warmer, the better". The best terrain park camps all happen in spring, or in summer on glaciers. Soft snow, sunny days, ridiculous sunglasses, hawaiian shirts and hype men are all key ingredients for a stellar week of park training…
Momentum Camps
Based on the Blackcomb Glacier, Momentum Camps run two adult terrain park ski camps in June. They've got some of the world's best freeskiers as coaches, and have pretty consistently great weather for your week of training. Momentum offers a "Premium" adult camp that runs first, and a more budget-friendly version a couple of weeks later. You know, if you're in Whistler and you want to save money…
High Cascade Snowboard Camp
High Cascade is one of the original snowboard-only summer camps, and has thrived at Mt Hood for the past couple of decades. They've got a darned good marketing team – High Cascade looks like a lot of fun if you're into riding park all day, skating all afternoon, and finishing it all off with a hearty game of dodgeball. Yes, they do all that on the adult camps too.
Stomp It Camps
Stomp It Tutorials have exploded on Youtube, with hundreds of thousands of views for their instructional skiing videos. The "Guy from Stomp It Tutorials" (his name is Jens Nyström) runs freeski camps throughout Europe in Autumn, Winter and Summer. Jens aims his camps at beginner/intermediate park skiers, they're all-inclusive and pretty reasonably priced. You can also prepare in advance – on the camps you learn the same tricks as in his beginner and intermediate video tutorial packs.
Best for powder
The old adage "no friends on a powder day" isn't the best if you're not that great at skiing or snowboarding in powder… but that's okay – there are camps for getting better at powder riding too!
CMH (Canadian Mountain Holidays) Intro to Powder
If you're a strong intermediate skier, and want to start venturing into the backcountry via a helicopter, the CMH Heliski Intro to Powder week in a remote lodge is one of the most epic ways to start. You're in a small group (they even do women's-specific groups), and your guides teach you the basics of skiing powder in some of the world's best snow conditions. Hey, if you can do it here, you can ski or snowboard in powder anywhere.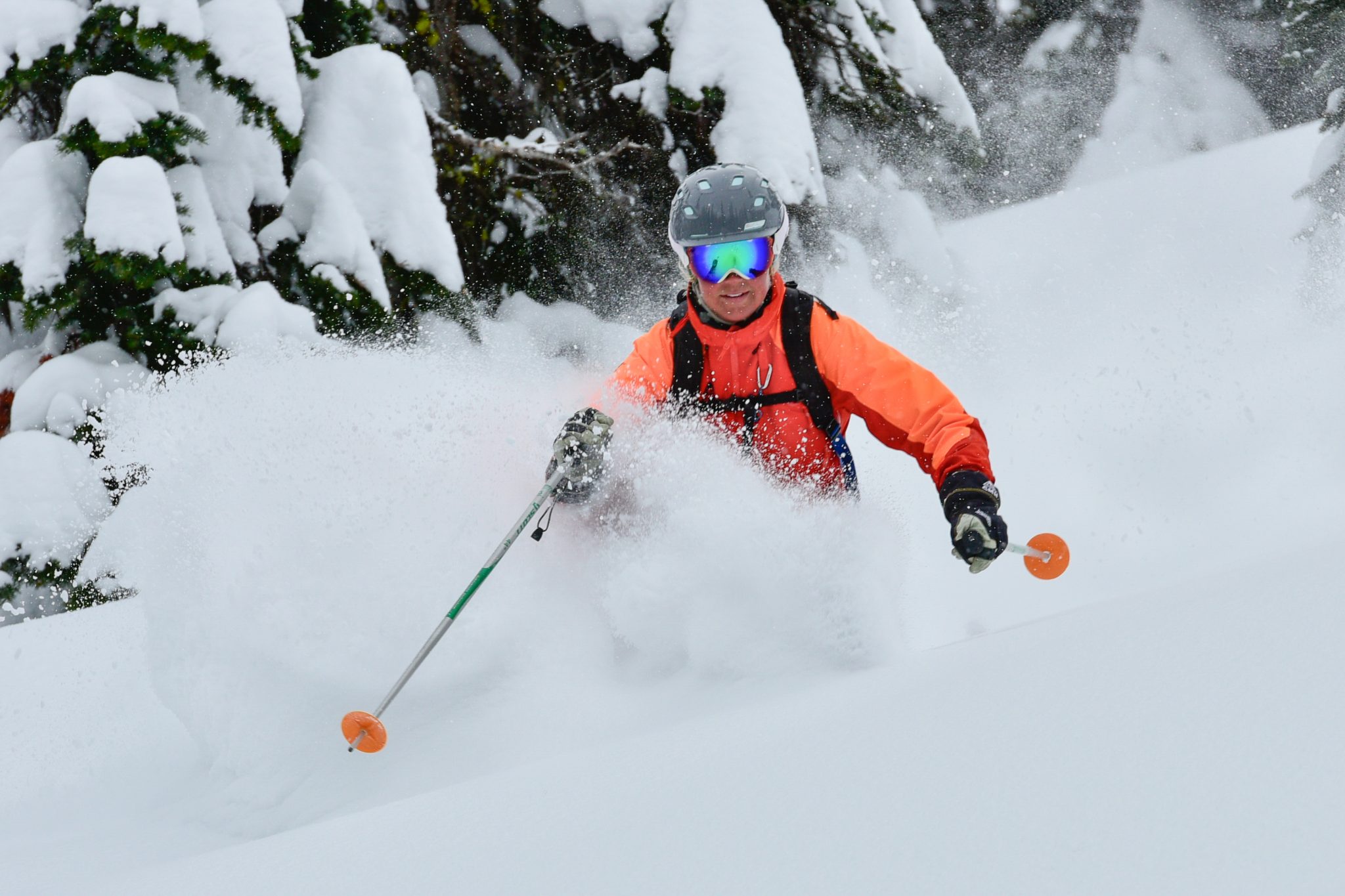 Warren Smith Ski Academy Japan Powder Camp
Warren Smith Ski Academy offers really technical ski courses around the world. Their Japan Powder Camp is based in Furano, and is 100% focused on ski technique in powder, with regular video analysis. One of the big pros of this camp is that they give you a day to warm up, then 2 freeride days at the end to put all you've learned into practice.
Steep & Deep Ski/Snowboard/Adaptive Camps
Jackson Hole's famous Steep & Deep camps are for extreeeeme skiers, snowboarders, and yep they even do an adaptive version. Like their host mountain, these camps aren't for the faint-hearted – you'll explore all of Jackson Hole's infamously gnarly terrain, including Cobet's Couloir.
Best for fear
There's really only one camp that will get you to conquer your ski fears, and Kristen Ulmer literally wrote the book on it. The former most extreme female skier in the world will take you skiing in Utah, and get you out of your head in the process.
Best for heli ski preparation
If you dream of heli skiing while your friends wait in lift lines, but you're lacking backcountry experience, there are a few folks around the globe who offer camps to get you ready for your heli and it looks like a bloody good holiday to us.
Telluride Heli-Ski Camp
Steve Hindman runs a 3-day heli ski preparation camp where you spend the first two days on the slopes of Telluride learning technique, then the final day heli skiing with Helitrax. This is a pretty serious camp – get ready for 3 days of hardcore skiing!
Mike Wiegele Intro to Off-Piste
The epic thing about Mike Wiegele Helicopter Skiing is that they also offer camps where you can prepare for your heli ski trip by skiing the same terrain, just accessed by cat. Their Intro to Off-Piste is all about building confidence on the same terrain you'll be heli skiing. This is one of the only intro camps run by a heli ski company and you get all the same benefits as a Mike Wiegele heli guest… including 3 gourmet meals a day… *drool*.
Nonstop Ready to Heli
Nonstop are one of the big dogs when it comes to ski camps and training, and their Ready to Heli camps in Fernie are one of the most epic looking training courses in this entire guide.
Choose from a single week or 2-week course, learn from specialist instructors how to make the most of untracked snow, do a catskiing trip half way through your holiday, then top it off with your heli trip at the end.
Warning: this camp may turn you into a snow snob, and we are HERE for it!
Best multi resort camps
While many resorts hold their own progression camps, and many of the outside camps stick to one resort, there are a couple of programmes that visit multiple resorts as well as offering guiding or instruction.
BC "Hidden Gems" Ski Safari – Ski Adventures
Heather Robilliard's Ski Adventures offers a 3-week long exploration of some of British Columbia's "hidden gems", including Whitewater, Revelstoke, Red Mountain, Apex and Crystal Mountain. You can add on a cat skiing or heli ski trip to make it the ultimate winter ski holiday in Canada.
Ski Big 3 Guided Adventures
The Banff/Lake Louise Ski Big 3 Guided Adventures make the most of having 3 resorts to choose from – Banff Sunshine, Lake Louise and Mt Norquay. You spend a day on each resort, get instruction from certified instructors as well as some sweet lift line priority.
The nifty thing about this camp? Both skiers and snowboarders are welcome in all groups, and programmes start on any day of the week – making planning a trip for your disorganised friend group of mismatched levels and disciplines super easy.
Best ski with legends camps
If you want to know that your coaches really have seen and done it all, you want an improvement camp with current or former professional athletes. These camps pride themselves on their A-list coaching teams – because if you could ski with an Olympian, why wouldn't you?!
Superstars Ski Camp
Chris Davenport is a true legend of skiing (seriously, look him up if you don't know), and his Superstars Ski Camp in Portillo, Chile is definitely one to add to the list if you want to ride with the best in the business. It's for advanced skiers only, but boy-oh-boy is the coaching line up impressive – last year's included Chris, Mike Douglas, Cody Townsend, Wendy Fisher and Ingrid Backstrom.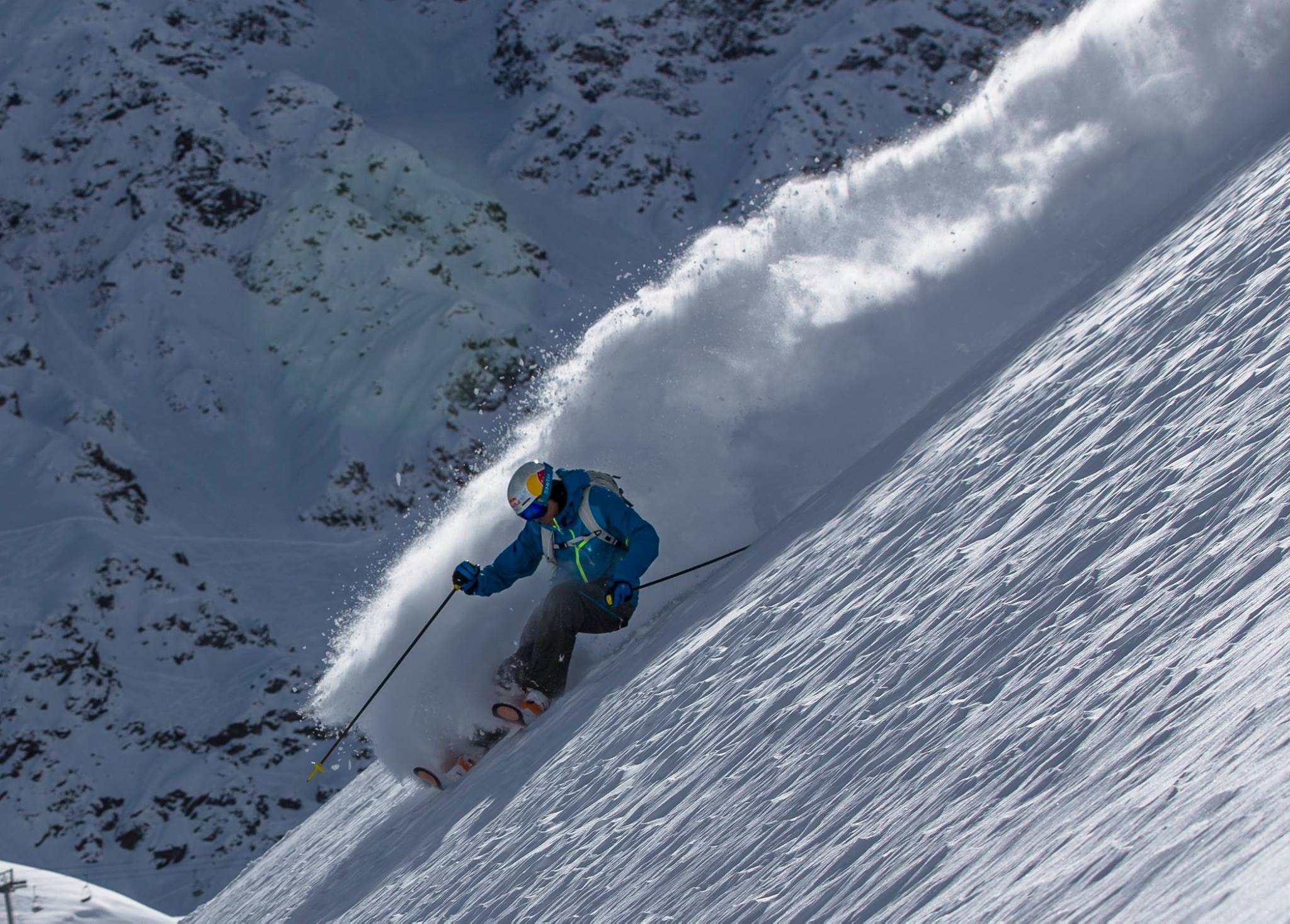 Ski with Kim
Now if you're wanting to ski with a true legend of skiing, then you've got to get on a Ski with Kim programme this coming winter. Kim Reichhelm was named one of Ski Mag's Top 10 Most Influential Skiers of All Time, and she deserves it.
As well as being a pioneer of competitive skiing, she's also pushed to break gender stereotypes within the sport for the betterment of all skiers. Kim runs trips all over the world if you want to learn all her ways (which seem more like a "need" than a "want" to us…).
This guide isn't a complete list by any means. Have a search yourself for the right camp for your level, trip length, budget, goals and location. Which ever camp you choose, make the most out of it – pretty much every camp listed also holds evening sessions for video analysis, learning ski/snowboard maintenance, finding out about upcoming gear and more.
If you do sign up then you're going to come home a better skier/snowboarder, with a renewed passion for your sport.