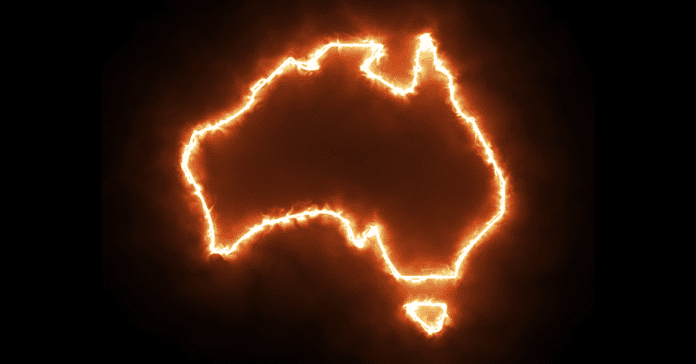 Australia is in bushfire crisis under once blue, now pitch black to blood red, summer skies. 
33 people have died. That alone is horrific. Horrific. And that death toll is destined to rise.
Add a billion wildlife said to have perished. A third of the koalas in New South Wales have died and half the population of 50 000 koalas on Kangaroo Island are said to have been wiped out. 
10.7 million hectares of Australia have burned to the ground. That's one football pitch size times 10 million, or an area the size of South Korea.
5900 buildings have been destroyed, 2000 of those burned are people's homes.
Let that sink in.
Australian skiers and boarders care
Australian skiers and snowboarders have a close affinity to the bush. Our alpine resorts sit within the national parks and we ski and board amongst snow gums with wombats on the side of the ski runs. 
This year's fires came dangerously close to all our resorts in Victoria and New South Wales, all were placed on mandatory evacuation, Jindabyne was upgraded to a Tourist Leave Zone and the birthplace of skiing in Australia, Kiandra, was decimated by the Dunns Road Fire that took with it Selwyn Snow Resort and a number of our heritage huts.
There's not a skier or boarder, nor an Australian, in this country that hasn't been impacted by this bushfire crisis and that's why we're launching Snow Aid Australia 2020, an online auction for bushfire relief and wildlife rescue.
Who we're raising dollars for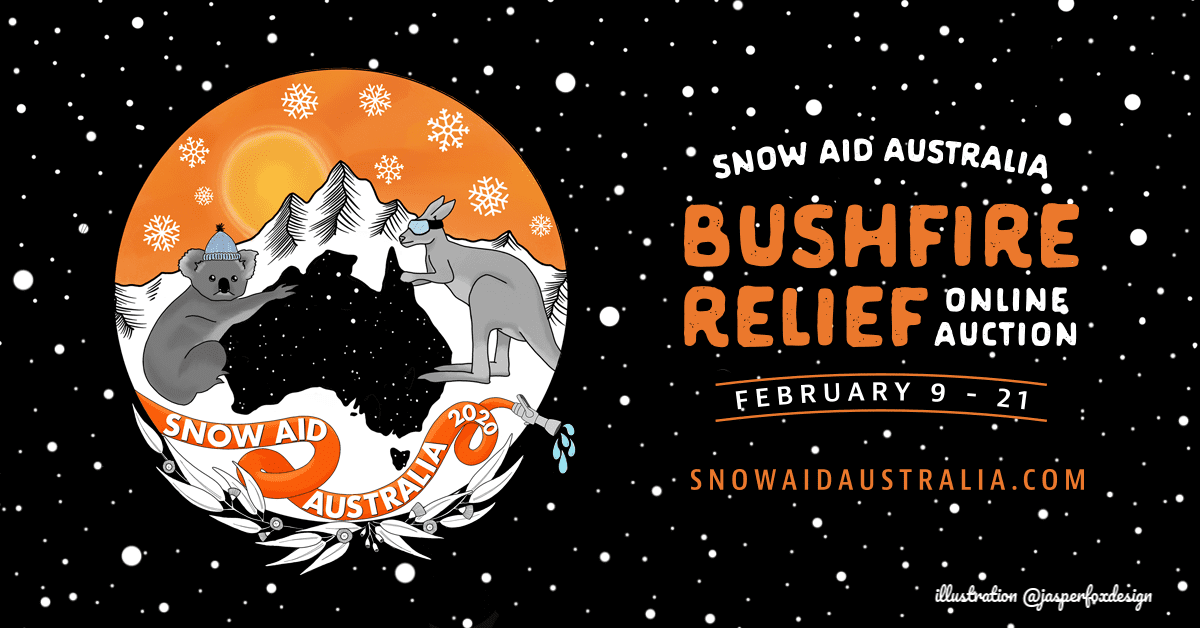 So many organisations and people have been doing amazing things in the face of this crisis for businesses, tourism, farmers and more and we've listed some of them here so you can continue to support them. 
As the amazing Celeste Barber had already raised over $50 million for the fireys, we thought we'd concentrate on humanitarian relief and wildlife rescue.
But finding and choosing the right charitable organisations to fundraise for immediately after and during a crisis of this nature came with its own challenges. Many not for profit organisations we reached out to were not yet registered as a charity and legally we can't raise funds for them with our auction. Straight donations, yes, an auction of this size, no.
We wanted and want to support LAOKO as it's local to the alpine but while we can't with Snow Aid you can direct. 
Other organisations were so flat out (understandably) trying to immediately attend to the scope of the humanitarian and wildlife disaster that they simply could not handle the massive number of comms coming in and we could not get the paper work that we needed to support them. We get it, we're a permanent team of 1.5 people (on a good day), resources are challenging.
We felt it important to support the big guys and the little guys and go national, state and local for both wildlife and people.
We wanted a grass roots organisation that's directly on the frontline.
So we chose the team at Wildlife Rescue South Coast – they are 100% volunteers. No one gets paid. Not one. They look after the wildlife rescue from south of Wollongong to the Victorian border, taking in so much of the bushfire regions – the Illawarra, Southern Highlands, part of the Southern Tablelands, Kangaroo Valley, the Shoalhaven and the Eurobodalla and Sapphire Coasts.
Then we chose two wildlife charities, one for each state our bigger alpine resorts, and those that were directly impacted by bushfire evacuations, reside in.
We chose WIRES Wildlife Rescue in New South Wales because while they already have millions in donations, we were impressed that they intended to distribute those nationally. To us, that's important as South Australia and Kangaroo Island koalas and wildlife also need help.
We chose Wildlife Victoria because their Victorian bushfire appeal funds will be distributed direct to wildlife shelters and carers to help rebuild enclosures and equipment that they have lost in the fires. This will help them continue their lifesaving work with the enormous number of animals that will need care in the coming weeks and months.
And we wanted one national people focused charity to ensure all states were covered.
We settled early on, on the Red Cross Disaster Relief and Recovery Fund, because they know how unprecedented this disaster is, they have the experience and administration resources to attend to it with due process so no one gets scammed and they dedicate no more than 10 cents to every dollar to run an organisation and disaster relief of this size.
And because they are investing in longer term recovery plans alongside immediate relief with $20 000 emergency grants to those who have lost homes, immediate grants of $7500 for those hospitalised, immediate grants of $5000 for those whose homes are damaged and need repair and are distributing $1million a day to support individuals and communities.
This includes a $50 million fund for immediate assistance grants plus $42million for mid term and $18 million for 3 years or more.
Because recovery takes time. It's not a short term process it's a long term one and we wanted to know that months after the world has forgotten, that your dollars had not been.