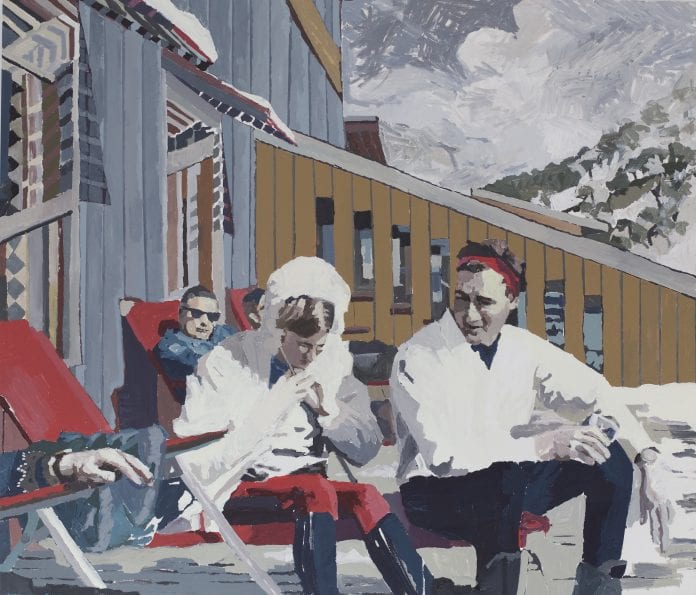 Lovers of Australia's alpine region can get a mini fix in Sydney in August with the launch of Zoe Young's Winter Soundtrack exhibition at the Olsen Gallery in Sydney.
The exhibition launched on August 8 and is open to the public until August 26. Young's work is a solo exhibition that captures the essence of winter and her childhood at Crackenback near Jindabyne in Australia's alpine region.
The two time Archibald Prize finalist trained at the National Art School in Sydney and is a graduate in Sculpture under Robertson-Swanns. There is an artistic nostalgia in Young's latest work featuring acrylic on birchwood and Belgian linen and nods to the European heritage of Australia's snow resorts and cuisine inspired by her mother.
You may know Young from her portrait of Torah Bright for the Archibald Prize in 2014. Young grew up in the Thredbo Valley and raced with Bright's siblings. The mountains and ski fields are in her blood.
Applying modernist sculpture techniques to portraiture and still life painting, Young creates works that, although nostalgic, domestic and unapologetically feminine  in subject matter, works are built upon solid structural foundations that reveal picture planes that curve and block as sculpture does.
Her rural studio is kept warm by an Aga Stove and Young is currently bringing her mother's recipes back to life through painting. The drive to distil the beauty and essence of the moment is at the core of Young's intentions
Known previously as Olsen Irwin and Tim Olsen Gallery, Olsen Gallery was established in 1993 and exhibits a broad spectrum of Australian and international art, in the gallery, online, and at art fairs.
Join Zoe Young for opening drinks on August 11 from 2pm to 4pm at the Olsen Gallery, 63 Jersey Road, Woolharra or visit in your own time before August 26.