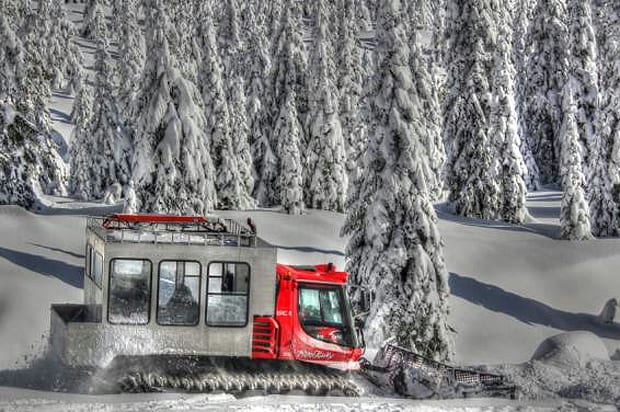 From day trips to remote multi day cat skiing lodges, Rachael Oakes-Ash lists 11 of the best cat ski operators in North America. Half the price of heli and just as much fun.
Cat skiing has it's benefits. No lift lines, acres and acres and acres of virgin powder. Then there's a good break between thigh burning runs as the heated cat picks up skiers and boarders at the bottom of the mountain and transports them back to yet another peak (trust us, your legs will thank you for the down time between those runs).
North America offers some of the best cat skiing terrain around for every budget from intrepid to super swanky and starting from around US$300 for a full day including lunch.  Depending on your group you can expect to do anything from 10 to 18 runs in that day.
Here's our pick for those wanting a day taster or an immersion week in a fully catered for lodge.
Chatter Creek, interior British Columbia, Canada
Cat skiers fly in to this remote lodge by helicopter and bed down for 2, 3 or 4 days of cat skiing bliss. The lodge boasts 58 000 acres with over 100 named descents and runs up to 4000 vertical feet shared by a mere 36 skiers or boarders at any one time. Leonardo diCaprio filmed Inception here and you'll ski through the same terrain featured in the movie.
Known for: Big terrain, big snow and party, party, party. Be warned Chatter Creek has been called Cheater Creek so beware of the shotski at the bar, it can spell trouble in a good or bad way depending on your relationship status.
How much: From CA$1629 for a two day cat ski tour during low season
30 000 acres of terrain that comes with a warning. This is for the hard core skier and boarder, passionate about their sport, no time to stop and take photos, everyone here is here to ski and ski hard.  If you are not an expert skier then Mustang Powder is not the place for you. If you are then you'll be rewarded a hot tub under the stars to soothe your muscles at the end of each day and full gourmet meals to fuel you for the next one.
Known for: Testosterone skiing
How much: From CA$700 per day for a 3 day program in the early season
Big Red Cats are a day cat skiing operation near Red Mountain in Canada. The operation offers separate day trips for expert, advanced and intermediate skiers so that you all ski and snowboard at a similar pace. Expect 18 900 acres of powder laden terrain 2.5 hours from Spokane.
Known for: tree and graded skiing
How much: From CA$420 for a full day
Read my story on Big Red Cats with Anna Segal in Powderhound magazine.
Skeena Cat Skiing operates on a portion of the 2nd largest heli/cat skiing tenure in North America almost 600 square kilometres of pure virgin snow. The area is known for big powder dumps due to warm Pacific air hitting cold dry air from British Columbia's interior. Multi day guests stay at the off tenure intimate Suskwa Lodge with gourmet cuisine or the ski in ski out Backcountry Base Camp in one of six two person insulated glamping tents with a communal lodge tent.
Known for: Buckets of snow
How much: CA$800 per day all inclusive at Suskwa Lodge or Backcountry Base Camp minimum three nights
Get off the gondola on the top of Aspen's Ajax Mountain and step straight into the waiting cat that takes groups of 12 out the back into backcountry terrain for a fun day of around 10 000 vertical feet of wilderness skiing on 1100 acres. Lunch and snacks are included.
Known for: a fun way to experience 'the other side' of Aspen for intermediate to advanced skiers
How much: US$449 per person
Read my Huffington Post piece on Aspen Powder Tours with The Little Nell
Fernie's best kept secret for those looking for some luxury without lift lines. Island Lake Cat Skiing boasts 7000 acres of terrain across the Lizard Range including Mount Baldy and Mount Fernie. Three accommodation lodges are found on the edge of Island Lake.
Known for: some of the best tree skiing in Canada in a luxury lodge setting
How much: from CA$1534 for two days in early season
Valhalla Powdercats offer day cat skiing as well as multi day with accommodation at an off site venue. The tenure is well suited for advanced and expert skiers with steep fall lines, fields of pillows and tree skiing. The 21 000 acre area is deep within the Selkirk Mountain Range and receives up to 13 metres of snow per year.
Known for: aggressive terrain
How much: from CA$440 per day early season including lunch
Fancy cat skiing on a working ranch? Park City Powder Cats is on 40 000 acres of private family owned land known as The Thousand Peaks Ranch a short drive from Park City. The cattle and sheep ranch turns into a cat skiing mecca every winter with peaks up to 11 000 feet with open bowls, steep chutes and fun tree skiing. The good news is there is terrain for all abilities from steep and deep to gentle rolling slopes.
Known for: High fiving fun
How much: US$459 for a full day
Cat skiing at Grand Targhee is a true west experience accessed from the ski resort. 12 skiers and boarders pile into the tarpaulin snow cat and hit 602 acres of terrain with open bowls and glades and steep tree skiing. Lunch is served in a yurt.
Known for: fun fun fun
How much: US$379 for the full day including lunch
Choose from three or four day all inclusive snow cat trips at Monashee Powder Cats, 30kilometres south west of Revelstoke in the Monashee Mountains. Expect 17 000 acres filled with 60 feet (18 metres) of annual snowfall in which to play. Guests bed down in the ski in ski out lodge after 15 000 to 18 000 vertical feet skied each day.
Known for: A home away from home feel with some spectacular terrain and so…much…snow
How much: From CA$1773 early season for 3 days
Retallack, British Columbia Canada
Retallack is 100% owned by skiers and boarders including Seth Morrison and Tanner Hall. It is the first cat skiing operation to be awarded a prestigious Four Green Key Eco rating and is know for consistent deep powder and steep terrain on 10 000 acres in the Selkirk Mountain Range. A mere 24 guests share this spectacular tenure at any one time with 3, 4 and 5 day all inclusive packages bedding down in Retallack Lodge.
Known for: ski and snowboard pros
How much: from CA$648 per day for a minimum 3 day package