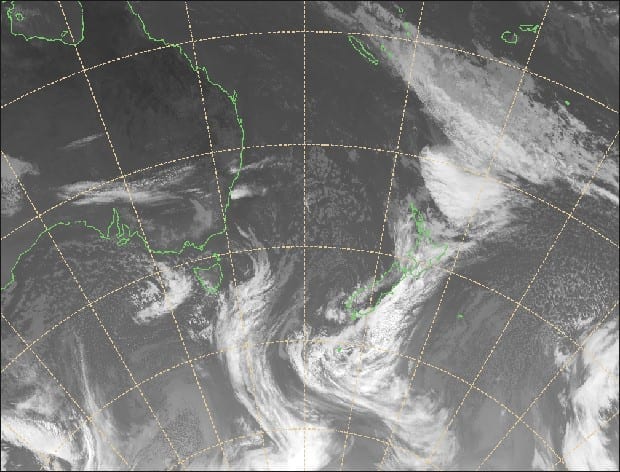 We're well into the season now on the first day of August and our meteorologist, Alex Zadnik, looks at the week ahead in his weekly snow report.
The short story is that the snow base continues to build in both Australia and New Zealand but you'll need to pick your times over the next week to avoid some bursts of stronger winds and milder air. 
Australia
There's been 20-30 centimetres of fresh snow across the Australian resorts since Sunday, but some rain did fall on the lower slopes of Thredbo during Tuesday night. However, Wednesday is still looking like a great day in the mountains, with fresh snow above 1500 metres and improving weather conditions.
Thursday is also looking like a reasonable day for skiing and boarding although there will be a significant increase in winds and temperatures during the day. Strengthening northerly winds are expected from Thursday afternoon into Friday morning as a strong but decaying cold front approaches from the west.
Friday morning will be especially mild with above zero temperatures, while strong to gale force northerly winds will make for challenging conditions. Rain will develop during Friday afternoon but tend to snow during the night as the decaying cold front moves through.
10-20 centimetres of fresh snow is possible by Saturday morning and potentially a little more about the higher runs of Thredbo, Perisher, Hotham and Falls. However there is the risk that the lower slopes of Thredbo will again be impacted by rain.
Stronger winds may redevelop during Saturday, particularly in Victoria, but there should be some good fresh turns to be found during the morning. New South Wales resorts should have decent conditions for most of the day, although temperatures may rise above zero in the afternoon.
A large and slow moving low pressure system near the Great Australian Bight will generate strong northerly winds into Sunday and milder above zero temperatures are likely in the morning. Some light rain may also develop over the Victorian resorts during Sunday afternoon, so overall Saturday is looking like the best day of the weekend.
Snow should develop across Victorian and NSW resorts during Sunday night and Monday, as the low pressure system edges closer and directs a burst of colder westerly winds across southeastern Australia.
Another 15-30 centimetres of fresh snow is possible through this period.
There may be follow up snow falls from later Tuesday into Wednesday as yet another front passes through, so the snow base should continue to build. Stronger winds may continue to create challenging conditions at the start of next week but these may back off for a period on Monday afternoon for those looking to take advantage of the fresh falls.
New Zealand
Fresh snow falls over the past week have pushed snow depths towards 150 centimere on the higher runs of the Remarkables, Cardrona, and Treble Cone, while the upper mountain of Ruapehu has hit 200cm. Mount Hutt and Coronet Peak are closer to the 100 centimetre mark at higher elevations.
Weather conditions were decent across the New Zealand ski fields on Wednesday morning but freshening northwesterly winds are expected through the day with the approach of a low pressure system from the Tasman Sea. This low will also bring an increase in cloud through the day and a few snow flurries are possible around the Queenstown and Wanaka resorts.
Snow showers should continue across the South Island on Thursday and Friday as the low pressure system moves through.
10-20 centimetres of fresh snow is expected for the South Island ski fields through this period, adding to the decent base.
Similar totals can also be expected for Ruapehu, although the heaviest falls are more likely to be on Friday.
On the weekend, the low pressure system will weaken but linger near the North Island. This low may still produce some snow falls over Ruapehu and Mt Hutt, but there is the risk of that the freezing level will rise and produce some rain on lower slopes as the weekend progresses.
A ridge of high pressure over the southern half of the South Island should keep conditions mostly dry across the Wanaka and Queenstown resorts, so it should be a good weekend for skiing and boarding at Treble Cone, Cardrona, Coronet Peak and the Remarkables.
A burst of milder air and rain looks likely from later Monday into Tuesday for New Zealand ski fields as a second low pressure system approaches from the Tasman. A feed of relatively warm continental air from Australia will be too blame for rising temperatures on these days.
Colder air and snowfalls may return mid to late week but more on this in next week's Snowsbest.com update.